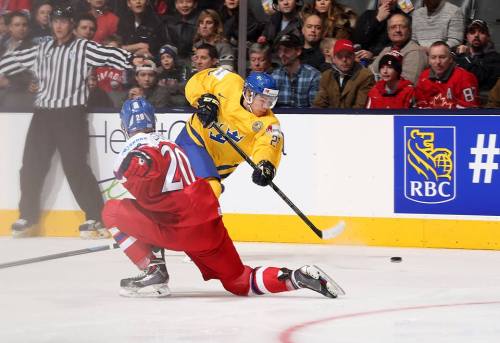 Sweden began their 2015 World Juniors in convincing fashion, taking a victory over the Czech Republic in their eighth straight victory over the Czechs, a record spanning 12 years.
The second game in Group B to get underway, after Russia had to come from behind to beat Denmark earlier in the Day, the 5 – 2 victory Sweden took over the Czechs put them on top of Group B after one game.
It was a good showing for Toronto Maple Leafs' prospect William Nylander, playing in front of an expectant crowd in Toronto, he finished the evening with a goal, but it was the play of Adrian Kempe that really stole the show.
Late in the opening frame, the Swedes power play went to work, and after some slick puck movement in the zone, Adrian Kempe found the puck on his stick and fired a wicked wrist shot from the top of the circle to put the Swedes ahead. The lead was doubled with time running out in the first period, this time the Swedes forecheck was rewarded. Lucas Wallmark forced a turnover down low, dishing the puck out in front to a wide open Jens Looke who had nobody but Czech goalie Vitek Vanecek to beat, and he did just that to give Sweden a 2 – 0 lead at the end of 20.
The Czech Republic came out fighting in the second and just over 3 minutes in, Washington Capitals' prospect Jakub Vrana was on the scoresheet, capitalizing on some poor puck movement by Sweden to go in alone against Linus Soderstrom, firing his shot past him to draw the Czechs back to within one.
Seven minutes later and Vrana was celebrating again. David Kampf forechecked relentlessly to force a turnover, and with a little help from Ondrej Kase Vrana was found crashing the net to fire in a one time shot that drew the game level at 2 – 2.
Sadly for the Czechs that was as far as their efforts would take them, Sweden wasted no time in responding and it was the future hometown boy that did so, after Oskar Lindblom found William Nylander alone in the slot, the young Swede and future Leaf had no trouble finding the back of the net.
The win was sealed midway through the final frame, Adrian Kempe netted his second of the game before captain Jacob de la Rose put the icing on the cake with an awesome backhander to make it a 5 – 2 game and secure the two points for Sweden.
Sweden now prepares to take on Denmark who will look to prove the scare they put on Russia wasn't just a one-off, while the Czechs will look to bounce back when they meet up with the Swiss.