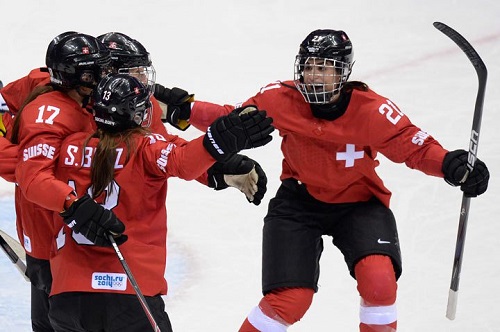 After battling back in the third period, Team Switzerland defeated Team Sweden 4-3 in the bronze medal game, winning their first Olympic medal in women's hockey.
But the win did not come easily.
For the first two periods the Swedes were outmatching the Swiss in all aspects of the game. They were unable to generate offense, were taking bad penalties, and their MVP goaltender Florence Schelling was not on her game.
Fourteen minutes into the first period, Switzerland paid the price when Michelle Lowenhelm scored on the power play to put the Swedes up 1-0.
The Swiss were outshot 10-1 in the first period.
Entering the second frame, Switzerland's forward line consisting of Alina Muller, Phoebe Stanz, and Stephanie Marty fought hard to generate something for Team Switzerland, but to no avail. Despite outshooting the Swedes 12-10 in the second, Erica Johansson scored with 1:02 remaining to give Sweden a two goal lead heading into the third.
The goal was scored glove side off a slap shot near the hash marks, which is uncharacteristic of Schelling's recent play. It seemed she was finally showing signs of fatigue, having faced 245 shots, and averaged 49 shots per game entering Thursday's matchup.
And then everything changed. "Coming into this game the place you're in doesn't matter. It's all about one final performance," said former Canadian Captain Cassie Campbell.
Barely over one minute into the period Sarah Benz scored for Switzerland, and the offense didn't stop there. Stanz scored on the power play to tie it, and forward Jessica Lutz scored to take the lead at 13:43.
Growing desperate the Swedes pulled their goalie with two minutes left, but the 15-year-old Muller scored the game winning goal with just over a minute left to play in regulation. Muller is the youngest hockey player in the Olympics, and played a strong game from start to finish.
The Swedes would add another tally a few seconds later, but it wouldn't be enough.
The future looks bright for this young club, and with today's win the Swiss record their highest Olympic finish in Woman's hockey,
Schelling tweeted her excitement after the game.
"Oh my God! Bronze! A dream come true with the most amazing teammates ever!"