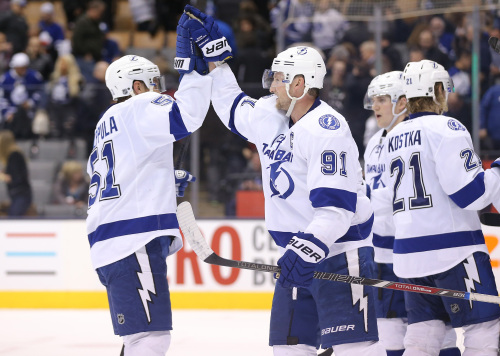 2014 was an up-and-down year for the Tampa Bay Lightning. They faced triumph and heartbreak, success and adversity. I guess you could compare it to the calm Florida sunshine peeking through following a stormy day. Now, let's take a look at the Lightning's best (or top) moments of 2014.
1) Steven Stamkos Named Captain
After suffering one of the worst injuries of his career in November 2013, superstar center Steven Stamkos rehabbed with an eye on being eligible to compete in the 2014 Sochi Olympics.
Unfortunately, he fell a bit short of that goal. Disappointing, sure, but he handled it like a true professional.
His reward: Being named the 10th captain in franchise history on March 6th, one day after good friend and former linemate Martin St. Louis was granted a trade to the New York Rangers.
If you want to hear a crowd roar its approval, watch this video of Stammer returning to the lineup with a "C" on his chest.
2) Lightning Overtake NHL Awards Show
Less than a month after the 2013-14′ regular season concluded, the Lightning saw individuals recognized for amazing seasons.
Rookies Tyler Johnson and Ondrej Palat capped off incredible years by being nominated as Calder Trophy finalists. Goaltender Ben Bishop (Vezina finalist) and head coach Jon Cooper (Jack Adams finalist) also joined them in Las Vegas for a few days of red carpet treatment.
None of the four took home hardware, but sending a league-high tying number of players out west speaks volumes about the success these guys helped the Bolts achieve.
3) Debut of Jonathan Drouin
Selected third overall in the 2013 NHL Draft, fans everywhere were surprised to see highly touted prospect Jonathan Drouin sent back to Halifax of the QMJHL.
This season, it looked to be a foregone conclusion that the young forward would make the Lightning team. He missed training camp with a finger injury though, pushing back his arrival in the big leagues
With the Bolts on a brutal, five-game roadtrip through Western Canada and Minnesota, the 19-year-old finally made his anticipated pro debut October 20 against the Edmonton Oilers.
One night later, the Lightning found themselves shorthanded due to injuries. As a result, Drouin found himself playing on the top line alongside Stamkos, giving him the perfect opportunity to record his first NHL point. And the rest is history!
4) Playoff Bound!
For a team that had endured a few disappointing seasons prior to 2013-14′, the Lightning's playoff clinching win over the Montreal Canadiens was an celebratory moment.
It also gave a semi-preview of the series to come, though with top netminder Bishop out injured that didn't end up in the good guys favor.
http://www.youtube.com/watch?v=LOxmK-UKWso
5) Triplet Line Formed, Adding Another Weapon
Earlier this season, Coach Jon Cooper experimented with different line combinations due to injuries and other circumstances. At one point, he put Russian winger Nikita Kucherov with last year's Calder finalists in Palat and Johnson. Since that time, the trio's been nearly unstoppable.
Johnson leads the team in points at 40, while Kucherov's 17 goals rank second behind Stamkos.
They're also the most defensively responsible line in the NHL. Johnson leads the league with a plus-27 rating, Kucherov is second with a plus-25 and Palat's plus-22 ranks fourth. Not too shabby for a line thrown together only a few months ago!
Oh, and they know where each other is on the ice, sparking magic like you see below.
6) Ryan Callahan Acquisition
March 5, 2014 will live in infamy forever. It was one of the rare times two NHL team captains were swapped at the trade deadline. As was previously mentioned, Martin St. Louis went to the Big Apple. The Lightning,meanwhile, landed Ryan Callahan and some high draft picks. Those picks became better in late May and early June, as the Rangers advanced to the Stanley Cup finals.
Callahan's been a hidden gem for the Bolts. He signed a 6-year deal with the team and helped recruit fellow Rangers Anton Stralman and Brian Boyle during the offseason.
He also burned his former team, accounting for four of nine goals in the first two meetings over the Blueshirts. He was held off the scoreboard December 1st, opening the door for guys like Brett Connolly and others to shine. Basically, he was the backbone of the team's successful 3-0-0 record against the reigning Eastern Conference champions.
7) Andrei Vasilevskiy Debuts In Style
Selected 19th overall in the 2012 Entry Draft, top netminding prospect Andrei Vasilevskiy made his way from Russia's KHL to North America this season.
He began the year with the AHL's Syracuse Crunch, but following an injury to starter Ben Bishop in Pittsburgh during mid December the reigning No. 1 star was summoned to the Lightning.
With the Bolts on yet another back-to-back, the rookie got the call in net versus the Philadelphia Flyers. He proceeded to allow one goal on 24 shots, picking up his first NHL victory.
Since then, Vasilevskiy made a franchise-record 45 saves in a tough loss to the New York Islanders. He also had a hand in wins over Pittsburgh (the teams first in quite awhile) and Buffalo.
http://www.youtube.com/watch?v=y5Jk1n4nZDY
8) Anton Stralman Saves A Goal (and possibly the game)
This one's pretty self-explanatory. Watch and weep!
9) Nikita Kucherov's First Career NHL Hat Trick
A coming-out party for the young Russian. Mike Smith never knew what hit him!
10) Tops in the Eastern Conference
Watch the Lightning's domination in October and November and during their final few games of 2014. You'll see why they ended the year atop the Eastern Conference.
Bring on 2015!
Love Reading About Hockey?

Subscribe to keep up-to-date with the latest and most interesting hockey news!
| | |
| --- | --- |
| | We hate spam just as much as you |