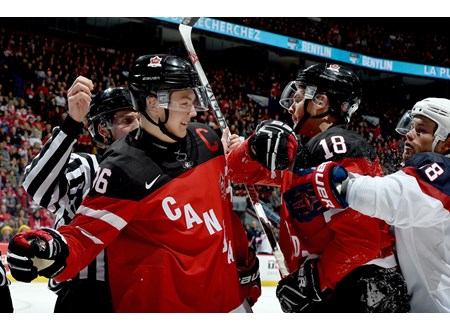 After defeating the Americans 5-3, Team Canada has earned the top spot in group A, and is looking strong heading into the quarterfinals tomorrow evening.
Max Domi tallied a pair of goals, Sam Reinhart had three points, and defenseman Josh Morrissey and Captain Curtis Lazar also found the back of the net. "We keep getting better, whether it's in practice or games," Domi said. "We have a special group."
The London Knights captain is tied for second in tournament scoring with seven points, one behind Reinhart, the Buffalo Sabres first round selection. But while the game's big story was the showdown between 2015 draftees Connor McDavid and Jack Eichel, Reinhart and Domi continued to steal the spotlight.
"He controls the whole game," Dom said of Reinhart. "Whenever it gets even a little out of hand, he's the first one to settle it down and calm everyone down. He's a great leader and a hell of a hockey player."
And nearing game's end, this is exactly the kind of leadership Canada needed.
Despite their unrelenting offense and being up 3- 1 late in period three, Team USA's Dylan Larkin scored two quick goals to make things interesting in the game's final moments. Fortunately, Reinhart tallied the first of Canada's two empty netters to help secure the victory.
"I thought we had good flow throughout the game," said Lazar. "You have to give the Americans credit… they made it quite interesting. I was freaking out a bit at the end, but we found a way to win."
Eric Comrie earned his second win of the tournament to tie with teammate Zach Fucale, but head coach Claude Groulx said "there is no set plan" involving Friday's starter.
Now with a perfect 4-0-0-0 record, Canada is set to face off against Denmark (0-1-1-2), the fourth place team in group B. The Americans will have a tough match against the Russians in Montreal, while Team Canada is excited to play their first tournament game in Toronto at the Air Canada Centre.
The game is set to take place tomorrow at 8 p.m., and speaking on behalf of the team, Domi "is ready to go for the real thing."