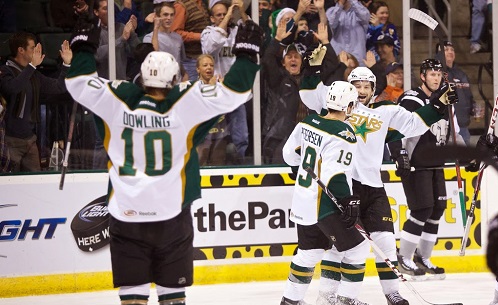 The 2013-14 season has come to be a big year for the Dallas Stars organization, with the team's logo and jerseys being revamped, and the Stars' return to the playoffs. It looks as if the success wasn't just for the NHL team, but for their AHL affiliates as well.
While the Dallas Stars were fighting for their playoff spot all season the Texas Stars, just about three hours south of Dallas in Cedar Park, were sitting atop the standings in the AHL as the number one team in the league. The Texas Stars managed to finish the season with a record of 48 wins, 18 regulation losses, 3 OT losses, and 7 shootout losses, seemingly taking down all comers. This is really no surprise when you take into consideration that they finished first in the Western Conference last season before being eliminated by Oklahoma City Barons in the second round of the Calder Cup Playoffs.
Despite their rough finish last year, the Stars have come back with a fury and managed to fight their way to the Finals and now the only thing standing in their way of the Calder Cup are the St. John's IceCaps, who finished fourth in the Eastern Conference.
Most average NHL fans don't generally keep up with their AHL team's affiliate unless the NHL season is over, or if they want to check up on future NHL talent, but most Dallas fans will see a lot of familiar faces down in Cedar Park. Players like Dustin Jeffrey, Chris Mueller, Patrik Nemeth, and Colton Sceviour, among others, have all spent time in Dallas this season and all played parts in the Dallas Stars' regular season success in addition to helping them put up a fight against the Anaheim Ducks in the playoffs.
The Calder Cup Finals action begins on June 8th in Cedar Park, Texas when the Stars will attempt to take out the IceCaps in Game 1.