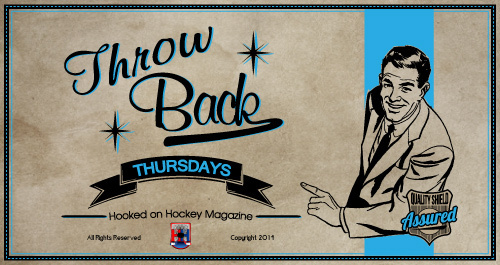 It's time for another edition of Throwback Thursdays!
We've had a good series so far looking back at the history of NHL trophies and the people behind them. So far we have looked into the Ted Lindsay Award, the King Clancy Memorial Trophy, and most recently the Mark Messier Leadership Award.
For this week's trophy, we're going to look into the William M. Jennings Trophy and I'll teach you about the man behind the trophy. William  Mitchell "Bill" Jennings.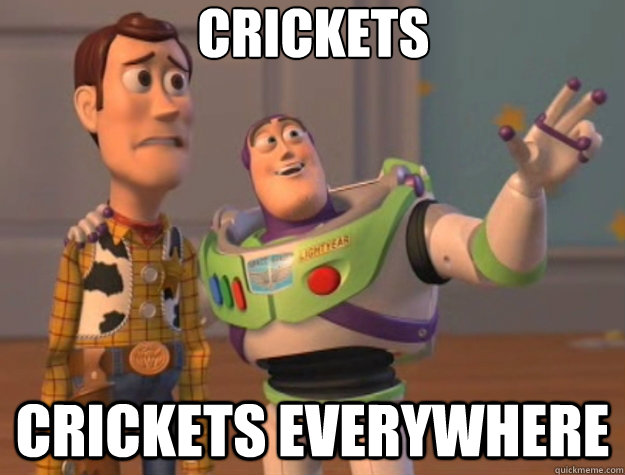 Who was William Jennings?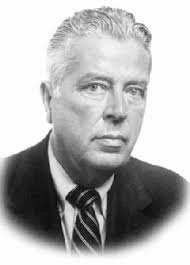 First of all, the "M" in William M. Jennings was hard to pin down. It actually took some digging into records about his son William Mitchell Jennings Jr and a 1940 New York Census to actually confirm it, because most articles refer to Bill as William M. Jennings without ever bothering to mention his middle name. These sites include the Hockey Hall of Fame, US Hockey Hall of Fame, the Rangers, and even ol' (un)reliable Wikipedia didn't give a middle name – or any sources, as per usual.
Anyways, Bill Jennings was someone that New York Rangers fans and US Hockey historians should know well. But for everyone else, let's dig a little bit into his past.
Jennings was born December 14, 1920. Fast forward past his childhood years and he was a proud graduate of Princeton University and then decided to one-up himself by also acquiring his law degree from Yale law school.
After lawyering it up for a while (he was a senior partner of the New York City law firm of Simpson Thacher & Bartlett, one of the world's largest and most respected law firms), Jennings eventually took over as the fifth President of the New York Rangers in 1962, a position he held until his death in August of 1981. Jennings would go on to leave a massive mark on the history of the Rangers, the NHL, and US hockey. Some of Jennings notable achievements include:
-Taking the Rangers to two Stanley Cup Finals appearances during their 54 year Cup drought.
-Petitioned the league to open their head office in New York and got it there in 1964. To this day New York is NHL headquarters.
-Chaired both the NHL finance and expansion committees, and was instrumental in the leagues first expansion and then oversaw several more expansions as the league grew from The Original Six all the way up to 16 teams the year before his death.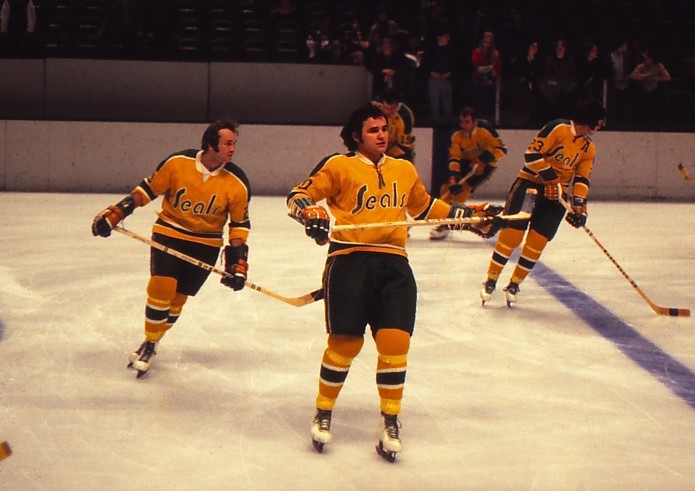 –"The New York Rangers: Broadway's Longest Running Hit" by John Kreiser and Lou Friedman even suggests Jennings made the NHL more locally focused and "more than just a regional league."
-In 1966, Jennings along with Rangers GM Emile Francis helped found the New York Metropolitan Hockey Association, later the Metropolitan Junior Hockey League, one of the first hockey leagues available in the Metropolitan area. The league ran for over 50 years and has notable alumni such as Jim Dowd, Brian and Joey Mullen,  Mark Eaton, Nick Foligno, Mike Komisarek, Jeremy Bracco, Kevin Lablanc and one of the men who would break the Rangers Cup drought in 1994, Mike Richter.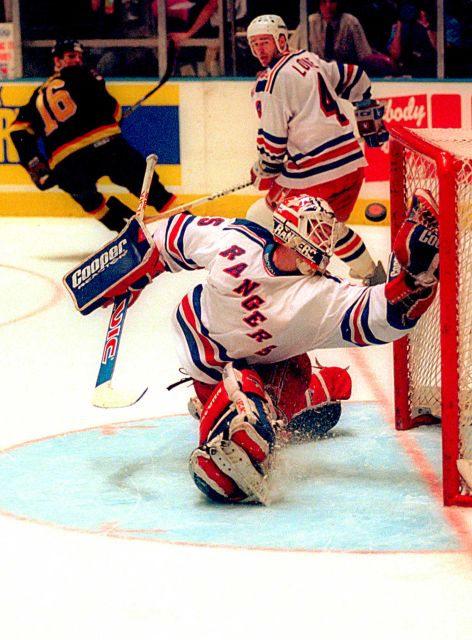 -Started the Lester Patrick Award Presentation Dinner, in which the New York Rangers presented the award to someone who showed "outstanding service to hockey in the United States." That award became the Lester Patrick Trophy, an award that an award committee consisting of the President of the NHL, an NHL Governor, a representative of the New York Rangers, a member of the Hockey Hall of Fame Builder's section, a member of the Hockey Hall of Fame Player's section, a member of the U. S. Hockey Hall of Fame, a member of the NHL Broadcasters' Association and a member of the Professional Hockey Writers' Association still awards annually and Jennings himself won in 1971.
-Ever the philanthropist, Jennings was active for over 25 years in organizing professional golf tournaments for the benefit of Westchester County hospitals including the Westchester Golf Classic – a tournament which raised nearly $4,000,000.
-He was an honorary chairman of United Hospital in Port Chester, N.Y.
-He was inducted in to both the Hockey Hall of Fame and the US Hockey Half of Fame.
More interesting than you thought right?
What about the William M. Jennings Trophy?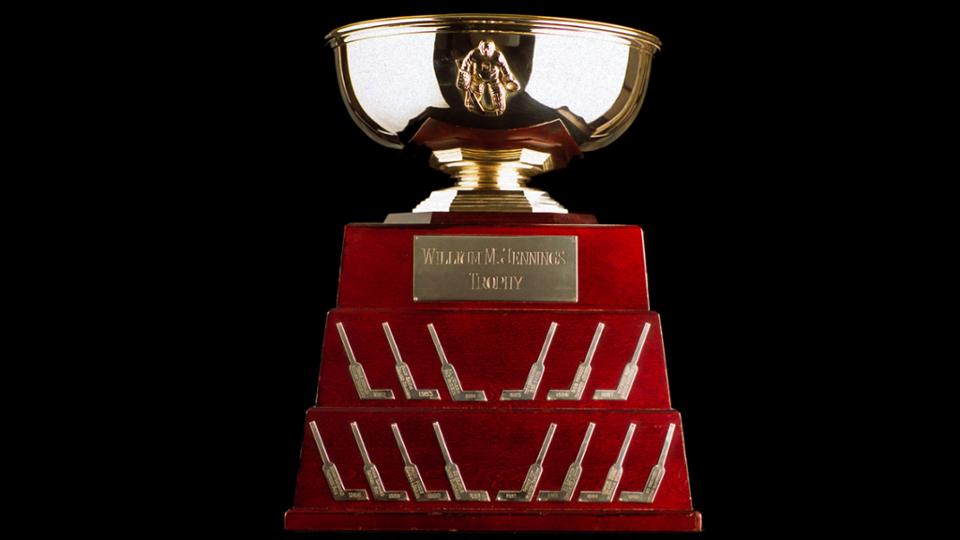 The Jennings Trophy actually took the place of what the original Vezina Trophy was awarded for, which is an annual award given to the goaltender(s) "having played a minimum of 25 games for the team with the fewest goals scored against it" during the regular season. The Vezina Trophy was awarded under those conditions from 1946-81, until the Jennings Trophy was created. The Vezina Trophy is now awarded to the "goaltender adjudged to be the best at his position" by the 31 general managers.
After the NHL began to notice that the Vezina Trophy would often go to goalies of good teams instead of the goaltender(s) who may have had the best seasons on poor teams, they decided to create a new award to honour the original Vezina Trophy, but to give the Vezina Trophy its current significance. The NHL Board of Governors, who had just seen the recently retired Jennings pass away the previous summer, decided to name the new Trophy after Jennings.
It is also a fairly unique award in which it is a common occurrence for there to be shared winners, as back-up goalies generally see more than 25 games – except for the Martin Brodeur/Patrick Roy era – and hell, even Roy shared 3 of his 5 Jennings compared to Brodeur having 4 of his 5 being individual awards. Noteworthy as well that they share the lead for overall Jennings, with 5 apiece. Take a look and see what I mean below.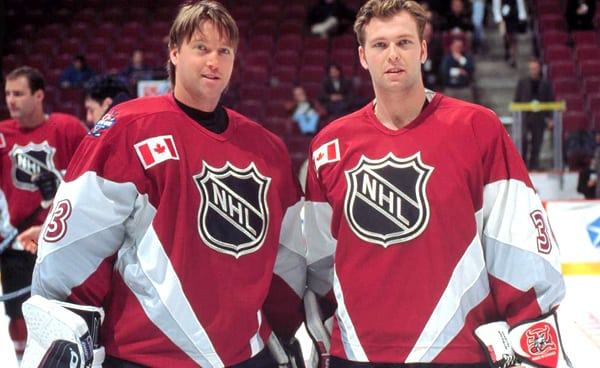 Past William M. Jennings Trophy Winners:
2018: Jonathan Quick, Los Angeles Kings
2017: Braden Holtby, Washington Capitals
2016: Frederik Andersen / John Gibson, Anaheim Ducks
2015: Corey Crawford / Carey Price, Blackhawks / Canadiens
2014: Jonathan Quick, Los Angeles Kings
2013: Corey Crawford / Ray Emery, Chicago Blackhawks
2012: Brian Elliott / Jaroslav Halak, St. Louis Blues
2011: Roberto Luongo/ Cory Schneider, Vancouver Canucks
2010: Martin Brodeur, New Jersey Devils
2009: Tim Thomas / Manny Fernandez, Boston Bruins
2008: Dominik Hasek / Chris Osgood, Detroit Red Wings
2007: Niklas Backstrom / Manny Fernandez, Minnesota Wild
2006: Miikka Kiprusoff, Calgary Flames
2004: Martin Brodeur, New Jersey Devils
2003: Martin Brodeur, New Jersey Devils
2003: Roman Cechmanek / Robert Esche, Philadelphia Flyers
2002: Patrick Roy, Colorado Avalanche
2001: Dominik Hasek, Buffalo Sabres
2000: Roman Turek, St. Louis Blues
1999: Ed Belfour / Roman Turek, Dallas Stars
1998: Martin Brodeur, New Jersey Devils
1997: Martin Brodeur / Mike Dunham, New Jersey Devils
1996: Chris Osgood / Mike Vernon, Detroit Red Wings
1995: Ed Belfour, Chicago Blackhawks
1994: Dominik Hasek / Grant Fuhr, Buffalo Sabres
1993: Ed Belfour, Chicago Blackhawks
1992: Patrick Roy, Montreal Canadiens
1991: Ed Belfour, Chicago Blackhawks
1990: Andy Moog / Rejean Lemelin, Boston Bruins
1989: Patrick Roy / Brian Hayward, Montreal Canadiens
1988: Patrick Roy / Brian Hayward, Montreal Canadiens
1987: Patrick Roy / Brian Hayward, Montreal Canadiens
1986: Bob Froese / Darren Jensen, Philadelphia Flyers
1985: Tom Barrasso / Bob Sauve, Buffalo Sabres
1984: Al Jensen / Pat Riggin, Washington Capitals
1983: Roland Melanson / Billy Smith, New York Islanders
1982: Rick Wamsley / Denis Herron, Montreal Canadiens
Love Reading About Hockey?

Subscribe to keep up-to-date with the latest and most interesting hockey news!
| | |
| --- | --- |
| | We hate spam just as much as you |