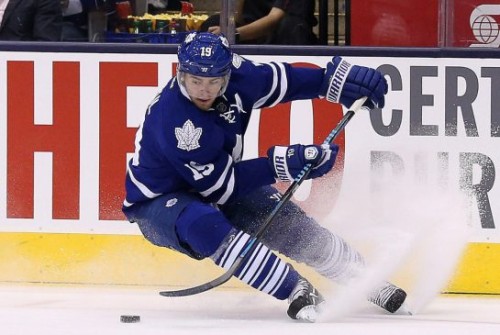 He may not be the main problem, but Joffrey Lupul can be part of the solution for the Toronto Maple Leafs.
The 31-year-old winger has 17 points in 26 games this season, and can elevate his line when healthy. More importantly as a leader off the ice he could help a team looking to make a postseason push.
"The St. Louis Blues feel they're close… If there's an opportunity to add a piece that maybe makes them a little bit deeper on the front end, than that's what [they're] looking for," said TSN insider Darren Dreger.
Lupul has 27 points in 46 playoff contests, and is almost ready to take to the ice since sustaining injury on Dec. 31; and while he isn't exactly durable, his offensive touch could spark cup contenders in the short term.
Without Lupul the Leafs have gone 1-8-1 in their last 10, and have scored a league worst 1.36 goals-per-game in the month of January. A number of Leafs have tarnished their statistics during this recent skid, but Lupul's numbers remain appealing to potential buyers.
Able to play either wing and effectively in the slot, Lupul's offensive creativity knows no bounds. Injuries aside, he would notch a respectable 54 points by seasons end had he been able to play a full 82 games. Considering he averages less than 16 minutes on Toronto's second line, these stats are quite good.
But with three years remaining on his $5.25 million contract, shipping him out for prospects and picks may not be as easy as it seems.
"I heard from two people today that the Stars do not have interest in Joffrey Lupul," tweeted Dallas beat reporter Mike Heika. And given his veteran status, it's likely Lupul will only grow more fragile as the years tack on. The Fort Saskatchewan native has never played a full 82 game season despite entering his 12th NHL campaign.
Does it not make sense, then, to trade Lupul while he's still deemed valuable? Doing so could produce larger returns down the stretch, and let's face it, right now the Leafs (quite literally) can't afford to have big contracts sitting on the shelf. Toronto may have to retain salary, but that's okay considering they've lost seven straight games.
The Leafs have bigger problems, and if retaining salary is needed to provide a step in the right direction, so be it.
With Lupul set to return any day now, expect trade talks involving number 19 to heat up dramatically. Lupul is one of Toronto's top chips heading into the trade deadline, and holding on to him would be a big mistake. His return to the lineup is not enough to change the direction of this failing franchise, but there is no denying his incredible trade value. His assets are better suited elsewhere, and strong teams are always looking for added offensive flare.
So pick up that phone, Dave, and make your move. It's time to deal him.