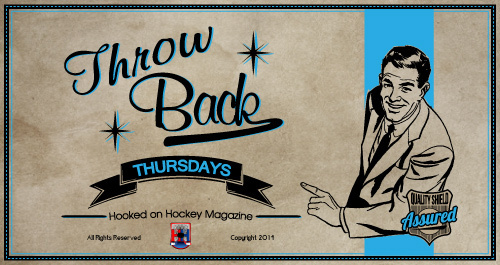 The grand finale is upon us!
By that, I mean welcome again to another rendition of Throwback Thursdays, and the conclusion of the list of the top 10 trades to take place in July since the dawn of the 21st century.
In a list that saw that likes of Ryan O'Reilly, Kasperi Kapanen, and T.J. Oshie be a part of it, there was one name that dominated the first five trades of the top 10, which was non other than the hot dog god himself, Phil "The Thrill" Kessel.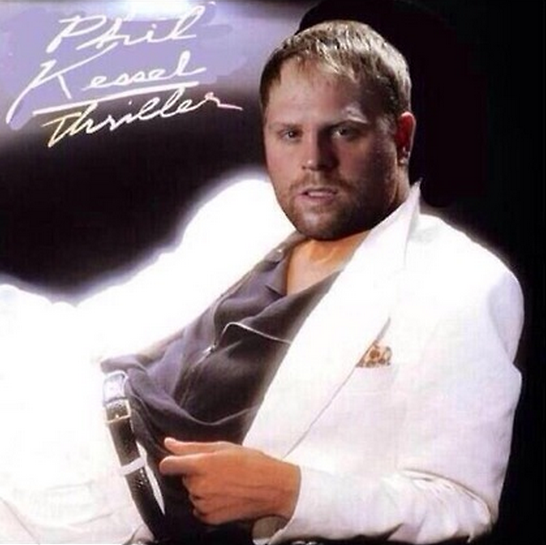 Just to go over a quick recap of the rules I followed for the last article, the trades have to have taken place in the month of July since the turn of the century. This list starts in 2001. I am also listing them in order of the date and year the trade was executed, from newest (2019) to oldest (2001). For that reason the trades you see on this week's list will be the older deals of the bunch, taking place from 2013 and earlier.
Without boring you any longer, let's get right back into the mix, starting with or sixth deal in the Top 10 July Trades of the 21st Century.
6) July 4, 2013 – The Boston Bruins send forward Tyler Seguin, forward Rich Peverley and defenseman Ryan Button to the Stars for forward Loui Eriksson and three prospects (Joe Morrow, Reilly Smith and Matt Fraser).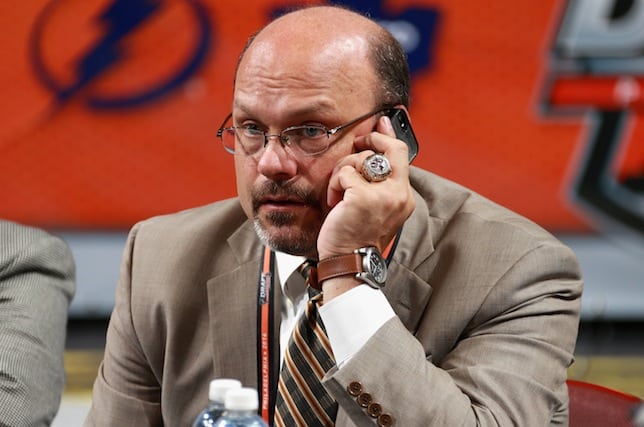 You'll notice that in my last article I broke down the trades into the different pieces of the trade and who I think won the deal. This one is a Peter Chiarelli trade however, so we know he lost the deal. That's not up for debate. But how badly did you lose the deal? Well, Tyler Seguin has 206 goals, 258 assists, and 464 points in a Stars' uniform. The combine return of Eriksson (62G, 85A), Morrow (2G, 7A), Smith (33G, 58A), and Fraser (5G, 0A) only amounted for 102 goals, 150 assists, and 252 points. That's 54% of Seguin's production from four players. The key piece in that deal, Eriksson, has basically been a disappointment and contract burden since he moved on from Dallas.
That doesn't even factor in Rich Peverly and his 30 points in 62 games for the Stars before he collapsed on the bench during a game with an irregular heartbeat that led to his retirement.
Needless to say, but Chiarelli messed up.
7) July 23, 2012 – The Columbus Blue Jackets traded captain Rick Nash to the New York Rangers, along with defenseman Steven Delisle and a conditional third-round selection in the 2013 NHL Draft in exchange for forwards Brandon Dubinsky, Artem Anisimov, defenseman Tim Erixon and the Rangers' first-round selection in the 2013 Draft.
Well this trade was a doozy.
After a lengthy period of time where it became clear Nash was going to be on the move, Rick Nash was finally traded in the 2012 offseason. The Rangers and Blue Jackets had been discussing a trade since the deadline of the previous season, which weighed heavily on Nash's mind.
"There was a lot of limbo for sure, it was a tough time and a tough period of five months. But the thing now is it's over and I can look forward to next year."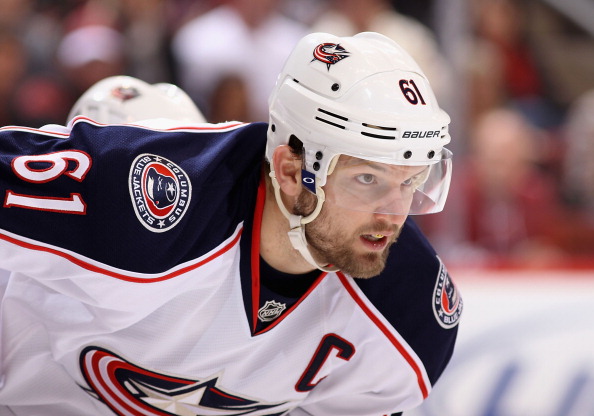 The deal was supposed to be a boost to the Rangers at the time and help Columbus down the road with a first round pick and prospects. However the deal ending up being a massive win for the Rangers for the present and the future. Although Nash's time with the Rangers was marred by injuries, he still dazzled when he was on the ice, including a 69 point campaign in 2014-15, his third in New York. Dubinsky was a serviceable checking center his first couple of years in Columbus, he has basically been a fourth line since. The real prize here wasn't even the first round pick, as Columbus selected journeyman AHLer Kerby Rychel with the Rangers' pick.
The real prize, and the reason the Rangers won this deal easily, was the third round conditional selection. The selection was conditional on if the Rangers made the Cup Final the year of the trade, which they did not. So with that third round selection who did the Rangers select? Current fourth season breakout candidate Pavel Buchnevich. Buchnevich has has a solid career so far with a 0.54 point per game average, and he can only hope to improve that now that he has a chance to move up in the lineup and battle with rookie Kaapo Kakko for first line and first powerplay minutes with newly signed star Artemi Panarin.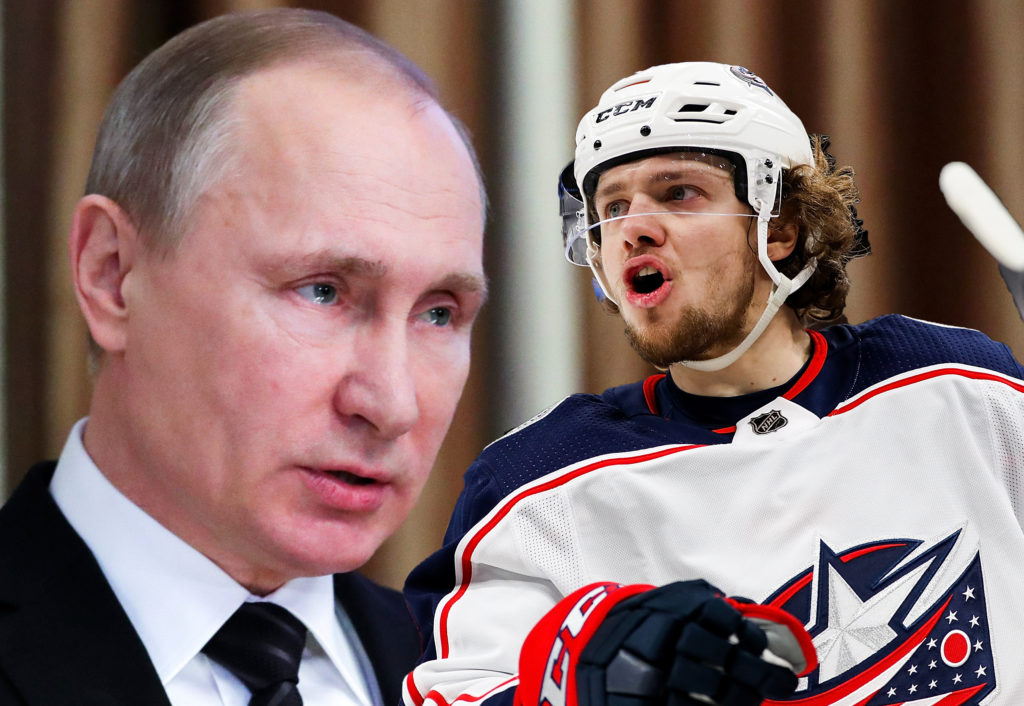 8) July 8, 2009 – The Ottawa Senators trade Alex Auld to the Dallas Stars for a 2010 6th round pick
"Wow the author must have only included this trade in the list because it includes his third cousin with the same last name!"
Okay, I will admit that having an Auld in this deal did kind of factor in it being included.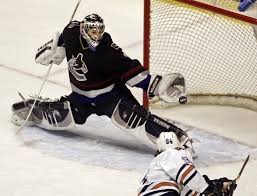 Alas, the true reason for this deal being included on the list has nothing to do with Mr. Auld. It has entirely to do with the sixth round pick. The Ottawa Senators have never been known for their drafting, starting with their amazing pick of Alex Daigle first overall in 1993.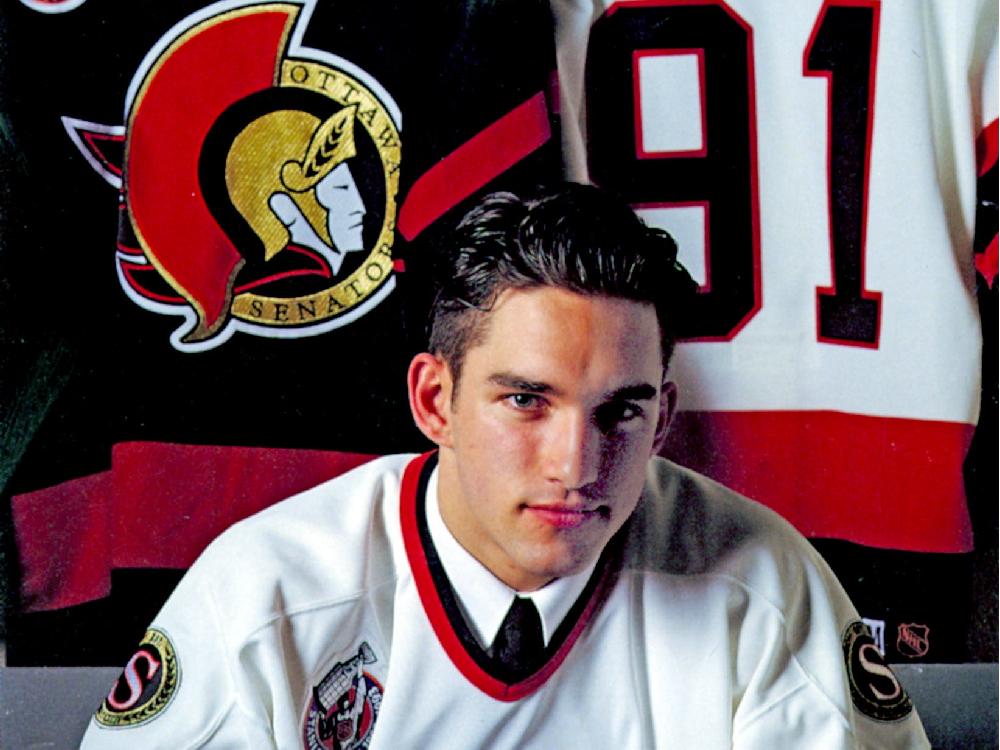 Anyways, that draft pick turned into franchise cornerstone (until Ottawa trade him, of course) Mark Stone. As much as Auld's 21 games played in Dallas, with nine wins, a 3.00 Goals Against Average (GAA) and 0.894 Save Percentage (SVP) are incredibly mediocre, they won't ever be able to live up to Stone's 123 goals, 188 assists, and 311 points in 366 games as a Senator. Not only that, but after parts of seven seasons with the sens, that third round pick-turned-Stone was traded off to Vegas at the deadline last year for top defensive prospect Erik Brannstrom, forward Oscar Lindberg and a second-round pick (originally belonging to the Dallas Stars) in 2020.
Plus Ottawa probably saves a ton on photoshopping costs in their marketing department. Example A: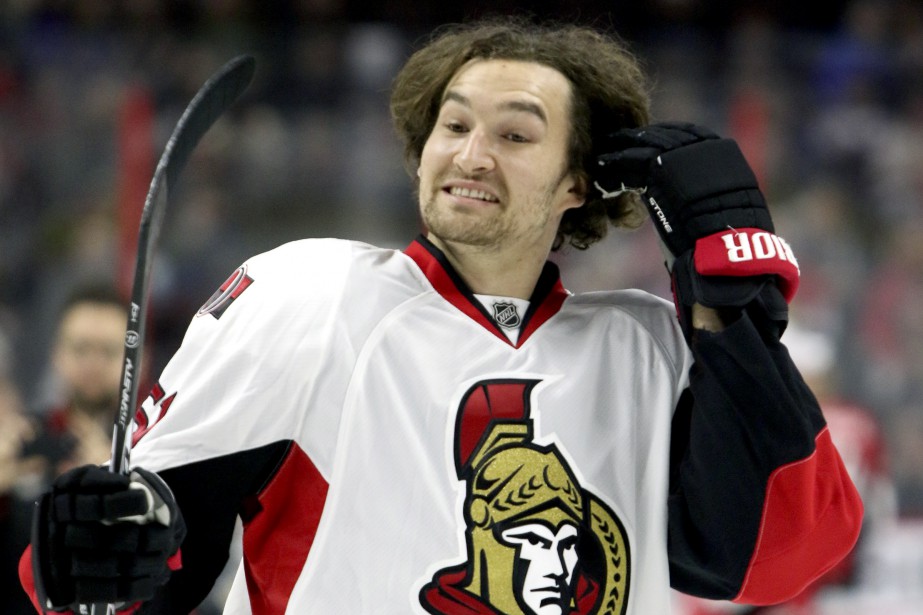 9) July 3, 2016 – The Edmonton Oilers are forced to trade Chris Pronger to the Anaheim Ducks for Joffrey Lupul, Ladislav Smid, a 2007 first round pick, and 2008 first (conditional on Ducks making 2007 Cup Finals) and 2nd round picks.
This trade actually ended up pretty fair, but I don't know how you could debate the eventual winner here as the Ducks ended up with one of hockey's greatest ever all-around defencemen and future Hall of Fame, Pronger, plus a Stanley Cup to show for it.
Unfortunately for Edmonton, it has the undesirable factor of being Edmonton, so naturally Pronger's wife Lauren wanted to move.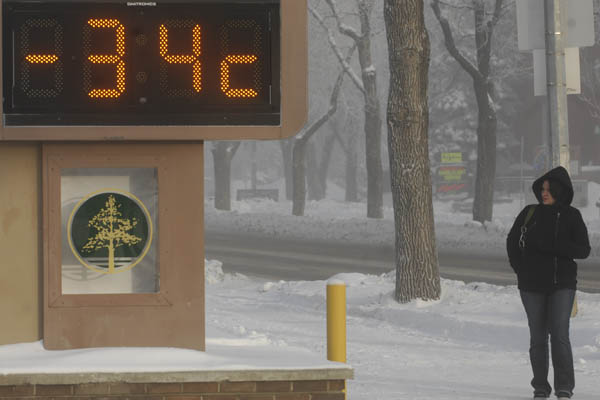 The trade obviously worked out well for Anaheim, as they would win the Cup in Pronger's first year in Anaheim, where he would score 150 points in 220 regular season games as a Duck, plus another 30 points in 38 playoff games. He would also be named their captain briefly after Scott Niedermayer's retirement. As a bonus they would go on to pretty much recoup what they gave the Oilers (including Joffrey Lupul!) when they traded Pronger to Philadelphia after three seasons.
The reason this trade worked out okay for Edmonton was not because of the players it brought in immediately, but more for the players the Oilers were able to turn the players and picks into in the long run. Steve Dangle did an excellent recap of the repercussions from the initial trade for both Anaheim and Edmonton in 2017 (which you can read here), but I'm going to spare you the full breakdown and highlight some pieces that Edmonton eventually got out of the deal, including:
-With the Ducks making the 2007 Cup Finals, the conditional first round pick became officially part of the deal. The Oilers used that pick to select Jordan Eberle.
-The 2007 first round pick the Oiler received from the Ducks (30th overall) was traded along with their own second round pick (36th overall) to move up to 21st overall and select Riley Nash.
-They traded the 2008 second round pick to the New York Islanders for a 2008 third round pick and Allan Rourke, which might not seem important at first glance, but the Oilers needed the third round pick as compensation for the Dustin Penner sheet. Without getting into that again, Penner was eventually flipped to the Los Angeles Kings for a package that included 2011 first round pick, Oscar Klefbom.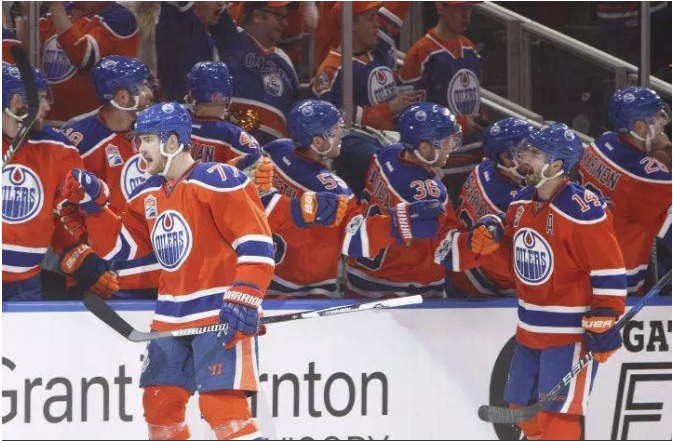 As you can see above Edmonton was able to turn a a bad situation and trade request into a decent return. However, before we give them too much credit, let's just follow one example of the Oilers doing Oiler things, with parts from the trade. Nash, the current Blue Jacket, has gone on to play nearly 500 NHL games but none have been with Edmonton, as he was traded to Carolina in 2010 for a second round pick that turned out to be Martin Marincin. The Oilers would follow this up by trading Marincin to the Toronto Maple Leafs for pretty much nothing in 2015. We shouldn't be shocked though, as that is the same year the Oilers handed the Islanders Matthew Barzal and Anthony Beauvillier on a silver platter for AHLer Griffin Reinhart.
Also, the Oilers have only made the playoffs once since trading Pronger after the 2005-06 season.
Yup, the Ducks won this deal.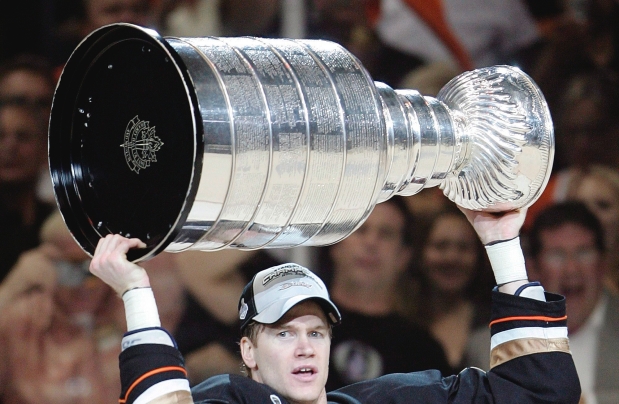 10) July 11, 2001 – The Washington Capitals rip the hearts out of Penguins' fans by acquiring Jaromir Jagr (and defenseman Frantisek Kucera) in exchange for Kris Beech, Michal Sivek, and Ross Lupaschuk.
This was one of those trades that both teams probably lost and wish they had a do-over. In fact, you could say that the winner of this Caps/Pens deal was actually Rangers?
Before we get to the Rangers part of this story, you have to know why Pittsburgh made the deal originally. At the time Jagr felt like a second fiddle to Mario Lemieux (who had just returned from his retirement) even though he was the current captain. He also was feuding with the Pens coach at the time, Ivan Hlinka, a point of contention that made Jagr briefly considering retiring a decade and a half before he left the NHL for good.
"I feel like I'm dying alive… I don't feel comfortable here right now, It's not the same for me right now. We'll see what happens. Maybe I'm going to think about retirement pretty soon."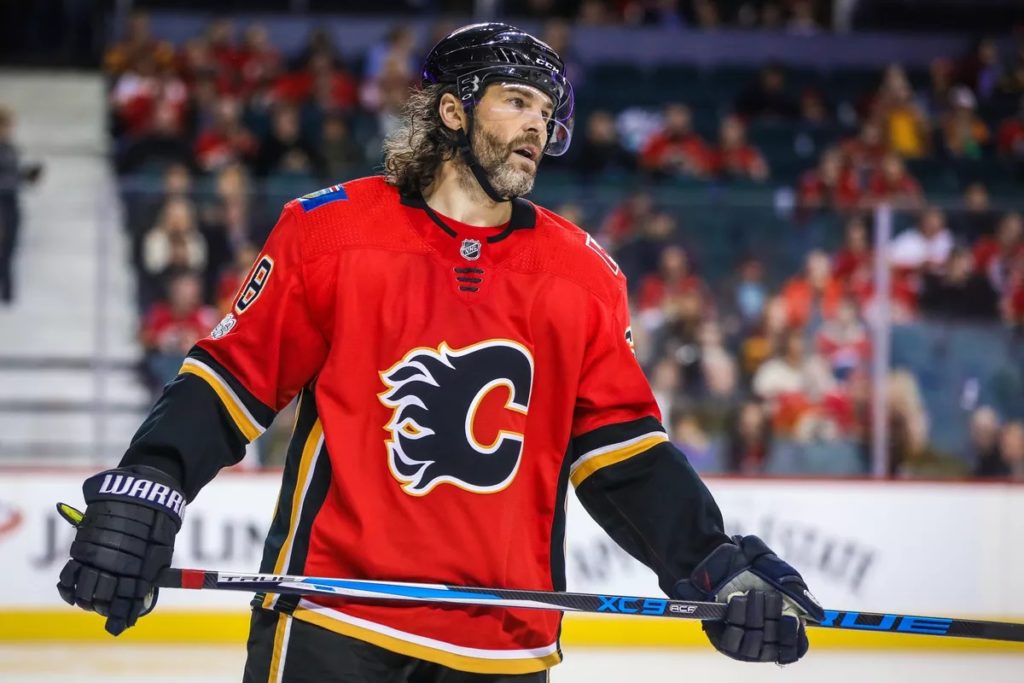 On top of all of that, the Penguins were having a hard time with finances and were in a difficult spot to re-sign Jagr due to his demands to be the highest paid player in the world.
This was not a ridiculous demand as he had just come off of his fifth Art Ross Trophy win for most points in the league (121 in 81 games), was a two-time Cup Champ, and had 1,079 points in his 806 career games to that point. To put that into perspective, his point-per-game total at the time was 1.34, which would have only ranked behind Wayne Gretzky, teammate Mario Lemieux, Mike Bossy, and Bobby Orr. Heck, Ken Campbell of The Hockey News recently ranked Jagr as #2 on his list of top 100 players of all-time.
This is where the Capitals stepped in, with General Manager George McPhee offering up three prospects to the Penguins and new owner Ted Leonsis guaranteeing the cash that Jagr sought. Pittsburgh accepted the deal on July 11, 2001 and the Capitals would go on to the glory land that Leonsis promised in his initial five year Stanley Cup window.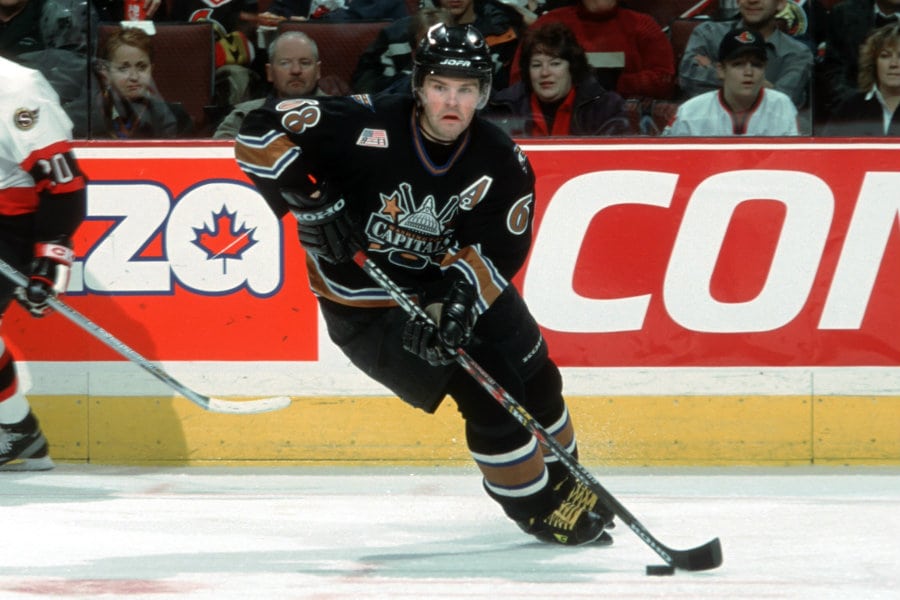 Kidding.
Jagr played well in Washington, putting up 201 points in 190 games, but hin onerous seven year, $11 million a season contract led exceptions to be incredibly inflated. Plus, as McPhee later admitted, the Caps had started to build a team a certain way and Jagr didn't really fit in well with that formula.
"I wasn't sure that it was the right player at the right time for us," McPhee said to the Dump 'n' Chase blog in 2014. "We were building our organization with bricks and when we did that, we suddenly went to siding or a different material. We got on a different bus. It's always about team construction and we weren't really constructed the right way to absorb him."
After two and half underwhelming seasons including missing the playoffs and a first round upset, Leonsis agreed to pay Jagr $20 million of his $44 million remaining salary to make him go away to New York, who only had to give up Anson Carter. Carter would play 19 games in Washington scoring five goals and adding five assists, while the Rangers would get an incredible jersey/ticket sales spike from the Jagr deal. Although Jagr and the Rangers didn't have as much playoff success as they would've wanted, he still managed 319 points in 277 games as a Ranger – including an incredible 123 point season in 2005-06. Again, I cannot stress enough that Washington paid almost half of Jagr's salary during his time on the Rangers.
You can't really argue the Penguins made out better than Washington in all of this however, with Beech playing a total of 100 games in Pittsburgh scoring a grand total of 27 points. Sivek and Lupaschuk combined for a total of 41 games and 6 points (all gathered by Sivek) between the two of them.
That is how the Rangers won a deal between the Capitals and Penguins.
You could choose to take Jagr's word for it and say Washington should thank him for his time, as the year of the the Caps' fire-sale in which the team all under-achieved and he went to New York led to Washington selected first overall and getting some guy name Alex Ovechkin.