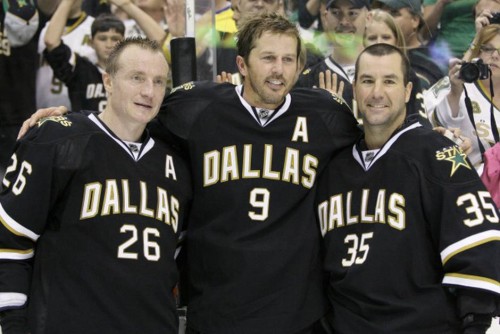 When the Minnesota North Stars were relocated to Dallas, Texas in 1993 most hockey fans were shaking their heads. Not only was the "hockey state" losing their beloved team, but they were being moved to Texas of all places. Surprisingly, the Dallas Stars rose up and showed everyone what they were capable of, becoming one of the most dominant teams of the late 1990's.
A key to dominance in sports is of course the great players, something that the Stars have had their fair share of in their short history.
5. Neal Broten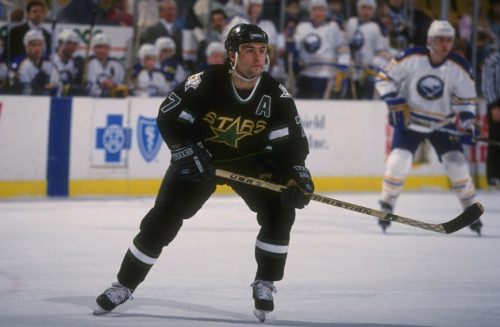 Despite only playing in Dallas briefly toward the end of his career, Neal Broten is an incredible player with an even more incredible resume and couldn't be ignored. NCAA championship winner, Olympic gold medalist, Stanley Cup winner, he even fought Wayne Gretzky for crying out loud.
Neal Broten spent most of his career with the Stars franchise after being drafted by the North Stars in 1979. He stayed with the Stars in their move to Dallas until being traded to the New Jersey Devils in 1995, where he won his first and only Stanley Cup after scoring the game-winning goal against the Detroit Red Wings in his first season with the team.
4. Ed Belfour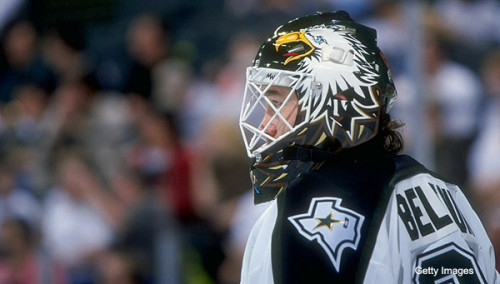 To this day even mentioning the name Ed Belfour to a Stars fan will have them smiling and reminiscing the days when Eddie the Eagle was between the pipes. When it comes to goaltenders, it doesn't get much better than Belfour.
Belfour came to Dallas in 1997 as a young hotshot with two Vezina wins, three Jennings trophies, and a Calder trophy already under his belt. Solidifying their goaltending and adding to the already solid defense, Ed Belfour played a huge role in the Stars' 1999 Stanley Cup win. Like Broten, Belfour is the only other player in NHL history to have won a Stanley Cup, NCAA Championship, and Olympic gold medal, so it's no surprise that he also went into the Hockey Hall of Fame in 2011, his first time on the ballot.
3. Jere Lehtinen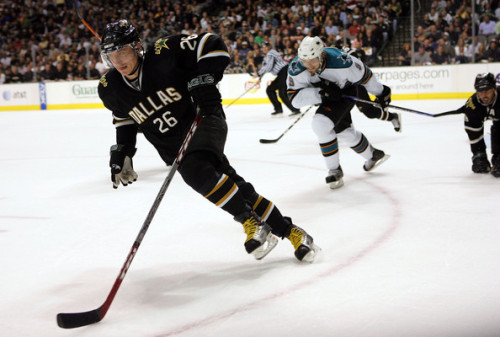 It's no secret that Finland is and always has been teeming with hockey talent. From Jari Kurri to Aleksander Barkov, Finland has produced some true hockey greats, but for Dallas fans there is one that will always stay near and dear to their hearts: Jere Lehtinen.
Lehtinen was often known off the ice as a very kind and quiet person, but on the ice he represented everything the Dallas Stars were as a team. Hard work, perseverance, both defensive and offensive prowess, and he was one of the most humble men on the ice. Jere Lehtinen played with the Stars from 1995 to 2010, his entire NHL career, and during that time he earned three Selke Trophies and was a vital part in the 1999 Stanley Cup win. Both on and off the ice Jere Lehtinen is a man to admire.
2. Sergei Zubov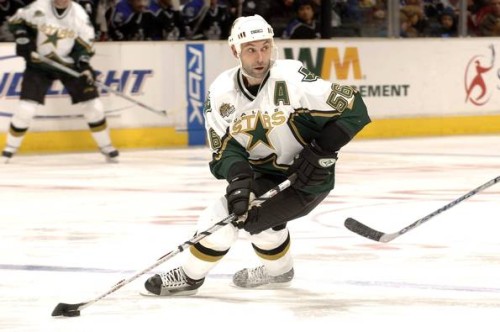 Like Lehtinen, Sergei Zubov is a no brainer on this list and for several of the same reasons. By the time Zubov became a part of the Dallas Stars in 1996, he was already an Olympic gold medalist withe the Unified Team in 1992 and a Stanley Cup winner as a part of the 1994 New York Rangers.
Zubov, like Lehtinen, has often been known as a quiet and humble man, often keeping to himself off the ice and letting his skills on the ice do the talking for him. One of the best offensive defenseman in NHL history, Zubov was a leader for the Stars all 12 seasons he spent with them, both as a player and when it came to helping out the younger guys. Sergei is the type of player any team would want and Stars fans still dream about having back on the roster.
1. Mike Modano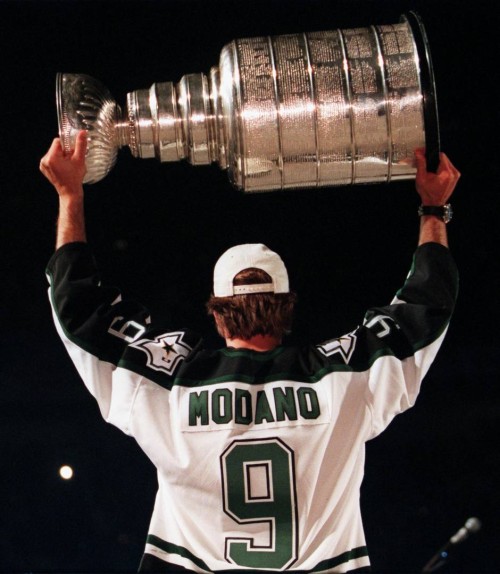 This surely comes as no surprise to anyone. Not only is Mike Modano the greatest American-born player to lace up the skates in the NHL, he is the greatest and most respected player to ever suit up in a Dallas Stars jersey. Like Lehtinen and Zubov, Mike Modano represented everything the Dallas Stars stood for during is two decades with the franchise.
Not only did Mike employ the ethics of hard work, determination, and perseverance, but he is probably one of the most humble professional athletes ever. If I were to list all the great thinks about Modano on the ice and as a person, this article would go on forever. In addition to winning the Stanley Cup in 1999, Modano also took part in eight NHL All-Star games, had his #9 retired by the Dallas Stars, is a Hockey Hall of Fame inductee, and holds four NHL records as well as eight franchise records. There will never be another player quite like Michael Thomas Modano.
Honorable Mentions: Brett Hull, Brenden Morrow, Joe Nieuwendyk, Craig Ludwig, Marty Turco, Derian Hatcher, Guy Carbonneau, Jamie Langenbrunner, Richard Matvichuk, Darryl Sydor
Love Reading About Hockey?

Subscribe to keep up-to-date with the latest and most interesting hockey news!
| | |
| --- | --- |
| | We hate spam just as much as you |