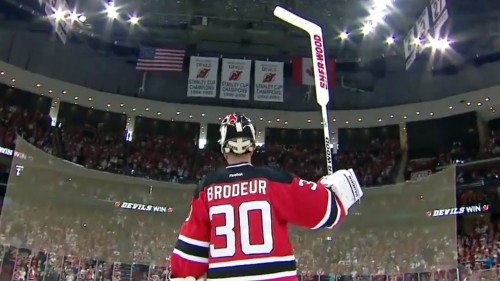 While it may be true that talent, in many cases, is in the eye of the beholder (forgive the slightly modified cliche), some things cannot be argued. Skill can be disputed only to a certain extent, but no New Jersey Devils fan would ever deny that Patrik Elias, Martin Brodeur, Scott Neidermayer, Scott Stevens, and Ken Daneyko made some of the biggest impacts on the New Jersey Devils organization (though this writer would also put Alex Mogilny somewhere on a "best ever" list). Here's why.
5. Ken Daneyko
Another man with three Stanley Cups, Daneyko spent his entire 20 year career with the Devils. Fans affectionately call him "Mr. Devil" because his 1.283 games played give him the franchise record. He still works with the organization, providing analysis on MSG during Devils broadcasts. He was the Devils' 18th overall pick in 1982, and became known for his gritty, body-sacrificing playing style. He also racked up over 2,200 penalty minutes. His #3 was retired by the Devils in 2006.
4. Patrik Elias
As if the Patrik Elias fan base wasn't strong enough in New Jersey, Elias hit the 1,000 point mark this season in a Devils uniform, forcing Devils fans everywhere to look back on his outstanding career. He also has spent his entire career with Devils, and racked up some pretty nice goals. The man had hepatitis and frequent injuries, but nothing is going to stop him.
3. Scott Neidermayer
Neidermayer became known around the league as a classy guy with a ton of talent, and his time spent with the Devils proved just that. In 97/98, he posted 57 points (14 of which were goals), finishing second among defencemen in scoring. The 03/04 season saw injuries for Devils star defencemen Brian Rafalski and Scott Stevens, which gave Neidermayer the full spotlight. That year, he won the Norris Memorial Trophy. He was inducted into the Hockey Hall of Fame in 2013, won three cups, and has his number retired by the Devils.
2. Scott Stevens
Stevens' legacy around the league notes his monstrous hits and physical gameplay, and retirement saw him co-coach the 2014/2015 New Jersey Devils. He was inducted into the Hockey Hall of Fame in 2007, and for no small reason – in the nine seasons that Stevens captained the Devils, they made four Stanley Cup Final appearances, winning three. He also won the Conn Smythe trophy in 2000. Essentially, Stevens championed the defence-first mentality the Devils are known for, and his leadership produced wins.
1. Martin Brodeur
Brodeur, to a Devils fan, is a man who needs no introduction and no explanation. The netminder has been part of the Devils organization for 21 years, and his stay included three Stanley Cups in 17 playoff campaigns. Add his two Olympic gold medals to his impressive list of NHL and franchise records – 691 career regular season wins and 397 losses and an uncanny 125 shutouts in 1,266 games played – and awards (he's a four time Vezina trophy winner, five-tome Jennings Trophy winner, ten time All-Star and a Calder Trophy winner), and you've pretty much got the definition of a franchise pinnacle. Oh, and he's the only goalie in the league's history to have eight seasons with 40+ wins.
Love Reading About Hockey?

Subscribe to keep up-to-date with the latest and most interesting hockey news!
| | |
| --- | --- |
| | We hate spam just as much as you |