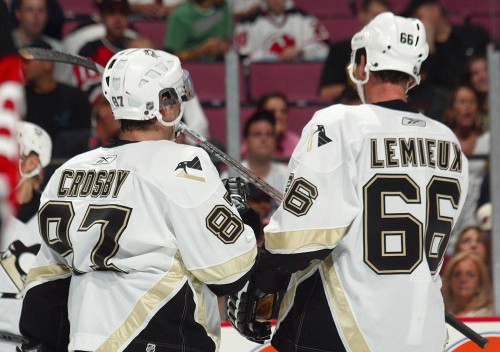 It's no secret that the Pittsburgh Penguins are a talent-filled franchise. Not even fifty years into existence, they're already famous for having some of the greatest names to ever play, such as Les Binkley, Pierre Larouche, Jean Pronovost, Syl Apps, Rick Kehoe, Jaromir Jagr, Marc Andre Fleury, Kris Letang, Evgeni Malkin. Honestly, the list could go on and on.
Despite that, though, there are a certain five players who stick out from the rest – who are the greatest of the great and thus deserve some extra recognition for it. Take a look at them below.
5. Paul Coffey
He may have only been with the organization for five years, but it doesn't show.
Coffey is the lone defenseman in team history to score over 100 points in a single season – and he did it twice. He's also seventh all-time on the team in assists (332) and 11th all-time in points (440). His best season with the pens was 1988-89, with a total of 30 goals and 83 assists. Two years later, he went on to become one of the vital forces on the Penguins' first two Cup-winning teams.
Overall, Coffey scored 440 points in the 331 games of his career in Pittsburgh – well over an average of one point a night – which is safe to say impacted the organization greatly.
4. Tom Barrasso
As starting goaltender for twelve straight years and one of the most important players behind two of the organization's three Stanley Cups – the first being due to his infamous, series-ending 8-0 shutout against Minnesota in the '91 Finals – Barrasso is by far one of the most beloved Penguins in team history.
Aside from earning the aforementioned two Cups as well as leading the franchise to its very first Presidents' Trophy in the 1992-93 season, Barrasso reigned first on the team for all-time number of games won (226), shutouts recorded (22) and games played among goalies (460), as well as for number of shutouts in a single season (7), until Marc Andre Fleury recently surpassed them all.
His phenomenal goals against average of 3.27 must also be mentioned – as well as his incredible love for the franchise. Anyone remember that pro forma contract?
Next 3 Players In The List