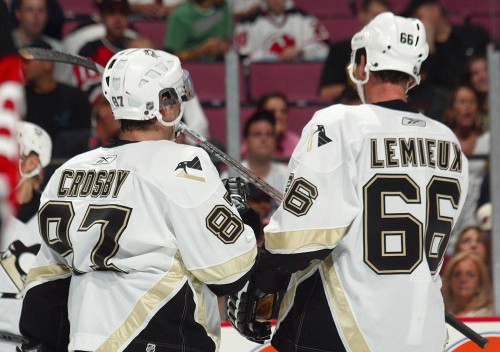 3. Ron Francis
A center from 1991-98, Francis was practically a second Mario Lemieux – which makes sense since he's the only player on the team other than Lemieux to ever score more than 90 assists in a season.
Ranking sixth all-time for number of team points (613), fourth all-time for number of team assists (449) and putting up six seasons where he scored at least 90 points, he's by far one of the best offensive players the Penguins have ever had.
But Francis was good defensively, too, as he showed when he became the first Penguin to win the Selke Trophy in 1995. Also that same year, he won the Lady Byng, becoming the first player in NHL history to win both awards in the same season. During that time, Francis was also serving as the team's captain in Lemieux's absence, which he would go on to do yet again in 1997-98, thus proving how much of a leader he truly was.
2. Sidney Crosby
As the best player in the world since about the first night he stepped on the ice, it's no wonder Crosby falls second here.
His accomplishments go on and on, and they're only going to grow even more. So far, Crosby has 627 games under his belt, with 302 goals and 551 assists. He holds top-twenty spots for seven different team records and has won a Stanley Cup, six NHL awards and two Olympic gold medals. He's also about to mark a whole decade playing with the Penguins, yet he's showing no signs of quitting any time soon. He's truly remarkable.
With all that aside, though, Crosby is just a generally great guy that the organization and all of its fans are proud to call their own. Sure, he may not have had the easiest career, especially health-wise, but he's overcome, choosing to always stick with the Penguins anyway, which says a lot.
1. Mario Lemieux
Of course the greatest man to ever play hockey tops this list.
Lemieux's track record is even longer than Crosby's. Playing in the Penguins organization for a total of 17 years – even despite severe injuries and cancer – Lemieux landed himself two Stanley Cups, six NHL scoring titles, three league MVP awards and two Conn Smythes, as well as six other honors.
He's the franchise's all-time leader in goals (690), assists (1033), points (1723), power-play goals (236), shorthanded goals (49), shots on net (3633), and games played (915). He also holds four of the team's single-season records. And let's not forget that he's the only player ever to score five goals in five different ways during only one game.
The naming of all his on-ice NHL achievements could go on for the next hour, but it's also important to note how Lemieux purchased the Penguins in order to save the team from bankruptcy. He then went on to win a third Stanley Cup in 2009 as owner. Now that is truly something.
Previous 2 Players In The List
Love Reading About Hockey?

Subscribe to keep up-to-date with the latest and most interesting hockey news!
| | |
| --- | --- |
| | We hate spam just as much as you |