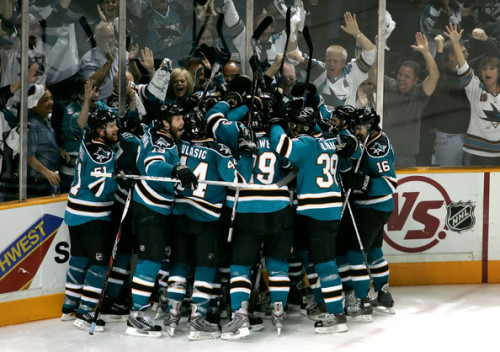 2. Joe Thornton (C)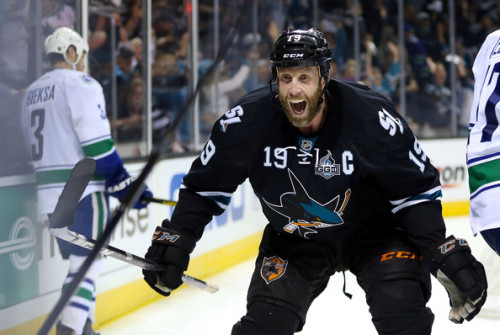 From Little Joe to Jumbo Joe we go. Standing at roughly 6'4" and 240 pounds, it was and still is nearly impossible for opposing players to strip Joe Thornton of the puck, particularly along the wall in the offensive zone. The 2015-2016 season will be Thornton's 11th in San Jose. The Sharks acquired the budding centerman in 2005 from the Boston Bruins in exchange for Marco Sturm, Wayne Primeau, and Brad Stuart. Although it may have seemed like a respectable deal at the time in the mind of Bruins general manager Mike O'Connell (which is still utterly perplexing), that trade will forever go down as one of the worst in the history of the Boston Bruins – and as one of the best in the history of the San Jose Sharks. If there's one thing hockey fans can agree on, it's the fact that Jumbo Joe records assists like it's nobody's business; in 753 regular season games with San Jose, Thornton has 805 points – 616 of them assists. He's the franchise leader in regular season assists and in playoff assists (64 in 97 games) by a landslide. As if those stats weren't convincing enough, Thornton also sits 2nd in points and 4th in goals in the Sharks' organization. Need I say more? Aside from this past season, Joe has helped the team clinch a playoff berth in every season during his tenure. As a result of leading by example on the ice, Thornton was named the captain of the Sharks in 2010 and proudly wore the "C" until 2014. The 6-time NHL all-star and 2-time Olympian currently sports a +149 rating in his career as a Shark which is almost unfathomable. For years, Jumbo Joe has displayed his supreme athletic ability and has proven that he can be a game changer.
Next In The List
Previous In The List
Love Reading About Hockey?

Subscribe to keep up-to-date with the latest and most interesting hockey news!
| | |
| --- | --- |
| | We hate spam just as much as you |