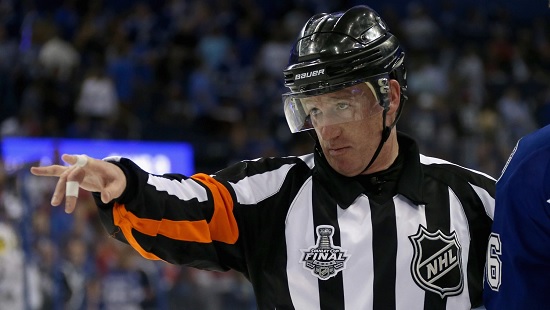 The NHL making a deal with the devil recently signed a new TV deal with ESPN and Stephen A. Smith showing exactly how much ESPN knows about hockey (the puck is black – wow!).
I feel like the NHL will encourage ESPN to at least look up the basics about the rules of hockey, so I've went ahead and prepared a list of five of the more obscure NHL rules that are good to know and fun to bring up in casual conversation.
Top 5 Unusual NHL Rules
1) Rule 24.2: Penalty Shots – "Only a player designated as a goalkeeper or alternate goalkeeper may defend against the penalty shot."
This rule comes courtesy of the late, great Roger Neilson, who would often find loopholes in the NHL rulebook (and OHL rulebook before that). During his time with the Peterborough Pete's in the OHL, Neilson discovered that the rules didn't state that a goalie had to be in net for penalty shots. So Neilson would send out a defenseman in place go the goalie, theorizing that a defenseman could skate out and defend the forward one-on-one before he had a chance to get a shot off.
It might seem gimmicky, but it worked. According to Neilson himself:
"We had six (penalty shots) one year and Ron Stackhouse stopped them all," said Neilson.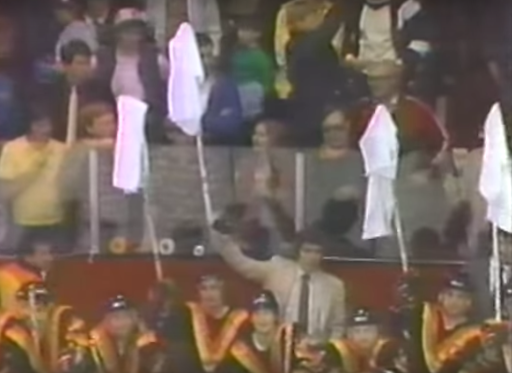 2) Rule 67.5: Awarded Goal – "When a goalkeeper, prior to proceeding to his players' bench to be replaced by an extra attacker, intentionally leaves his stick or other piece of equipment, piles snow or other obstacles at or near his net that, in the opinion of the Referee, would tend to prevent the puck from entering the net, a goal shall be awarded."
Another Neilson speciality shows up with the above rule. According to an article chronicling changes in the rulebook due to Neilson, Neilson would instruct his goalies to leave their stick laying in the crease before heading to the bench for an extra attacker.
At the time there was no rule against it. It made sense to try it too. If a players was to shoot the puck the length of the ice trying for the empty net, the puck would more than likely be sliding along the ice by the time it reached the crease -meaning it had a good chance of being stopped or redirected by the goalie's stick left in the crease.
The NHL soon caught on though, hence rule 67.5 and an automatic goal against the team trying the tactic.
3) Rule 5.3:  Goalkeeper – "Each team shall be allowed one goalkeeper on the ice at one time."
This seems pretty self explanatory, as it would be nearly impossible to score if you just had two (or more) goalies crowd the crease and take up the entirety of the open net. This rule was just more of an oversight that the NHL decided to address than a specific incident that led to it being changed.
The NHL itself says it has no record of two goalies ever playing on the same team being in the net at the same time. Even though there is no record of it happening, someone must have broached the idea in 1931 for the rule to be addressed in the 1931-32 season.
All of that said, per rule Rule 82.1, NHL goalies can do a regular line change during play instead of waiting for a whistle. This might seem silly, but it has happened before:
4) Rule 31.11: Unable to Continue – "If, through misadventure or sickness, the Referees and Linesmen appointed are prevented from appearing, the League will make every attempt to find suitable replacement officials, otherwise, the Managers or Coaches of the two Clubs shall agree on Referee(s) and Linesman(men). If they are unable to agree, they shall appoint a player from each side who shall act as Referee and Linesman; the player of the home Club acting as Referee and the player of the visiting Club as Linesman."
That's a long way to say that if there's absolutely no referees or linesmen around, a player from each team can end up being appointed to ref the game.
As unlikely as this might seem – it did actually happen once before.
On January 15, 1983 the New Jersey Devils and Hartford Whalers were scheduled to play, but by the time the game was to start – the ref and one of the linesman were nowhere to be found (it later turned out they had been stuck in a snowstorm).
So, with only linesman Ron Foyt at the rink, he presumed referee duties and each team was instructed to select a player to join Foyt as linesmen. Mickey Volcan (Whalers) and Garry Howatt (Devils) were the players selected from each team and Volcan remembers getting told about it:
"All of a sudden, [Whalers coach] Larry Kish said, 'We're going to have a player from each team and you're going to represent our team… So we put on some sweats and black practice jerseys and they called us in to the room prior to the game. We sat down and he [Foyt] went through it with us."
After a period of play, referee Ron Fournier and linesman Ron Asselstine were able to make it to the rink, ending Volcan and Howatt's brief stint as NHL officials. The only notable thing Volcan remembers from his short time as a linesman was kicking Ron Francis out of a face-off:
"We were in our defensive zone and Ron Francis was taking the faceoff," Volcan said. "I'm trying to square the guys up and Ronnie is really cheating. I had to kick Ronnie out of the circle. It was so blatant. I said, 'Ronnie, you're out.'"
You can read the full story here.
5) Rule 76.1: Face-off – "The action of the Referee or Linesman in dropping the puck between the sticks of two opposing players to start or resume play." 
Since Stephen A. Smith's top five things he knows about hockey ended with a number one of the puck being black, I thought I should keep it simple for my last item too.
It might seem simple and something everyone should know, but it wasn't always this way.
Back in the early day's of hockey, referees used to have to place the puck on the ice. You can imagine this led to all sorts of cuts, scrapes, bruises, and stitches. Keep in mind the puck used to be a wooden rectangle in hockey's early days, so you can't fault early officials for not knowing any better. Luckily, the NHL allows refs to drop the puck, saving their hands and fingers from all sorts of scratches.
And for those of you asking, yes there is a section about goalies not being able to take face-offs, and no, as far as I can tell, Roger Neilson didn't try it.
Stay tuned on for my upcoming Throwback Thursday article on the Maurice Richard suspension and riots.
Love Reading About Hockey?

Subscribe to keep up-to-date with the latest and most interesting hockey news!
| | |
| --- | --- |
| | We hate spam just as much as you |