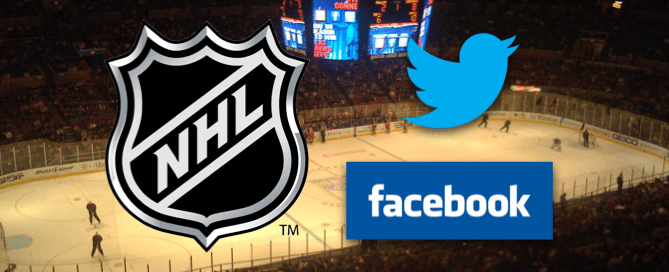 As August comes to an end, October and the start of the 2018-19 NHL regular season is just around the corner.
With things heating up, HOHM looks back on the top NHL social media posts for August 2018.
The San Jose Sharks are usual suspects for HOHM's monthly top social media posts, and goaltender Antoine Bibeau took full advantage of the team's nickname.
🌊🌊🌊🌊🌊🌊🌊

🦈

With Antoine Bibeau's new Jaws-themed mask, you're going to need a bigger net. https://t.co/MTCSLtocey

— San Jose Sharks (@SanJoseSharks) August 17, 2018
Adam Henrique is apparently a hockey jersey collector. The Anaheim Ducks new fan-favorite posted a photo of two sweaters from the 1990's, and one of which is the Vancouver Canucks' "flying skate" jersey that the team will don as a 50th-anniversary alternate jersey in 2019-20.
New additions to the collection! @9modano pic.twitter.com/W8emCljoUC

— Adam Henrique (@AdamHenrique) August 22, 2018
Is it October, yet? Fans can expect to see Florida Panthers goaltender Roberto Luongo with a new style once the puck drops in South Florida.
You guys can keep laughing all you want but it won't be so funny when I show up looking like this first day of training camp this year cuz this is totally awesome!!! pic.twitter.com/jwWEGR98Qh

— Strombone (@strombone1) August 20, 2018
There's a new Swedish commercial out featuring Erik Karlsson and it left all of North America speechless — be sure to check it out.
Even YOU can recover like Erik Karlsson.https://t.co/TG2F3Z3i67

— Sportsnet (@Sportsnet) August 21, 2018
New York Rangers forward Pavel Buchnevich making a young fan cry because he gave him a stick at a game last season will never get old.
In honor of #NYR day at @ProHockeyTalk, one of our favorite moments of the season!

Pavel Buchnevich gives his stick to a young @NYRangers fan who bursts into happy tears ❤️ pic.twitter.com/9NhFlvlqLt

— NBC Sports Hockey (@NBCSportsHockey) August 20, 2018
The Nashville Predators Twitter account proved it can still entertain even though it's the offseason.
Oh stop, we're blushing…#Preds | @NHLNetwork https://t.co/MDMKLjUo4G

— Nashville Predators (@PredsNHL) August 14, 2018
Adam Henrique made the list twice, after No. 14 posted this photo of him as a youngster fighting the great Jarome Iginla — who officially retired this offseason.
Thanks for not ending my career before it began! Congratulations on a great career! #doublegordie #survived pic.twitter.com/AX4t2Qzspk

— Adam Henrique (@AdamHenrique) July 31, 2018
This tweet from July still made the cut. Newly appointed Dallas Stars head coach, Jim Montgomery, already made his stamp on the league as a first-year NHL coach. He even displayed his hashtag savviness.
Yes @tseguinofficial should #justsaying https://t.co/QhUe8UUFo0

— Jim Montgomery (@StarsMonty) August 1, 2018
The Arizona Coyotes tweeted this awesome montage of Shane Doan. Some may have forgotten that Doan is the only player to have worn No. 19 for the 'Yotes.
The first to wear 19.
The last to wear 19.

We wouldn't have it any other way. pic.twitter.com/mPp9EwE1e1

— Arizona Coyotes (@ArizonaCoyotes) August 1, 2018
A fan created an Erik Karlsson Ottawa Senators logo, and perhaps if the Sens introduced this as their official new logo and jersey, then the former Norris Trophy winner would reconsider staying put with the team.
A hockey fan remade the Senators' logo as Erik Karlsson and it's absolutely fantastic. MORE @ https://t.co/t3hMEisHLr pic.twitter.com/I3m87LTAtH

— BarDown (@BarDown) August 1, 2018
Two former NHL teams faced-off on Twitter for the Offseason Social Media Cup.
At least your gm is still in the league today

— The Quebec Nordiques (@NotNordiques) August 3, 2018
EA Sports' NHL Twitter handle chirped the Carolina Hurricanes after they traded Jeff Skinner to the Buffalo Sabres in a questionable deal this offseason.
When you have trade difficulty set to 'easy'. #NHL19 pic.twitter.com/vzVPezhSkJ

— EA SPORTS NHL (@EASPORTSNHL) August 2, 2018
Michelle Drinnenberg reminded us all that she's "fluent in hockey and sarcasm," after her tweet towards Nashville Predators center, Ryan Johansen. Kesler had tweeted at Johansen first about dropping the gloves during the offseason…
You forgot to include the @Ryan_Kesler https://t.co/kdsg3WPYR8

— Drinns (@m_drinnenberg) August 6, 2018
Check out this awesome painting of Washington Capitals forward Alex Ovechkin lifting the Stanley Cup.
https://www.instagram.com/p/BmFImkbFyO5/?utm_source=ig_share_sheet&igshid=1ju7l40w9xcl0
The Vegas Golden Knights' Barc-Andre Fleury has some serious competition now with the rise of the New York Rangers Pup.
Some barkground on me:
I'm a Lab.
Born on 1/31/18.
My first collar was blue and now I get to be a Blueshirt!
My pre-game treat is peanut butter!
I'm learning to handle pucks!
I love to take the subway to MSG!#NYRPupOnAPath pic.twitter.com/wn3ViGtqQY

— Ranger (@NYRangersPup) August 7, 2018
Former Buffalo Sabres great, Miroslav Satan, met Wayne Gretzky.
Not every day you get to meet #99 pic.twitter.com/Wp5JFktWJU

— Miroslav Šatan (@miro81s) August 9, 2018
Paul Bissonnette has a pretty legitimate point.
Wrong. I think you're a bozo if you trust some of these idiots skating around in mens leagues with your health. All it takes is 1 hero (which every team in the history of beer league has a minimum of 1 donkey who's a try hard) and then you're unable to work your everyday job. https://t.co/QKEsW5QIrJ

— Paul Bissonnette (@BizNasty2point0) August 10, 2018
Check out this individual effort from this Russian skater.
🚨GOAL🚨 INCREDIBLE goal scored by Vasili Podkolzin 🔥, 4-2 🇷🇺#HlinkaGretzkyCup pic.twitter.com/tslDLVwpJy

— David Nestico  (@davidnestico200) August 11, 2018
Another painting made it to the list, but this time it's New York Rangers goaltender, Henrik Lundqvist.
New painting: Henrik Lundqvist @HLundqvist30 @NYRangers #Lundqvist #goalie #hockeyArt #watercolour pic.twitter.com/XWGhJ6vZBK

— A. Lubowitz (@alubowitzart) August 11, 2018
NHL broadcast, and former goaltender, Darren Pang posted a vintage photo from his playing days with the Chicago Blackhawks.
My @NHL pads were all 27-28 inches. Because my custom skate size was only 5 1/2 it meant my toe/crease of bottom part of pad was so short, I needed pad to be that short. @goaliesonly was the best for my pads. My favorite I ever had. pic.twitter.com/3Iwn1xgqoM

— Darren R Pang (@Panger40) August 12, 2018
Dallas Stars goaltender Ben Bishop recently had some fun with Jamie Benn.
https://www.instagram.com/p/BnG9GLClYan/?hl=en&taken-by=nhl
Tweet your NHL related questions to @KMcKenna_tLT5 to have them answered & be sure to use the hashtag #McKennasDigest
Kyle McKenna covers the NHL for Hooked On Hockey Magazine. He can be reached on Twitter (@KMcKenna_tLT5)