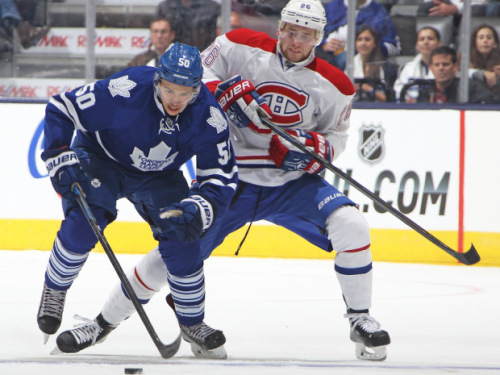 It's only been one game, and already Leafs Nation is starting to panic. The Toronto Maple Leafs dropped their home opener to the Montreal Canadiens Wednesday night, and they did so in a very familiar fashion.
They tied the match late in the third, and less than two minutes later, the game was lost. The inability to hold leads and scrape for points is what separates elite clubs from mediocrity, and Leafs Nation is tired of watching their club collapse on a night-to-night basis.
"[I'm] saving all of my money for Leafs playoff tickets, that way when they collapse in the last 20 games I'll at least have a couple grand," one fan (@CesareNard48) tweeted Saturday.
But with 81 games left to play, is this tweet truly justified? Probably not, but for a team that spent the past four and a half months vamping up their physicality, the analysis behind their first loss is a little disconcerting.
The Leafs have a gritty bottom six, and a physically intimidating defensive core. Stephane Robidas aside, each Leafs' defenseman stands at least six-feet, and even Joffrey Lupul and James van Riemsdyk add a physical presence to the Leafs top forward lines. They out hit the Canadiens 35 to 21, and still managed to lose the game via the physicality factor.
"Six missed assignments because you didn't want to get dirty, or physical, or sacrifice, it's unacceptable," said Tim Micallef, co-host of "Tim and Sid" on Sportsnet 590 the FAN. "At least, it's unacceptable on any good team."
The Leafs top line featuring Phil Kessel, van Riemsdyk, and centre Tyler Bozak were on the ice when Canadiens superstar P.K Subban wired the go-ahead-goal passed Jonathan Bernier in period number three.
"We're a resilient group here," Subban said. "It doesn't surprise me that we came right back."
Though when a top unit misses six consecutive assignments, and leaves the paramount oppositional player open in the slot, resilience isn't exactly the term to describe Montreal's victory. The Leafs had a 2-1 lead heading into the second, and essentially disappeared after that.
But Leafs superstar Phil Kessel, who came inches from tying the game back at four near game's end, isn't worried just yet. "Guys, it's game one," Kessel told reporters on Friday. "You need to relax a bit here."
Prospects Brandon Kozun and Stuart Percy registered their first NHL points, Nazem Kadri is off to a good start, and the Leafs only have three players on their roster over the age of 29. They have a poised 20-year-old sophomore defenseman in Morgan Rielly, and a prospect pool brimming with high-end talent.
The game was lost via an unlucky bounce off Percy's skate, and this season young players will be on the ice consistently. "I thought Percy was very good. He played well above his age," Phaneuf said. "I told him it's a bad bounce… A shot from the corner hits his skate? That's bad luck."
The Leafs are a young squad, the season is far from over, and people need to focus on the positives. For head coach Randy Carlyle, "growing the organization" is equally important to playoff qualification, and one bad shift and an unlucky bounce are not enough to doom an NHL club.
Let's at least make it to the Christmas break, and then we'll talk. So do not lose faith, Toronto, because there's still lots of hockey left to be played.