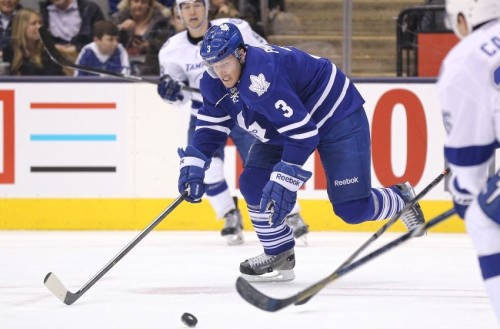 With opening night looming on the horizon, it's unfortunate that little has changed for the Toronto Maple Leafs. Dion Phaneuf remains captain, the first line centre position is still fragile, and the blue line is nothing to cheer about. Long story short – this could be another long season for the boys in blue.
Last year the Leafs gave up a league worst 35.9 shots-per-game, and new acquisitions Roman Polak and Stephane Robidas are not enough to change this ugly statistic. While Polak may play a clean game in his own end, the 6-foot, 227-pound defenseman is prone to injury, and plays a quiet contest despite his dominant stature. On the flip side, the 37-year-old Robidas plays a gritty competition that wears him down, and has not played a full 82 game season since the 2009-10 campaign.
But the back end is only one problem that plagues the Leafs' lineup, as they lack the forward depth up front to make a playoff run. While Phil Kessel, James Van Riemsdyk, and Tyler Bozak have incredible chemistry together, a single line does not win championships. Beyond Kessel, the Leafs' do not have a dependable top six winger on the right side. Colton Orr and Matt Frattin will play bottom six roles, and David Clarkson will need to contribute more than 11 points and the odd fight to not be considered a waste of space next season.
And it only gets worse when you consider whom the Leafs have up the middle.
While Nazem Kadri is a solid second line guy, and Bozak has great offensive awareness, nether player has the same size or offensive consistency as a top line centre at the NHL level. Jonathan Toews, Sidney Crosby, Ryan Getzlaf, Steven Stamkos, and Pavel Datsyuk will register close to or over a point-per-game, and they do this by creating offense individually. So argue all you want, but until Bozak can generate offense independent of who's around him, he should not be considered a first line centre.
Fortunately, however, the Leafs' left side has significant depth. JVR is one of the top power forwards in the league, and assuming he can stay healthy, Joffrey Lupul is a solid 20-goal player. Former 30-goal man David Booth will replace Mason Raymond and try to revive his career in Toronto, while fellow newcomer Daniel Winnik can play any forward position, providing versatility in a bottom six role. Leo Komarov and Troy Bodie – who combined have played 196 NHL games – are also in the system in case of injury.
And let us not forget, the Leafs have the strongest goalie tandem in the NHL. James Reimer and Jonathan Bernier bailed the Leafs out last season, and with limited shots against they may be able to keep the team in playoff contention. The Leafs can score, they just need to learn to keep the puck out of their own end. Last season the Maple Leafs scored 2.71 goals-per-game, which is incredible considering they spent most of their time chasing the other team. If the Leafs could lower their shots against by a mere 5 or 6 attempts this season, they should improve drastically.
In today's NHL, winning is all about time of possession. The Los Angeles Kings gave up 26.2 shots-per-game – the second fewest in the NHL and 10 less than the Leafs – and won the Stanley Cup. If the Leafs can lower their shots against total to fewer than 30 attempts each game, they should have a fair shot at making the postseason. The New York Rangers and Detroit Red Wings, who gave up 29.4 and 29.3 shots-per-game, respectively, each squeaked into the postseason with average possession numbers and a below average offense. The Wings finished 16th in the league with 2.65 goals-per-game, while the Rangers were 18th with 2.61. Thus the old saying "the best offense is a strong defense" speaks volumes.
In short, it can be argued that the Leafs have major holes in their lineup, but they also have players that can help this team win. They can score goals, and they have the depth in the crease to contend, but they don't have that shut down defenseman or top line centre that thrives off puck possession. As one of the youngest teams in the NHL, there is still time for players to develop and grow, but this city has been waiting long enough.
The problem is puck possession, and everyone knows it.
So do your job, Nonis, and find and/or develop those possession players. Don't bank on offense to carry through, and don't rely too heavily on solid goaltending. Reinforce a defensive system, and maybe encourage Phaneuf to limit his pinching in the offensive zone.
But please, don't waste another season.