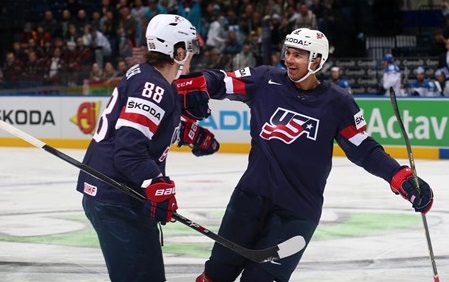 With two games left to play in preliminary action, the United States picked up a crucial two points after defeating Kazakhstan 4-3 in overtime early Friday morning.
Right now the standings in group B are relatively clustered, and the United States need all the points than can get in order to push on to the playoff round. Team Kazakhstan sits last in group B with two points, meaning the game was much closer than it should have been.
"We definitely wanted to win this," said American blue liner Seth Jones. "We didn't want it to be as close as it was, to be honest, but we are happy to get the points."
Despite their poor play as of late (the Americans lost 6-5 to Latvia on Thursday, and 6-1 to Russia the game before) Jones is not to blame. He registered a goal and two assists yesterday, along with two goals and an assist in today's win, totaling six points in the past 24 hours. With play like this, it's no wonder he was selected fourth overall in the 2013 draft.
"He's playing unbelievable hockey," said American forward Johnny Gaudreau. "Having played with him before representing Team USA, he's a great player and even better person."
In the opening frame, the Americans took four minor penalties, and Kazakhstan was able to convert after a number of opportunities down low in the slot. Fortunately, veteran forward Craig Smith tallied on an American power play to tie things up, maintaining his dominance from a year ago as the teams' leading scorer.
Jones also found the back of the net on the power play, and leads the team with seven points in five games. He would go on to score the overtime winner.
"The whole tournament, it's been special teams battles." Jones said. "They don't seem to be letting off the whistle, really. So you are either taking five penalties or getting five power plays in a period. We just got to do a better job staying out of the box, keeping our sticks down, playing a little more with our feet."
This is good advice for a team in desperate need of acquiring points. Their next game is against Finland, a team they are tied with at eight points a piece, followed by Germany, a team one win below them in the standings.
"That was a huge game in every way," said American defenseman Matt Donovan. "We really needed that one. We need to keep working and get better every game, especially as we near the end of this round." Donovan scored the third goal for Team USA, registering his first point of the tournament.
The top four teams from each group will move on to Quarterfinal action, and if the U.S expect to be a part of this playoff picture, then they had better bring their "A-game" next week. Today's match was proof that there are no "easy games," and the Americans had better be ready. As far as this tournament is concerned, Team USA's status as an elite club is in jeopardy.
So let's go, America. Quarterfinal action starts on May 22, but crunch time starts now.