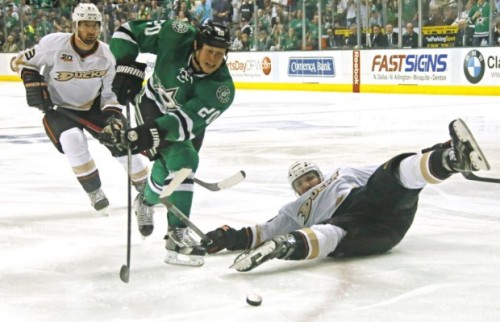 Hockey fans everywhere are rejoicing as the long awaited 2014-2015 season is less than a month away. Teams are readying themselves to begin another fight for the Cup and the Los Angeles Kings are preparing to defend their title.
While everyone is full of excitement in regards to this season, Dallas Stars fans are left wondering why two of their rising young players have yet to sign a contract. Defenseman Brenden Dillon and forward Cody Eakin have played well for the Stars in recent years and are believed to be players that will go on to become the face of the team one day. Both players are restricted free agents, which means that the negotiating rights for their contracts is up to the Stars. Basically, the Stars are to give Eakin and Dillon a contract offer. If they accept then they will of course remain part of the team, but if they decline they are allowed to negotiate offer sheets with other teams. The Dallas Stars would be notified of any offers from other teams.
According to Stars GM Jim Nill, both sides have been negotiating and things are going well, but that has been questioned by a lot of people, especially since that statement was made about a month ago.
"They'll be in Stars jerseys. I love both players. I love how they play. They're first class men both on and off the ice which is important, and they're a big part of our organization moving forward," Nill said.
As far as the salary cap goes, the Stars have plenty of space, at least until Eakin and Dillon are resigned. The NHL cap hit is about $69 million and the Stars are currently sitting somewhere around $64 million. Eakin and Dillon are both still young players, so they shouldn't be getting giant contracts just yet.
While this could seem scary for the fans, we could take a look back at times when players such as Jamie Benn had issues like this, or Antoine Roussel who was in the same boat as Dillon and Eakin just earlier in this offseason, with both deals working out well. At this point only time will tell, but it will certainly feel a lot better when we can see Brenden Dillon and Cody Eakin gearing up in victory green.