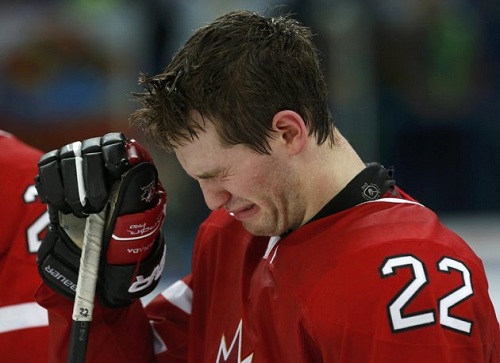 Every year over the Christmas break, hockey fans across Canada and around the world gather to watch the best teenage players in the game represent their countries at the World Junior Hockey Championship tournament. And this year was no different with many exciting games and talented players showing off their skills for two weeks straight. But there was one difference: Team Canada did not win a medal for the first time in 14 years, finishing fourth overall. I woke up early (most games were at 4 am where I'm at) and watched the team fall apart as the tournament went along. Here is what I saw go wrong.
Even before the actual tournament started on December 26, the Canadian team looked out of sorts in their two pre-tournament games. In the first game, a 3-2 loss to Finland, Canada played a very undisciplined game, taking 10 penalties and giving up two goals while down two men. When drafting the team, Coach Steve Spott had hoped that his team would be faster and less aggressive. That's why players like Frank Corrado and Tom Wilson were left off the roster. The idea was having good skaters would be more useful than guys that could hit on the Olympic sized ice surface, but against Finland in Helsinki, the team still found ways to take penalties.
But in the second pre-tournament game, a 2-1 shootout win over Sweden, the undisciplined play continued and would cost Canada big time. A late-hit by Boone Jenner resulted in a game misconduct and a three game suspension, leaving Canada without their best penalty killer and one of their six returning players. Jenner has a good chance of making the Columbus Blue Jackets when the season starts in a couple of weeks, which just shows how important his role on Canada was. Without him, Canada had a void on forward and in their leadership core, which would prove to be costly.
However, more important than the discipline problem, was the controversy in the Canadian goal. Malcolm Subban, the Boston Bruins first-round pick and brother of Montreal's PK, was given the starter position. But he was in-goal for the Finland loss. His backup, Jordan Binnington, got the win against Sweden. Now Canada was faced with a problem: who to put in-goal for the actual tournament. Subban is statistically stronger than Binnington in every category in the OHL, but he didn't look good in the Finland game or in the camp before the final cuts were made. Canadian fans took to Twitter to offer their support to Binnington to play and Subban to sit, but it was Subban who would get the start. Although both goalies deny paying any attention to the critics, it must have at least been in the back of Subban's mind and affected the way he played.
As the tournament started, the usual pressure was on Team Canada to win. But this year there was a little bit more. Canadian fans had been denied NHL hockey for four months and were looking for anything to wet their appetite for the sport. And in the previous two lockout seasons (the NHL likes to do that) Canada had brought their best teams to the tournament, including the 2005 team that included players such as Sidney Crosby, Shea Weber, Brent Seabrook, Dion Phaneuf and Corey Perry among many other NHL stars. That team went 6-0 and won Gold easily, sparking a run of five straight gold medals for Canada. And fans expected that again this year.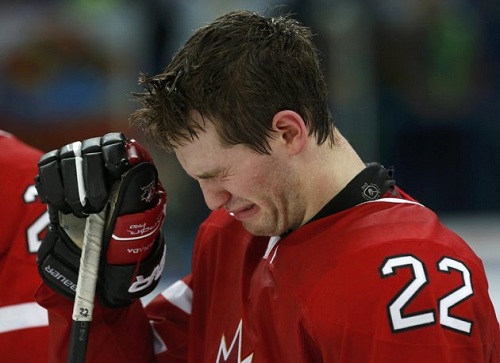 With stars like Ryan Nugent-Hopkins, Mark Scheifele, Ryan Strome, Jonathan Huberdeau and Dougie Hamilton on the team, all guys that will be in the NHL very soon (if they aren't already), Canada should have been successful. But something went wrong along the way. They beat Germany 7-3, but at times looked out of place. They beat Slovakia 6-3 but were down 2-0 early in the game. They barely beat the Americans 2-1, a game that could have gone either way. So Canada was 3-0 and leading their pool, but something still seemed off. The chance to medal was still very good, but they were not playing with the same intensity and skill that the 2005 team had.
Then came the final round robin game, a 4-1 win over the host Russians. This was by far Canada's best game, with dominant performances from everyone and no undisciplined play to be had. The players expected to provide offense did. Hamilton, Scheifele, Jonathan Drouin and Huberdeau all scored, with Hopkins adding three assists. And the players expected to play defence did too, with Jenner returning and dominating the penalty kill, Scott Harrington blocking a ton of shots, and Subban standing tall in-goal the whole way. After this statement game, suddenly it looked like Canada was back playing the way Canadian fans expected of them. They were undefeated and going to the semi-finals. How could they not get a medal now?
But then disaster struck, as Canada was beaten badly by the Americans in the semi-final, 5-1. Everything Canada did right against Russia, they did wrong against the Americans. Their powerplay was non-existent, Subban was pulled for Binnington in the second period and Hopkins, Scheifele and Huberdeau disappeared offensively. The only goal Canada scored shouldn't have counted, and wouldn't have counted in the NHL, but the ref let them have it since he was the one who made the mistake. It was just a terrible performance from everyone, ending with a brutal high-stick from Griffin Reinhart that resulted in a four-game suspension. The questions this team had surrounding them the whole tournament were answered, this team could not compete.
Then came the Bronze medal game, a 6-5 loss to the Russians. Again, the defence failed Canada, along with their penalty kill. Binnington got the start for Canada, but he only lasted eight minutes, giving up three goals on five shots. Turns out Subban should have always been the guy. But Russia's defense wasn't much better and Hopkins added four more points, Huberdeau and Scheifele scored too and the other offensive players got many more chances than they did against the Americans. The game had to go to overtime and a single breakdown by the Canadian defence cost them the game, and a medal. Ryan Murphy, an important powerplay defenceman, but a useless defensive player, was beaten cleanly by a Russian forward, who made no mistake tucking the puck past Subban.
It was a fitting end for a Canadian team that only played to their potential once, in their first game against Russia. The streak of 14 straight medals is now over. The players will now go back to the CHL (or the NHL) and continue to dominate. But working together was not in the cards this year. Playing disciplined was a foreign concept. Nobody had confidence in the goaltending. And if Canada wants to get back on the podium, those problems will all need to be addressed before next year's tournament in Sweden. They will field a very different squad next year, but the expectations will be the same. Medal or bust.
Love Reading About Hockey?

Subscribe to keep up-to-date with the latest and most interesting hockey news!
| | |
| --- | --- |
| | We hate spam just as much as you |