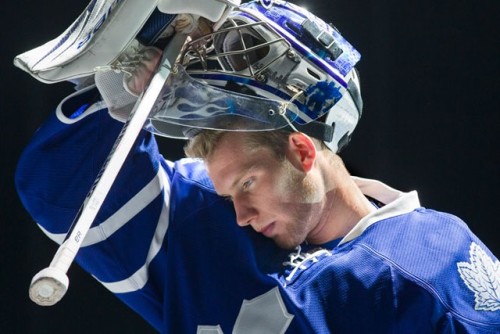 James Reimer is a fantastic goalie deserving of a second chance away from the hockey crazed Toronto market.
The 26-year-old has played 165 NHL games and has collected points in 53 per cent of them. On a team that consistently gives up more shots than the opposition, this point percentage is quite good. The Leafs have failed to use Reimer effectively and with a year-and-a-half remaining on his $2.3 million salary, trading him would be a wise decision.
On most clubs it's typical for lesser, veteran goalies capable of playing a few games each season to fill the back up position. Ironically, Reimer does not fit this standard criteria. He is still relatively young (especially for goalies – whom tend to stay in the league longer than other positional players) and demonstrated in the 2010-11 and 2012-13 seasons that he can play around 40 games in a single campaign.
It's obvious the Leafs do not have a backup in Reimer and it's time they stop using him as such. By trading him away on March 2 the Leafs could acquire picks and prospects to assist the rebuild, while freeing up cap space for later signings. Landing Reimer for $2.3 million is a steal, but only if you play him on a regular basis. Backup goalies are always available come free agency and the Leafs could always find a cheaper option to ride the pine.
This season Reimer has registered a 7-13-0 record in 25 appearances, while Jonathan Bernier has played in 41 contests. The debate over who's the better goalie is drawn out, though because both goalies are deserving of the starting job, one will always be on the outside looking in. The concept of a 1A-1B tandem only works briefly when time is shared equally and healthy competition is established.
Unfortunately, although this was the case early on it seems Bernier has stolen the spotlight. Since joining the Leafs in 2013 Bernier has made 96 appearances, while Reimer has faced 61 matchups. In my mind having two starters play unequal amounts breeds negative energy, which seems to be Reimer's current predicament.
Hockey Night in Canada's Don Cherry agrees.
"No matter what you do, the guy that's the backup is going to be mad at you," he said. "The kid's lost all confidence in himself." After carrying the Leafs to the postseason in 2012, the Bernier signing was nothing short of insulting. To Reimer's credit, however, he never made a scene and has continued to play hard each night.
Bernier is set to become an RFA this summer, which means he will be asking for much more than his current $2.9 million salary. Considering he's played 5,394 minutes in Toronto the past two seasons compared to Reimer's 3,082, a Bernier resigning seems inevitable.
Elsewhere, Edmonton's $2.9 million Viktor Fasth is set to become a UFA this summer, making Reimer a cheaper and more skilled option in the crease. Further, Reimer and Oilers starter Ben Scrivens played together in Toronto, setting a positive environment. The Oilers are in a similar predicament to the Leafs, though while Reimer is paid to sit on Toronto's bench he could aid in Edmonton's rebuilding process.
The Leafs have mistreated Reimer over the years and undermined his value, but that's not to say he won't be a strong fit somewhere else. The trade deadline is fast approaching and if Reimer is still in Toronto on March 3, than a big mistake has been made.
Toronto needs the building blocks for the future, but more importantly Reimer deserves a fresh start.