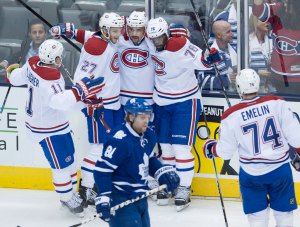 The Montreal Canadienes are one of the league's best teams and Phil Kessel would fit nicely on the Habs top line. He has one of the quickest releases in the game – and while he could spark most clubs – Montreal has a supplementary need for the star-studded winger.
As it stands Montreal has the fewest goals-per-game amongst playoff teams (2.57) and is the only playoff team to give up more than 30 shots each night. Carrying statistics like these, Kessel (who is tied for eighth in shots across the league with 193) could spark Montreal down the stretch.
In addition, the Habs only have three right wingers signed to their roster, the best being 22-year-old Brendan Gallagher. The speedy winger is on pace for a new career high 44 points, though even with a $3.75 million contract kicking in next season, Montreal may want to consider acquiring a more superior talent – namely the $8 million Phil Kessel – on the right side.
However, unlike his tenure in Toronto Kessel would be an asset around the core (i.e Subban and Price) and could aid in driving up Montreal's possession numbers. Kessel is tied for 15th in NHL power play points, which combined with Subban's slapper would rocket Montreal beyond their 25th ranked special unit. The Habs sacrifice the fewest goals-per-game (2.18) due to Carey Price, which combined with Kessel's dynamite shot spells danger for any opposition.
But while there's no question the Habs could use Toronto's top asset, the question remains: do they have the pieces and cap space available to strike a deal? Definitely, so long as they're willing to part ways with contracts of their own.
Toronto is in the process of altering their entire culture. The NHL has changed, and there isn't as much room for fourth line bruisers as their used to be. The Leafs are looking for high picks and young, skilled prospects to develop internally, which means dealing Kessel needs to set things in motion. The Habs have a number of pieces (i.e Scherbak, Fucale, De La Rose, Beaulieu, Bournival, Thomas, and Jiri Sekac) but for a deal to materialize Alex Galchenyuk must be in play.
The 21-year-old is on pace for a new career high 64 points and with Tyler Bozak set to be dealt in the near future, Toronto will need another developing asset up the middle beyond Nazem Kadri. Galchenyuk is an RFA at season's end, and by expelling Kessel's $8 million cap-hit, the Leafs could take on what should become a hefty contract for the Montreal centre.
With $2.6 million in cap space today, it's expected Montreal will drop Sergei Gonchar's $4.6 million contract when he becomes a UFA this summer. The 40-year-old defenseman has 12 points in 38 games this season and is approaching the end of his career. With this move on top of releasing lesser players to free agency (e.g. Mike Weaver and Manny Malhotra) the Habs could absorb Kessel's contract.
The deal ultimately being Phil Kessel for Galchenyuk, a pick, and a prospect would benefit both teams immensely. There are a lot of variables in this potential trade, but at the end of the day it's entirely possible. The Leafs have the rebuilding mindset and the Habs have the need for offense, making this trade ideal for both parties.
And while it's no secret Kessel has a hard time with Toronto media, Subban – a friend of Kessel's off the ice – doesn't understand the criticism.
"Some of the things I've seen happen in Toronto I haven't seen happen here," he said. "He's a world-class player, he's among the top guys in the league for goals for the past, I don't know, five, six, seven years?"
It's a good guess – he's pretty close.
In fact, Kessel cracked the NHL's top 10 in scoring the past three seasons, notching 30 or more goals in four of his five full seasons with the blue and white. Maybe lacing up alongside his friend in the NHL's second largest hockey market isn't such a bad idea.
This is just one of countless possibilities involving Kessel's future, but should it materialize people will debate this trade for years. Kessel will not be in Toronto next season – that's a certainty – so why not deal him to the rival? There's no better way to prove your worth to a team than to score against them.
And seeing how things have transpired, it almost seems like a fitting end to an otherwise complicated Toronto term.
So hang in there for a few more months, Phil.
It's almost over.
Love Reading About Hockey?

Subscribe to keep up-to-date with the latest and most interesting hockey news!
| | |
| --- | --- |
| | We hate spam just as much as you |