Boston Bruins
Featured
Why the Boston Bruins should consider trading a star player before the 2015 trade deadline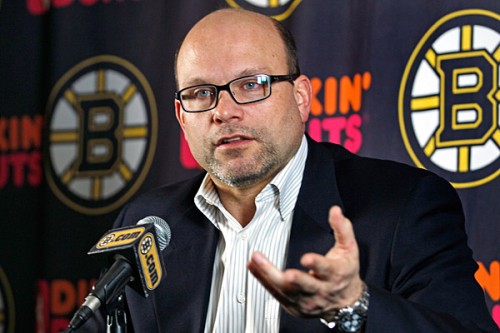 If the Boston Bruins had Jarome Iginla locked down for the 2014-15 season, I would say that general manager Peter Chiarelli should try to keep the same roster he had this past post-season with minor upgrades on the blue line. But Iginla is officially gone now. David Krejci is missing a wing, and it looks like the most practical thing to do without making a move Is put Loui Eriksson in that spot.
If that's the case, then the Bruins need to make moves. It might have to be a big one. The Bruins have been all about depth since they began building their team around Patrice Bergeron, David Krejci, Milan Lucic and Zdeno Chara. They've had a trendsetting fourth line with Shawn Thornton, Gregory Campbell and Daniel Paille. When Chris Kelly has been healthy, his third line has been incredibly effective as well. With these tools, the Bruins have pummeled opponents, rolling out line after line and winning a cup in this fashion against the Vancouver Canucks in 2011.
But now the Bruins have a lineup with a lot of holes. If they can lock down Reilly Smith, they'll have the Bergeron line intact and they'll have Krejci, Lucic with the possibility of Loui Eriksson on the other top line while mixing and matching Carl Soderberg, Kelly, Paille and Campbell in the bottom six forward slots. Justin Florek, Matt Fraser and Ryan Spooner are candidates to pitch in as well. If Jordan Caron stays in Boston, he'll be a candidate for 13th forward as well. To make things a little more difficult, Campbell and Kelly have both suffered career changing injuries in recent years, putting their effectiveness in jeopardy.
That group is probably good enough to get into the playoffs next year, but the current layout of the National Hockey League makes it unlikely that the Bruins can make another serious Cup run without a major shakeup.
Firstly, if it was tough to get past Montreal this year, it's going to be even harder next year. The Montreal Canadiens just traded an aging Daniel Briere for PA Parenteau, a right winger who was injured for a portion of last season but has shown the ability to put up points when healthy. In his single 80 games season in 2011-12 with the weak New York Islanders, he posted 48 points. In the lockout year, he improved his rate of production by nearly matching that total with 43 points in just 48 games. With Parenteau in the lineup, Montreal definitely won't be an easy out next season, probably tougher than they were this last one if they're able to re-sign P.K. Subban, now a restricted free agent.
Secondly, the Western Conference is stacked. Anaheim, Dallas, St. Louis all made deals this week that beef them up substantially. Even though the Colorado Avalanche may have lost a lot by not re-signing Paul Stastny, they're still going to be strong with newly acquired Iginla. Los Angeles just locked down Marian Gaborik, ensuring that the Kings will remain a titan next season. And of course, don't forget about the Blackhawks. Any time Patrick Kane is on the ice, something special can happen.
It will be nearly impossible for the Bruins to sign Smith and Torey Krug with their $4.5 million of cap room and still properly fill out the roster for the playoffs. Krug and Smith are due for a decent pay day after what they contributed to the Bruins this season. They might not be able to keep both.
So I think the Bruins should take a core piece, package him with 20 year old Malcolm Subban, and trade for something quality but affordable. It's going to hurt Bruins fans, but it might be necessary if the team wants to capitalize on the young talent they have right now.
Some people have said that trading Chara seems logical. He'll turn 38 next March, so he's getting up there in age, but he's still good enough to get quality trade value. However, the Bruins should be focused on the here and now as Chara is still a rock. He was +25 this season, and he was in the running for the Norris Trophy. The Bruins shouldn't trade the foundation of their defensive core – at least not yet.
Bergeron is definitely untouchable. He's next in line to captain this team, and he probably will retire as a Bruin. There are three Bruins that I think could make for a good trade, though, and those are – cringe! – Milan Lucic, Brad Marchand and David Krejci. If you were to trade one or two of these players, along with Malcolm Subban, you could probably get fantastic return value, allowing you to build an affordable scoring line around the players that stay, either Lucic or Krejci, and keep the Bergeron-Smith and the Soderberg-Eriksson tandems intact.
It's not unthinkable. Last season, Chiarelli hit a home run by trading Tyler Seguin along with Rich Peverley for Eriksson and Smith. Even though Eriksson had a cap hit of $4,250,000, Smith, the most valuable piece to come out of that deal, only cost $900,000. There might be a similar solution on the table.
The idea of trading one of the big names has a lot to do with how effective Eriksson and Soderberg were together last post-season. If the Bruins decide to put Eriksson on Krejci's wing and not make a move, it would put a big hole on the third line where Soderberg has had great success. As it stands, you have Bergeron and Smith, who fit perfectly together, and you have Soderberg and Eriksson, who got better and better as the year went on. The Soderberg-Eriksson duo, along with Florek and Fraser, were extremely effective against Detroit's and Montreal's third defensive pairings, and they even scored the game winner in Montreal in Game Four of the second round. If you can keep those players together and rework the Krejci-Lucic line through a trade, you can make for three solid lines, which has been the key to many successful cup runs, including the one in 2011 against the Canucks. That's going to be better than having a top heavy roster with no depth when it comes time for playoff hockey.
I understand that one might say that it's a terrible idea to trade one of these players, specifically David Krejci. He is a freakish talent when he's on. However, I can't see what good it is to have a team that is only just good enough, even with players like Krejci. Depth is important, and if you keep things the way they are, you're going to struggle against teams like Los Angeles who have a mix of talent and depth. I would be shocked if Chiarelli was unable to get a good return for Krejci, especially if you throw in Subban- he's not going to be starting in goal for the Bruins any time soon. I stand by that. In other general managers' hands, I wouldn't want that trigger to be pulled. When it comes to the trade market, Chiarelli has a decent record.
And if you still think I'm nuts, keep in mind that none of this needs to happen this summer. The Bruins aren't ready for a Cup run today, but they're talented enough to win games in the regular season and make the playoffs with ease, giving them plenty of time to think things through. Tuukka is fantastic. Bergeron and Krejci will pile up the points in the regular season. The defense needs a few more pieces, but they'll hold their own. It's still a good team. As long as they make evaluations by the trade deadline next spring and make a move when the time is right, the Bruins could be set to compete against the best of both conferences.
In short, the Bruins need to make a change in order to sustain their reputation as real Cup contenders, but they're good enough right now so that they can bide their time and think it over before pulling any triggers. It might look tough, but, if he makes the right decisions, its not as bad to be Peter Chiarelli this year as it looks.