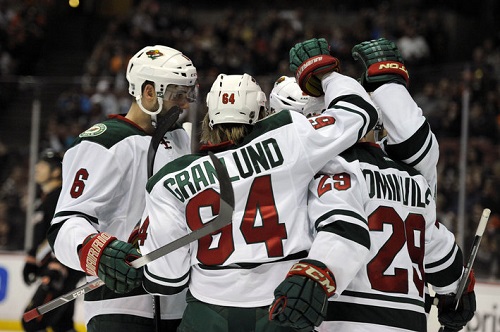 It didn't take long for Mikael Granlund to score his first goal upon returning from a successful run during the Olympics in Sochi.
The centre man scored two minutes into the opening frame on the team's first shot, helping the Wild cruise to a 3-0 win over the Edmonton Oilers at Rexall Place on Thursday.
"Every goal is a big one, and it was a great pass by Zach (Parise), and I had an empty net to shoot at," Granlund said.
Granlund has nine points in his last eight games with the Wild, and won a bronze medal with Team Finland registering three goals and four assists in Sochi.
Stephane Veilleux and Dany Heatley also scored for the Wild, extending their winning streak to three games. Heatley now has 26 career points in 26 games against the Oilers.
Prior to the Olympic break the Oilers had won five their last seven games, but this stat is hard to believe considering that both offense and defence were lacking in the loss.
"It was a sloppy start and we just never got anything going from there," said Oilers defenseman Justin Schultz. "Things didn't go our way early so we started trying to be individuals out there. We tried to be too fancy and it cost us."
Darcy Kuemper (9-3-4) made 21 saves to earn his second career shutout, while handing the Oilers their fifth shutout loss on home ice, and their eighth of the season.
But the Oilers lost more than the game.
In the third period, Oilers right wing Nail Yakupov was hit in the right foot off a shot from Schultz, and did not return.
This was the first game back after the Olympic break for both clubs, but the Wild was the only team that seemed ready to play.
"We did a real good job, we were aware of the situation, and everyone was focused tonight," Kuemper said. "It was just a solid team game."
The Oilers, now 20-34-7, recognize that they need to perform better if they want to win hockey games.
"It wasn't our best effort. We wanted to get a good start at home; we have a lot of games here. We didn't really give our fans much tonight," said Schultz.
But despite everything the Oilers have been through this season, fans can always hope that the team's next game will be better.
The Oilers are back in action on Saturday when they host the Calgary Flames.