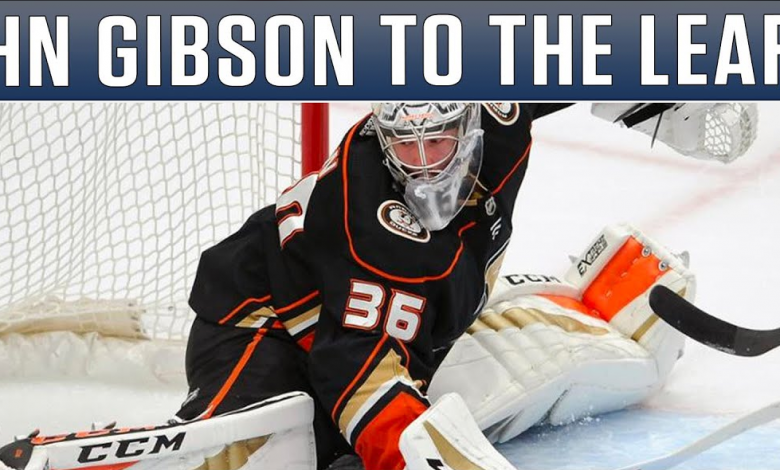 John Gibson has been part of the Anaheim Ducks for a while. There is a couple of seasons where he looked elite, where he was solid, and the last couple of seasons he hasn't looked as good, despite the fact, especially this year, that the Anaheim Ducks were better. Yes, they didn't make the playoffs, but there was a long start to the season where the Ducks were in a playoff spot.
Is Gibson the answer? Now you might be saying, what are you even talking about? Why would they trade him? Well, just came in that actually John Gibson has discussed possibly leaving Anaheim and perhaps there can be a trade.
That makes a lot of sense. The Leafs and Anaheim have been trade partners for a while. That's a deal that makes a lot of sense. Now, I guess the nitty gritty details of it is what we have to talk about. John Gibson makes $6.4 million against the cap, ouch.
He also has a modified no-trade clause, ouch. So even if we were talking about this idea of John Gibson possibly coming to the Leafs, that trade may not even happen. Maybe he might say, "You know what? No, I don't want to play for the Leafs. Done, no."
And then we're just back to square one. But let's imagine a scenario where he actually wants to be here, he's OK with it. I like the idea of it, I'm not going to lie. I know a lot of Leafs fans, especially on Twitter, were going back and forth on John Gibson.
Some people were remembering the elite-ness and remembering the goaltender who was literally carrying the team on his shoulders for a long time, making save after save after save. That sounds familiar? James Reimer, miss you. But at the other hand, there are some people who are saying, "Well OK, yeah, but for the last three years he hasn't looked as great."
So which is it? If the Leafs do make a trade for John Gibson, are they getting the John Gibson that's a leak, that can steal games, that could possibly steal the series? Or are we getting the John Gibson That's kind of been OK? But I think either way, it might be a gamble worth doing.
Now, it's a hefty gamble, because of the cap hit and the term of the cap hit. But man, at this point, you have to keep something in mind, right? Kyle Dubas is going into the final year, contractually anyway, the final year as general manager of the Toronto Maple Leafs.
He doesn't have an extension pass next season. So this will literally be his all or nothing season. We're talking about like this past season being all or nothing and thinking about all the changes that would take place if they didn't win a series. No.
Next season is the all or nothing season. Next season is a season where Dubas is probably going to start saying, "you know what? Prospects, OK, we can start moving them. Picks, we were already moving picks? Let's move some more."
Right? And again, every year, we see the benefits of teams doing that. Look at Tampa, man. We riffed on Tampa for paying two firsts or whatever it was for Hagel, and now they're in the Stanley Cup Final again.
Yes, there are some prospects, there are some pieces that are untouchable, but I think when it comes down to a really big improvement, John Gibson can be that. Now, it could also go south. But you know what?
It's been going south for years anyway. The Peter Mrazek situation didn't work out too well. When you know Dubas signed Nick Ritchie, that didn't work and he turned into Ilya Lyubushkin. So things can happen, but I think this might be a scenario that makes a lot of sense.
It makes a lot of sense. And I think regardless of John Gibson's numbers against gives raw stats, I think the Leafs improve in net with John Gibson. But you also have Eric Shulgin who I think is actually in a pretty decent spot to get some legitimate starts next season. A tandem of Gibson and Shulgin that sounds pretty sick. But I get but I guess it will be kind of an ongoing story and to see how that takes place, but man, I think if there's an opportunity to get John Gibson, I think you jump at that opportunity.