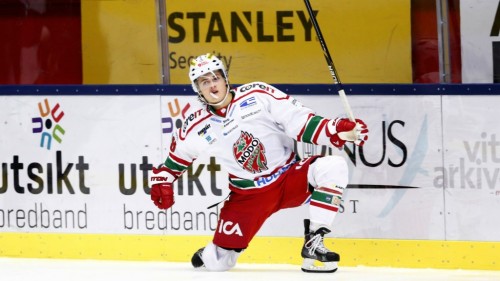 The World Junior Hockey Championship is scheduled to begin Dec. 26, and Toronto's top prospect, William Nylander, is expected to be part of the action.
Playing his second season with MODO in the Swedish Hockey League, Nylander has 18 points in as many games, and this dominance is expected to continue when he laces up for Team Sweden.
"When he has [the puck], he can play with skill and speed.," said Maple Leafs assistant general manager Kyle Dubas. "Now he's starting to show better ability to check, get the puck back and go back on offence which is what we want from him when he comes over to North America."
Known for his incredible speed, the 18-year-old playmaker made recent headlines showcasing his talents prior to the upcoming tournament.
Amazingly, considering Nylander is creating space on a team where the average age is 26, just imagine the splash he'll make against competition his own age. "I want to be the one who leads the team throughout the tournament," he said.
And according to Hall of Famer Peter Forsberg, this goal is definitely attainable.
"I've been impressed with what he's done in the Swedish league so far," he said. "Every time he touches the puck something happens. Hopefully he will get the strength to… play over here because he's going to be fantastic."
In his first season with MODO a year ago, Nylander only managed to notch one goal in 22 games, and already has seven under his belt this year. "He came to us last year… and he's been taking huge steps," Forsberg said. "He's more mature and he's gotten stronger with his body."
For Leafs management and fans alike, this is fantastic news all around. The five-foot-eleven, 174-pound centre was a late cut from Leafs' camp in early October largely due to his slighter frame.
"I feel myself — and they feel the same way — I need to get stronger," said Nylander after being cut from the team two months ago. "My goal is to go back to Sweden and work hard and be back with this team next year."
Fortunately, all of Sweden's preliminary games are in Toronto, placing him under the spotlight once again. Nylander was Toronto's eighth overall selection in the 2014 draft, and this tournament is a great opportunity for him to demonstrate his talent.
Nylander will kick off the tournament's third game, which begins at 5 p.m. on Friday, Dec. 26 when Sweden faces the Czech Republic at the Air Canada Centre.
Love Reading About Hockey?

Subscribe to keep up-to-date with the latest and most interesting hockey news!
| | |
| --- | --- |
| | We hate spam just as much as you |