Featured
Worst Trades of The Decade – Metropolitan Division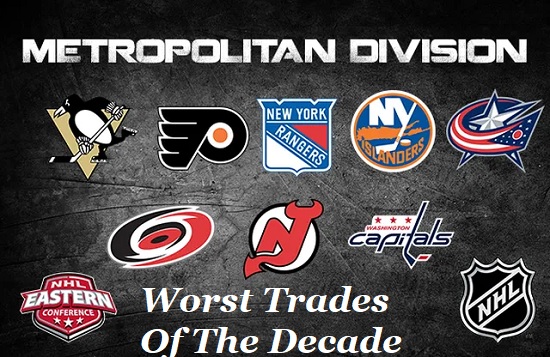 While everyone eagerly awaits the end of 2020, we have decided to do a fun series poking fun at your favorite team.
Yes, you specifically, person that is reading this!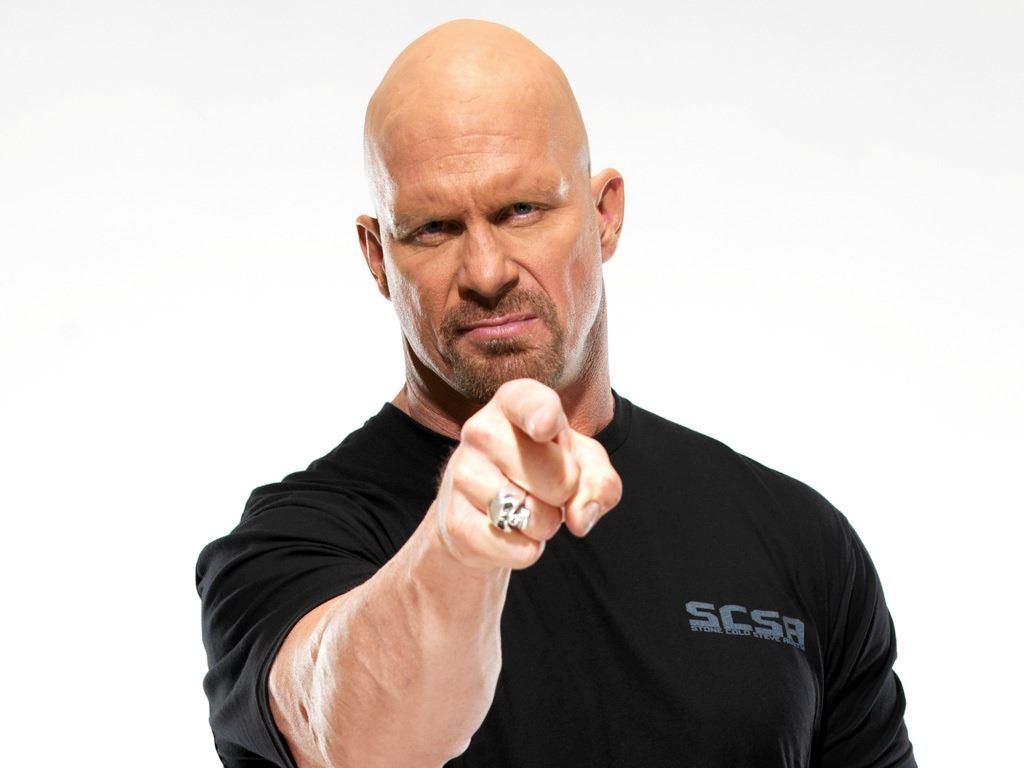 Alright, you got me, this series of articles is for everyone, sorry if I offended you. By the way, the reason I've called it a series a couple of times now is that there is going to be a different article for each division. We released the first article that looked past at a decade of terrible trades from teams in the Central Division last week. You can read that clicking this link.
For part two in the series, I'm looking at teams in the Metropolitan Division. Keep in mind this is all opinion-based, so please tell me how wrong I am and what you think your favorite team's worst trade is in the comments.
Just like last week I'll list off the teams alphabetically so it's easier to scroll and find your team if you don't feel like reading an extra few hundred words. I get it, you don't have all day – even if it hurts me deeply when you skip over my writing.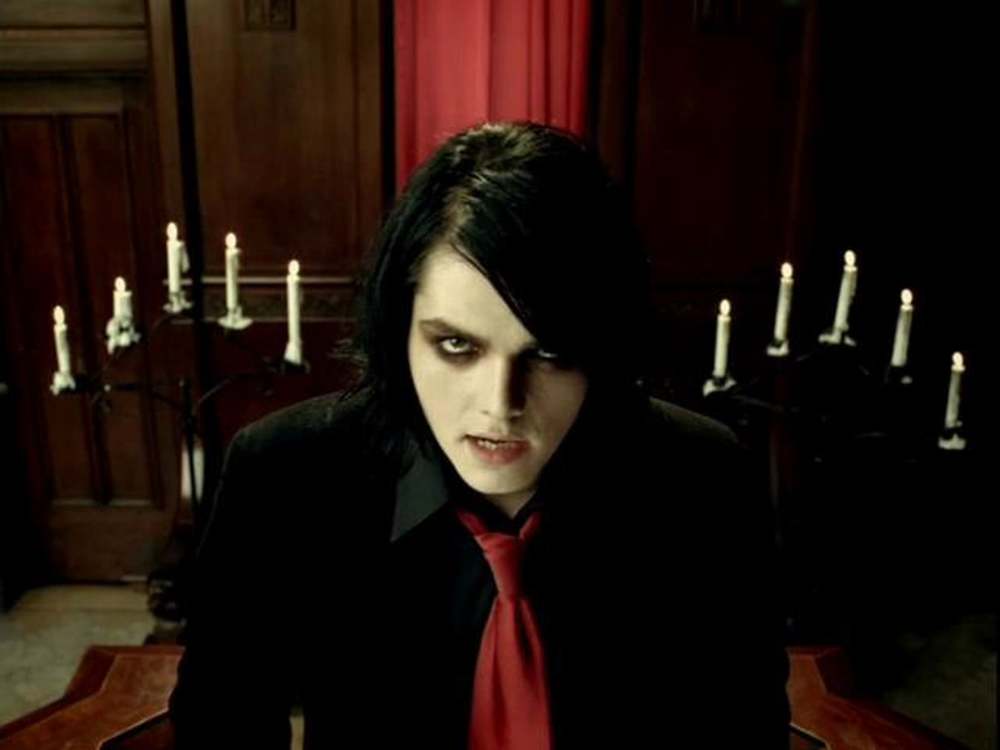 But in all seriousness, thank you for dropping by to read this and let's get started!
Worst Trades By Each Team in the Metro Division:
Carolina Hurricanes
The Canes have a weird history with trades. They make really great trades and awful trades, with no inbetween. It was actually hard to pick their worst trade because there were a few options, and because I kept getting distracted by some of their awesome deals.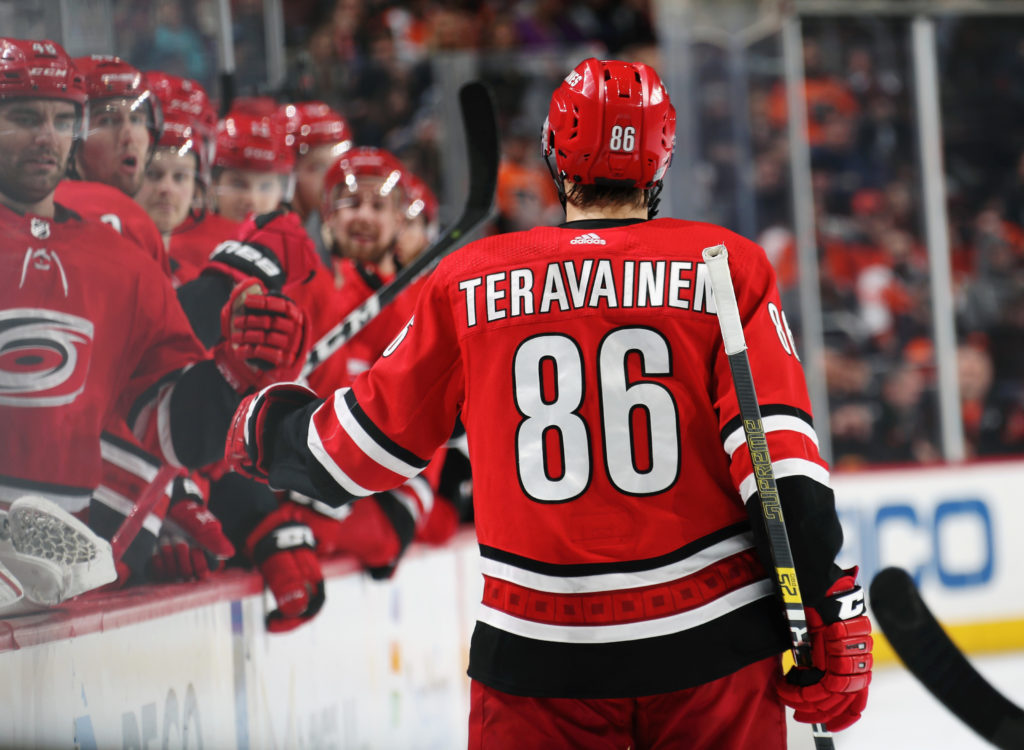 For every Teuvo Teravainen trade there is an equally bad trade, like the deal for Chicago's back-up goalie, Scott Darling – even if that trade looks worse more so for the contract than the price they paid for him (a third round pick).
There could be some debate as to the Canes worst trade of the decade, but in my opinion the clear leader for that award (if you want to call it that) is the June 22, 2012 trade between Pittsburgh and Carolina.
Carolina sought to add to it's collection of Staal while they still could (more on that later in the article) and so they acquired Jordan Staal from Pittsburgh for Brandon Sutter, Brian Dumoulin, and a first round draft pick. Yes, it's shocking to think Pittsburgh acquired a first round pick instead of trading it away, but the general manager from Carolina that traded it to them, Jim Rutherford, is their current GM. Hope that clears things up. GMJR just likes to not draft in the first round.
Back to the deal, yes, Staal has been a reliable player for the Canes, averaging 40-45 points a season and was named their captain a couple of seasons ago. However, Staal never developed into the top-line centre the Canes hoped they were getting and the package to get another Staal on the team was not worth it in the long run.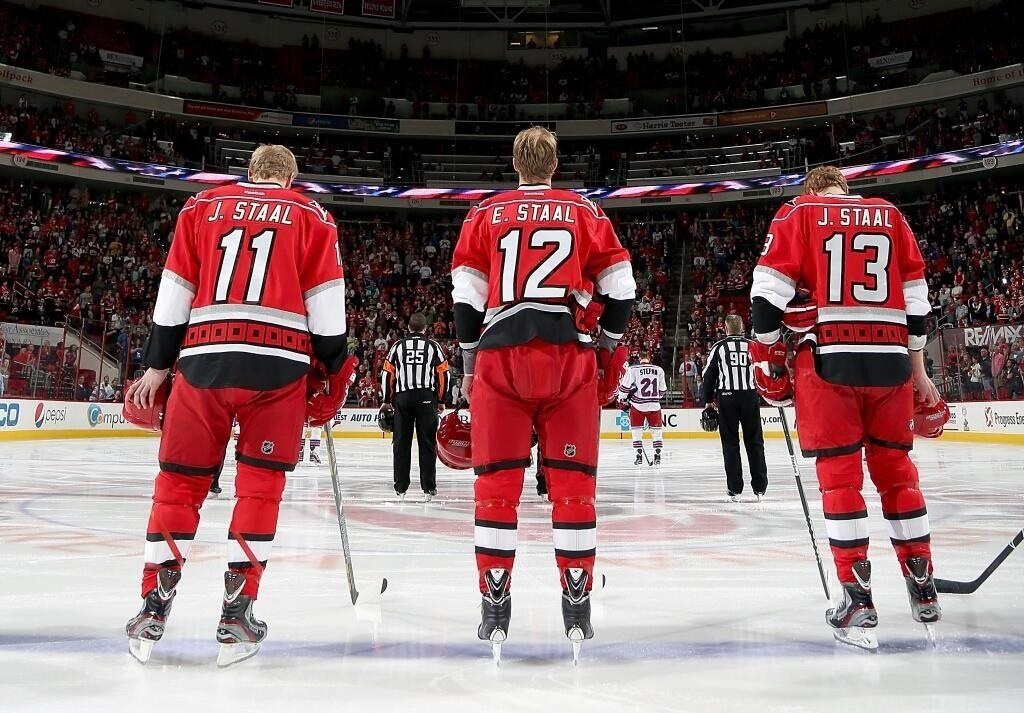 Sutter only lasted a a couple of seasons in Pittsburgh before being traded to Vancouver in a package that got Nick Bonino, a key part of the Penguins' back-to-back Cups in 2016 and 2017. Dumoulin has become a top-pairing defenseman in Pittsburgh and was also part of the back-to-back championships. Even the first round pick, Derrick Pouliot, didn't pan out but still has over 200 NHL games to his name.
You can't argue that the above photo, or trade, was worth it when Pittsburgh got this out of it (twice):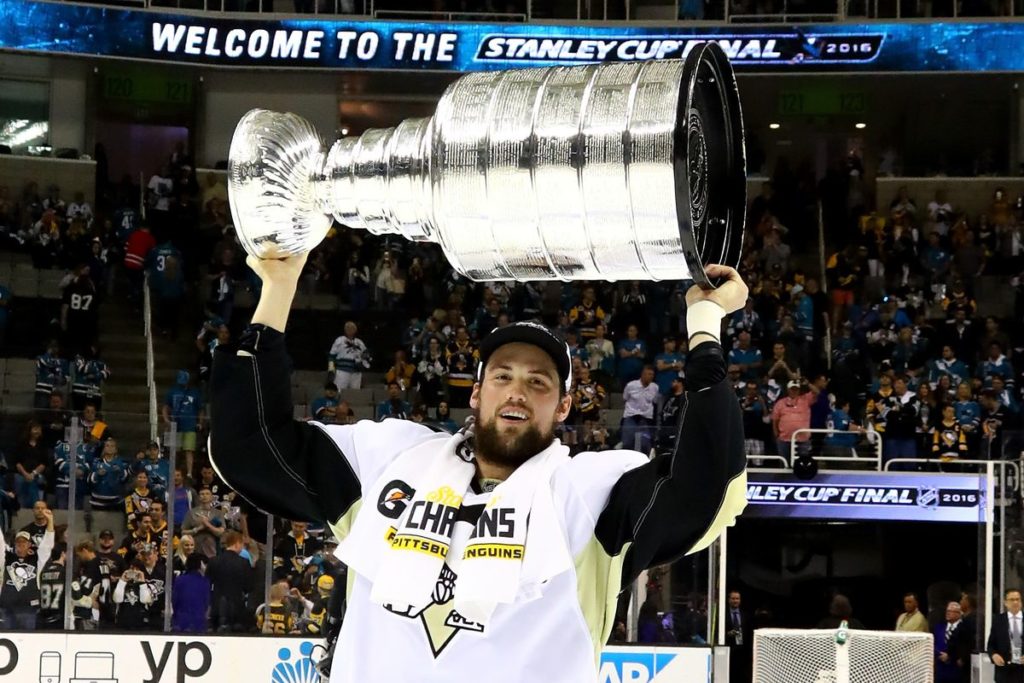 Columbus Blue Jackets
The Columbus Blue Jackets have been very active in the trade market in recent years, from their all-in approach at the deadline a couple of seasons ago, to their recent acquisition of Max Domi from the Canadiens.
At first I was tempted to say the expansion draft trade with Vegas was the worst deal. You know, the trade that saw Columbus give up a first and a second round draft pick so Vegas would choose William Karlsson. However, Columbus was able to get out of David Clarkson's contract in the trade, so it was wasn't all bad.
The trade that sent then-face-of-the-franchise, Rick Nash, to the Rangers didn't exactly turn up much for the Jackets either, however even that isn't the worst trade in in Columbus's history.
The worst trade happened on June 23, 2011, when the Jackets sent an awesome package of Jakub Voracek, the eighth overall draft pick, and their second round draft pick to Philadelphia. I say awesome package, because not only did Voracek turn into an all-star for the Flyers, but with that eighth overall pick the Flyers selected first line center and two-way force, Sean Couturier. The 2nd round pick turned out to be a serviceable depth player in Nick Cousins as well. During their time in Philadelphia, Voracek, Couturier, and Cousins have combined for 1,428 games played, 336 goals, 653 assists, 989 points, a first-team all-star selection, and a Selke Trophy.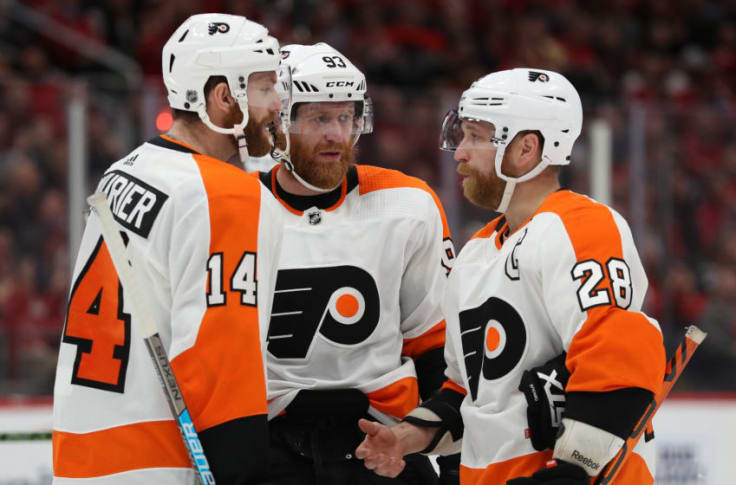 By giving up a package like that, it would be easy to lose any trade, regardless of the return. However, the Jackets made it even worse for themselves by only getting back Jeff Carter. Sure, Carter was a great player for the Flyers and helped Los Angeles win two Stanley Cups, but the reason I added the "only" in that last sentence was because Carter only played 39 games for Columbus. He only scored 15 goals for them. He only had 10 assists. He only totaled 25 points in Columbus. Hard to compare that to the stats above.
It also may be the only case where a team lost a deal TWICE for the same player. You can see what I mean by that with this video by the hilarious and informative Steve Dangle.
New Jersey Devils
It will be hard for any team to top Columbus's worst trade, but the Devils don't look squeaky clean after their worst trade even if it's not as bad as the one above it.
The Devils worst trade of the decade was actually seen as a good trade for both sides, if not a win for the Devils when it first happened. It took a slow burn to become the fiery waste that it has become.
Martin Brodeur was the aging legend whose play was starting to decline. GM Lou Lamoriello and the Devils started to look for options to take up the mantle from Broduer. Their trade partner, GM Mike Gillis and the Vancouver Canucks, were in a full-blown goalie controversy. The Canucks had been trying to trade future Hall of Famer Roberto Luongo – and his contract that sucked – for a while, but the contract was seen as untradeable at the time. Cory Schneider had began to overtake Luongo in Vancouver's net, and the perception at the time was he as a young, surefire top 10 starting goalie.
So on June 30, 2013, at the 2013 NHL draft, the Devils and Canucks pulled the trigger on a deal that sent Schneider to New Jersey for the Devil's 9th overall selection at the draft. The Canucks would then select their now-captain, Bo Horvat.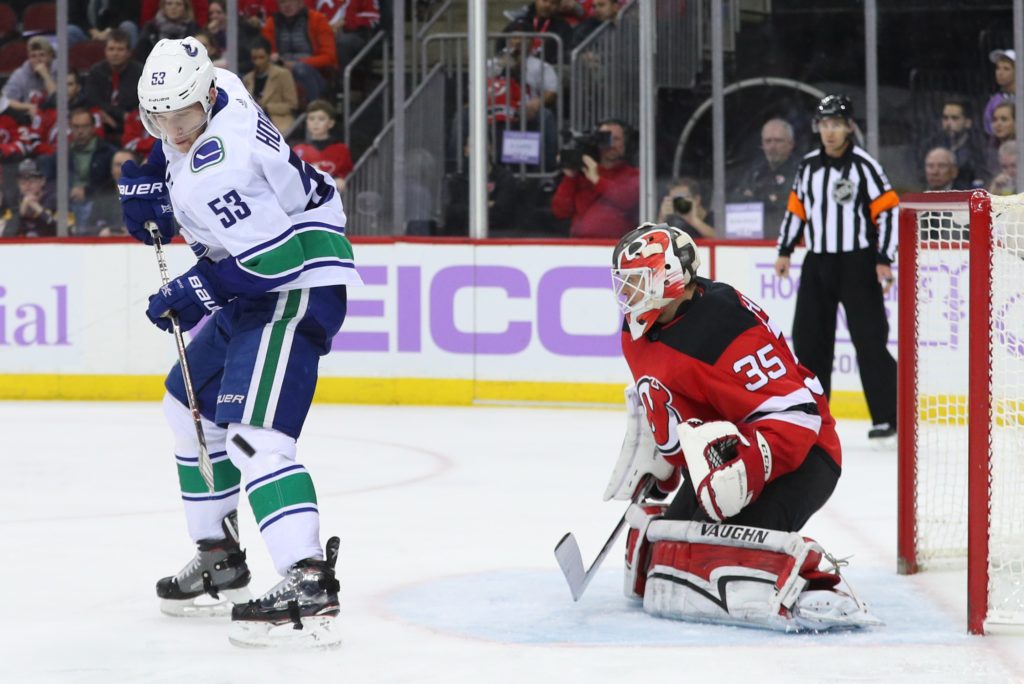 The 9th pick was the highest selection ever traded for a goaltender in the NHL's post-lockout era, but no draft pick is a sure thing, so it was easy to see why the Devils made the trade at the time.
They say hindsight is 20/20 however and looking back now it's clear that the Devils lost this trade badly. Schneider had a couple good seasons in New Jersey, however he eventually fell completely off the wagon and even went a full 14 months between wins at one point. His fall from grace led to the Devils starting McKenzie Blackwood over Schneider for the last couple of seasons, Schneider being demoted multiple times, and eventually waived and bought out recently.
On the opposite end of the deal, Horvat has turned into a 60 point player (61 points in 18-19, and on pace for 60 in this pandemic-shortened season), an on-and-off the ice leader for the Canucks and their community, has played 446 games and recorded 225 points for the Canucks, led the recent underdog young squad to a Stanley Cup Game 7 in the quarter-finals against Vegas, and was named the franchise's captain at the beginning of last season. Oh, and he's still only 25 years old.
Needless to say, but the Devils lost out big on that deal.
New York Islanders
This is going to be a shorter section of the article. Yes the Islanders (and specifically Mike Millbury) have a long history of suspect or outright terrible trades. However, this article is only dealing with the last decade – a decade in which the Islanders haven't actually made a lot of bad deals.
I mean, losing Devon Teows hurts, but they needed the cap space to re-sign Mat Barzal and Ryan Pulock. The Jean-Gabriel Pageau trade could look bad in a few years if the draft picks turn out to be hits for Ottawa, but he did help the Isles get to the conference finals this year. Also, regardless of how bad his contract turns out to be by the end of it, that's a bad signing, but not part of the trade itself.
Their expansion draft trade with Vegas was harsh too, giving up a first round pick that turned into high-end prospect Erik Brannstrom (whom Vegas flipped to Ottawa as part of the Mark Stone trade), but the Islanders did so to make sure Vegas selected Jean-Francois Berube, a free agent AHL-level goalie instead of one of Brock Nelson, Ryan Strome, Josh Bailey, or Calvin de Haan. The Islanders did also get out from under Mikhail Grabovski's contract in the trade, so it wasn't all bad in the end.
The real "worst trade," if you want to call it that, happened back on June 30th, 2013. The Islanders thought that they weren't getting the most from their recent (2010) fifth overall selection, Nino Niederreiter, who had been stuck in the minors or on the Isles's third and fourth lines since being drafted. So on that June day, the Islanders traded their first round pick from three summers ago, who still had the potential to be a first or second line player, for someone whose ceiling was that of a third liner, but was better suited on the fourth line. Yes, Cal Clutterbuck is a heavy hitter and beloved player on Long Island, but is his career 236 points in 824 games – at $3.5 million – really better than Niederreiter's 290 points in 223 less games?
There's not too much of an argument to be made in the Islanders's favor here, even if Clutterbuck had an excellent mustache at the time.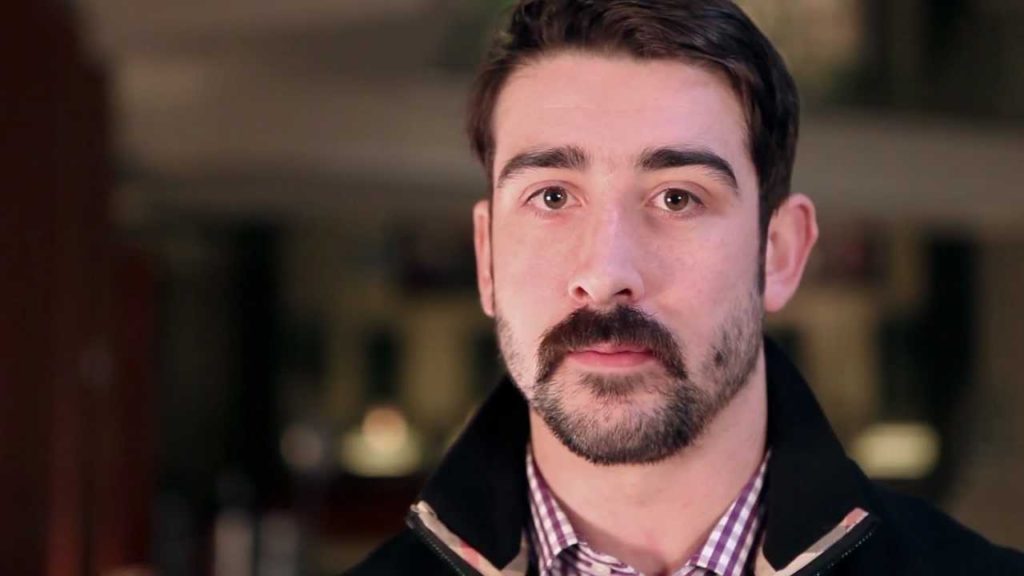 New York Rangers
The Rangers, like the Islanders, have actually had a fairly even decade for trades. Nothing too outrageously good or bad. In fact, it was hard finding a truly bad trade. I wouldn't even put any of the trades I considered in the Rangers top 15 or 20 worst trades of all-time.
The Jacob Trouba trade could turn out to be a big loss, but it's still too early to tell. Part of the negative thoughts of the Trouba deal comes from his contract extension too, which can't directly the value of a trade but needs to be factored in as he was an RFA at the time of the trade. As I said though, it's still too early to tell with this one – maybe we'll revisit it in a couple of years.
I mean, you could say that trading hanging onto Keith Yandle past the trade deadline in 2015-16 and then not re-signing him, they were making a mistake. A mistake that led to the Rangers only getting a fourth and sixth round pick for Yandle's rights that summer. However, at the time, the Rangers were trying to make a push for the playoffs so keeping Yandle as a so-called "own rental" made sense, even if the Rangers weren't true contenders.
Part of the reason they made the decision to keep Yandle, was because they thought they were getting a player at the deadline who would push them into true contender category – and that deal is the worst of the Rangers's last decade.
No, February 28, 2016 Eric Staal trade wasn't terrible for the Rangers, but it was the worst of what little bad deals the Rangers have made in the past decade. The Rangers had to part with one of their top prospects at the time, Aleksi Saarela, and two second round draft picks for Staal. On the surface, that may not look like much for long-time Canes captain Staal. Taking into consideration Carolina turned those picks into Teuvo Teravainen, and Saarela made the most of his nine game rookie stink (in Florida) this season with four points in those nine games makes things look pretty good from Carolina's end however – especially since Staal was a UFA at the end of the season.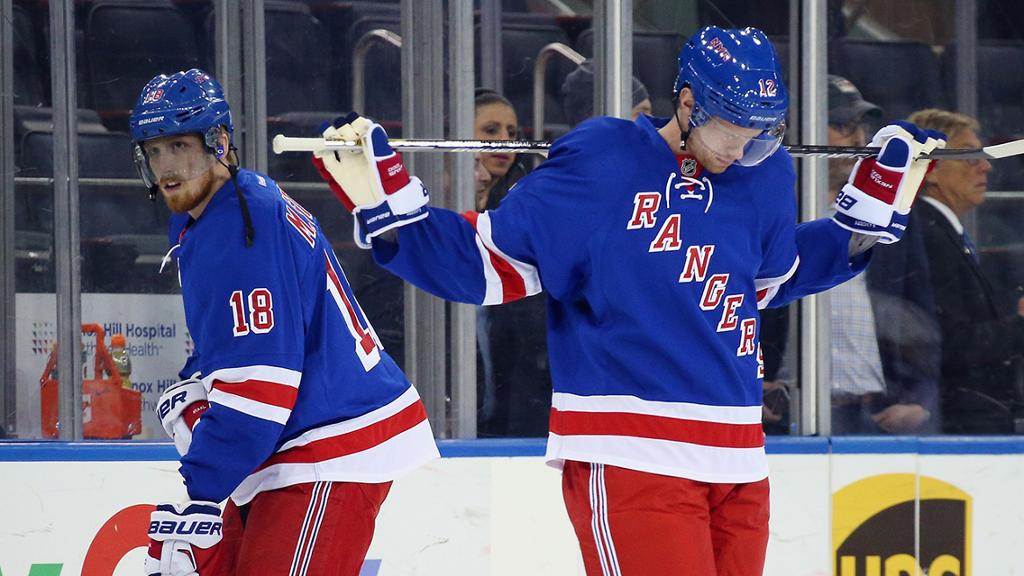 Speaking of being his UFA status, Staal only played 25 total combined regular season and playoff games for the Rangers. Staal put up a measly six points in the 20 regular season games and followed that up with an even worse showing in the playoffs. He notched a total of zero goals, zero assists, zero points, and was -7 in the Rangers five game first round loss.
So yes, maybe it's not the worst trade ever, but the worst of the past decade for sure.
Philadelphia Flyers
Earlier in the article we mentioned how the Flyers completely ripped off the Blue Jackets, but the Flyers haven't won every deal this decade. There were actually a few trades that gave me options to choose what should be the Flyers worst trade of the decade. That said, I think there is one deal that truly stands above the rest at the peak of the mountain of bad deals.
There may be a small faction of Flyers fans who think that the Andrew MacDonald trade should top the list, partially because he was "another third pairing defenseman on a blue line full of third pairing defensemen" according to Flyers blog Broad Street Hockey.
That trade saw the Flyer trade prospect Matt Mangene and a 2015 second and 2014 third round draft pick to the Islanders for a defenseman that the Flyers eventually had to buy out. That may not seem like a bad trade when the names aren't attached to the draft picks, but the second round pick was Brandon Carlo, a cable defenseman currently patrolling the Bruins blue line, and the third round pick is exciting goalie prospect and heir to the Islanders's net, Ilya Sorokin.
Alas, as bad as that deal is in hindsight, it's still nothing compared to the Flyers actual worst trade of the decade – the infamous James Van Riemsdyk for Luke Schenn trade of June 23, 2012.
I won't get too much into detail to save Flyers fans the pain, but Schenn never lived up to his status at the fifth overall draft pick from 2008. He has been a bottom-pairing defenseman since his time in Philadelphia, and actually has been a fringe NHLer the last couple of seasons, spending about a third of his time in the AHL.
JVR, meanwhile, had two 30 goal seasons in Toronto, with a further two seasons of 27 and 29 goals. In fact, the two seasons of his six in Toronto he had under 20 goals were seasons that were lock-out shortened, or he was injured. In both of those seasons he was on pace to get around 30 goals as well.
Again, without cutting too deep, you know it's not a good trade when Yahoo Sports announces the trade with the headline of "Flyers' James van Riemsdyk traded to Leafs in exchange for Luke Schenn, and nothing else"
Pittsburgh Penguins
A lot of people were quick to jump on GM Jim Rutherford's recent trades of 2017 Cup-winning goal scorer, Patric Hornqvist, and of a yet another first round pick.
Fun Fact, since 2013 the Penguins have only had two fist round draft picks. One they used last year on winger Samuel Poulin, the other one was the 22nd overall selection in 2014, Kasperi Kapanen. Kapanen was Rutherford's first pick as GM in Pittsburgh, and he was the player they acquired when trading their 2020 first pick. I guess in Rutherford's case, if you have to make a selection in the first round it only makes sense to deal them away so you can trade yet another first to get them back.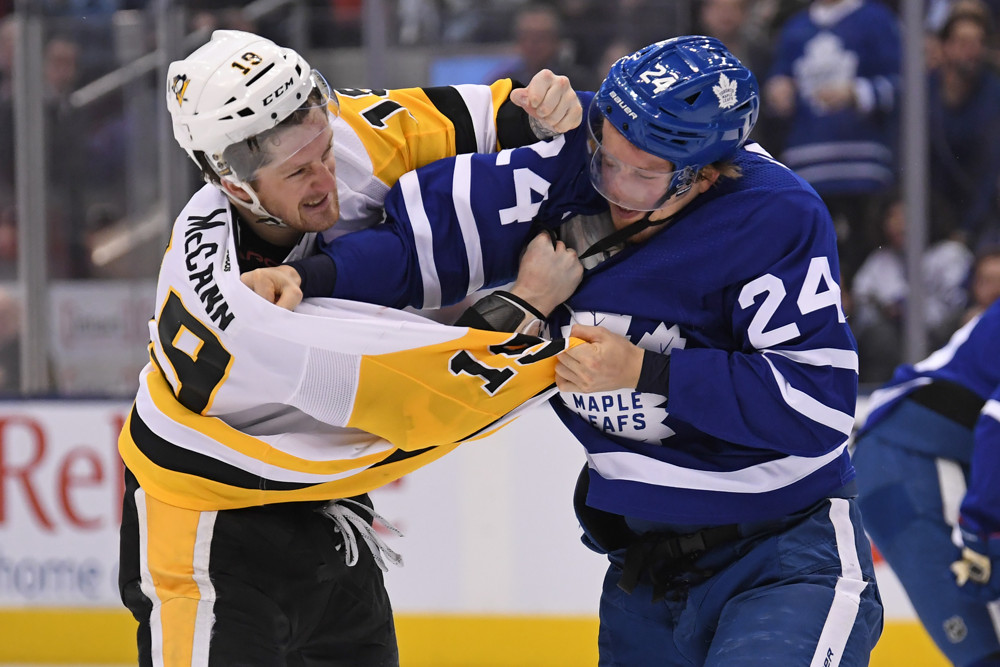 Although the popular opinion seems to be the Penguins lost both the Kapanen and Hornqvist trades, I think it's still too early to call them the worst trades of the decade. Who knows, Kapanen could find Chris Kunitz-like chemistry with Sidney Crosby, and Michael Matheson (the main return from the Hornqvist trade), could turn into a top four defenseman and somehow live up to his contract.
Until those deals have time to play out, the current worst deal of the past decade for Pittsburgh is the deal for one of the NHL's last enforcers, Ryan Reaves. Reaves was a fan favorite during his short stay in Pittsburgh, but the June 23, 2017 trade that brought him to Pittsburgh was not worth it at all.
After winning back-to-back Stanley Cups, Rutherford seems to have had a thought process that went something like this:
"Skill, speed, and versatility across all four lines has won us two Cups in a row, why not throw in a player that that can only do one thing? Even if that thing he does well is a dying skill in the NHL" – Rutherford's thoughts, probably.
Anyways, the Penguins acquired Reaves and a second round draft pick in exchange for seldom-used forward Oskar Sundqvist and a first round pick. Yes, Rutherford trading firsts is that common. At the time Sundqvist was a young, third round pick who had only played 28 games for the Penguins across two seasons and put up four points. Reaves was a fourth line fighter and heavy hitter who was coming off a then-career high of 13 points in 80 games. Reaves wouldn't even last a full season in Pittsburgh, as he was a part of the misguided Derick Brassard trade at the 2018 trade deadline.
So maybe you could make the case that trade would have been fair as it was, a prospect with some upside for an established NHL player with no upside beyond the fourth line. However, by adding in the first round pick, this went into immediate loss territory for the Penguins. Yes, they did get a second round selection back in the deal, but the player they selected retired only a year after being drafted due to post-concussion symptoms – in a concussion he suffered before he was drafted and the Penguins were aware of.
With the first round pick St. Louis acquired, they selected Klim Kostin 31st overall. He hasn't cracked the Blues lineup full-time yet, but he had 30 points in 48 AHL games last year and earned a four game call-up. His upside is definitely there too, as he is only 21 years old and was actually the topped ranked European skater in his draft class – ahead of such players a Elias Petterson and Miro Heiskanen.
To make matters worse, Sundqvist established himself as a decent middle six forward with the Blues and helped them to the 2018-19 Stanley Cup.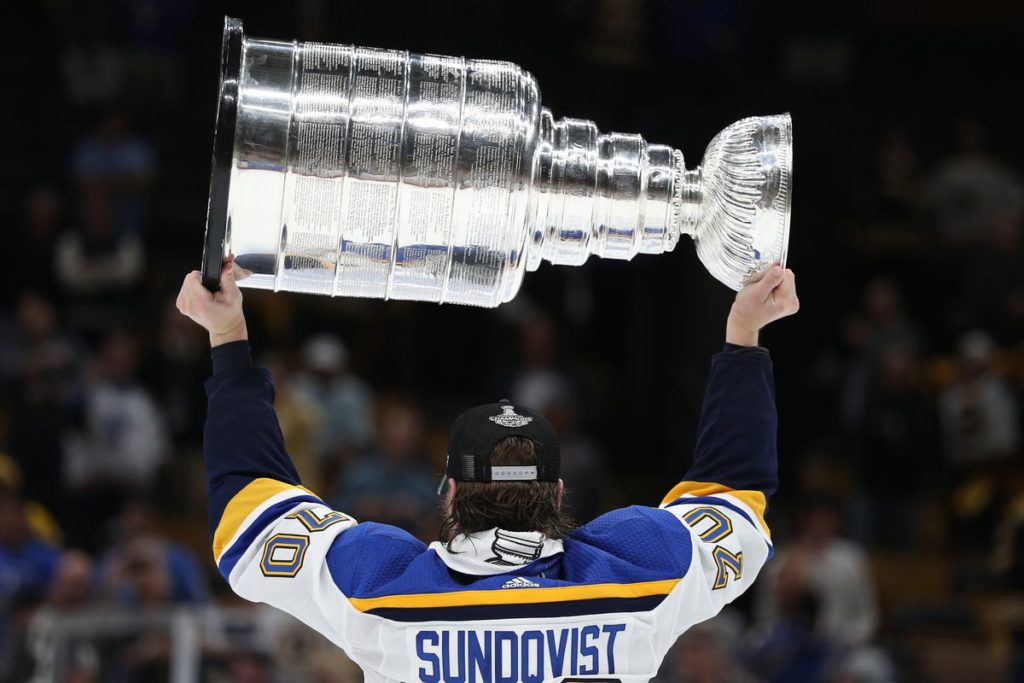 Washington Capitals
Ah, the Washington Capitals.
It worked out quite well that they are the bottom team on this list as there isn't any argument to make here for their worst trade of the past decade.
In fact, I won't even mention the details of the deal aside from saying the Capitals have nothing left to show from it, and haven't for the last four seasons. If you really don't know what I'm talking about, I'll provide a link to the traded it's consequences (here) and the image below that should jog every NHL fan's memory.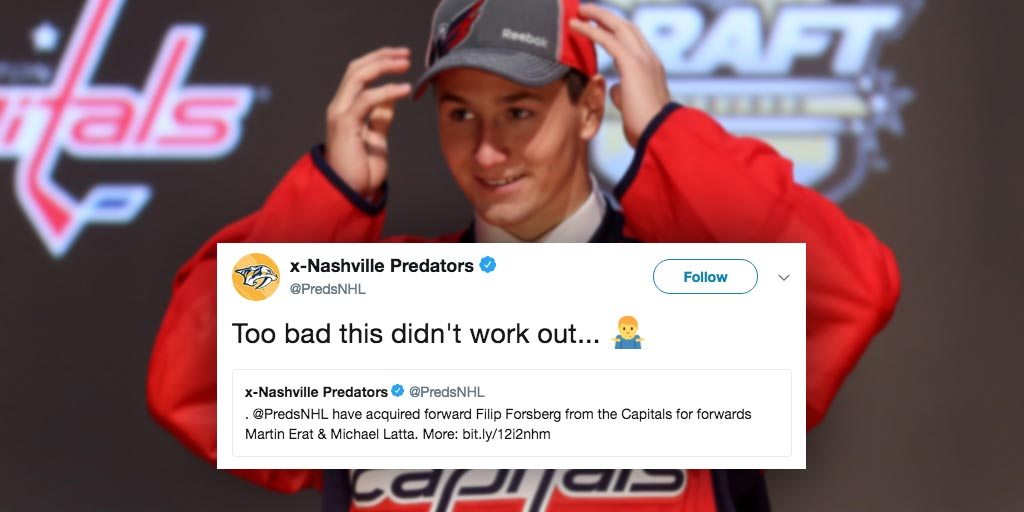 Thanks for reading and look for more worst trades of the decade next week!
Love Reading About Hockey?

Subscribe to keep up-to-date with the latest and most interesting hockey news!
| | |
| --- | --- |
| | We hate spam just as much as you |