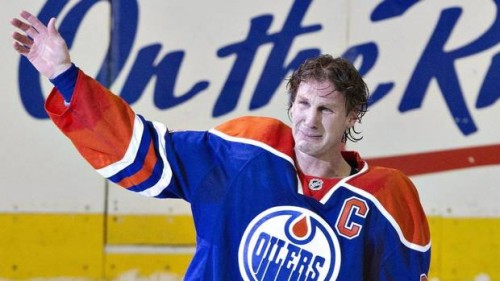 After playing 1,270 career NHL games, the Edmonton Oilers' Ryan Smyth – also known as "Captain Canada" – has decided to hang up the skates for good.
Some may call him washed up, but there is no denying that Smyth is a true heart and soul guy who understands "Canada's game." Ryan Smyth played 15 seasons in an Oilers' uniform, and until recently was the last remaining member of the Oilers 2006 Cinderella team.
"Deep in my heart I've made a decision to retire… [and] it's an honor and a privilege to play in this game," said Smyth.
Although he was never the most talented player, Ryan Smyth had character, and was able to fill a much needed leadership role in the Oilers current lineup. The 38-year-old could block shots, get in front of the net, and score that important goal late in the period to change the tempo of the game.
But right now the Oilers need more than a seasoned hero to carry them forward, and Ryan Smyth recognizes that stepping down is the best way he can help his team. Over the course of the past two seasons, Smyth has recorded a mere 26 points in 119 games, putting his past totals to shame.
Edmonton drafted Ryan Smyth sixth overall in the 1994 NHL Draft, and he found success early. From 1996 to 2003, Smyth had two 61-point seasons, and was able to help the Oilers reach the playoffs each year during this span. Ryan Smyth also earned a gold medal during the 2002 winter Olympics as a member of Team Canada, and has won a number of world championships.
While Ryan Smyth never won the Stanley Cup, his efforts to appear in the cup final in 2006 were enough to get the hockey world buzzing. He posted his only point per game season that year with 53 points in as many games, and registered 16 points in 24 playoff appearances.
The New York Islanders acquired Ryan Smyth as a post-season addition at the trade deadline the following year, and he joined the Colorado Avalanche and Los Angeles Kings to fill the same role shortly thereafter. Upon returning to Edmonton in 2011, however, Smyth's depth position was not as effective amongst such a youthful system, forcing him to leave his playoff days – and higher production numbers – behind him.
But despite finishing in the league's bottom five four of the past five years, the Oilers found a way to win when it mattered most.
"I want to enjoy these next two days, and have a memorable moment that I'll never forget," said Smyth.
On Saturday, the Oilers responded when they beat the Vancouver Canucks 5-2 in Ryan Smyth's final NHL game, and were able to wrap up their season on a high note.
Ryan Smyth played 771 games for Edmonton, and recorded 842 points in his career.