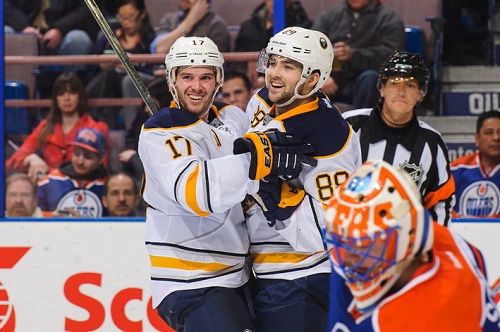 On Thursday night the Edmonton Oilers were defeated by the last place Buffalo Sabres 3-1, and did not look like the winning team fans have come to love as of late.
Entering the game the Oilers had gone an impressive 10-4-3 in their last 17, while the Sabres were on the verge of setting a new team record for consecutive losses at eight in a row.
For the first time this season the 29th place Oilers were the clear favorite going in, but Edmonton's head coach Dallas Eakins knows that there are no "easy games."
"We're one spot ahead of them, we're not taking anybody lightly," he said. "I don't care what team you play in this league, they're dangerous, it's the NHL."
Despite the lack of importance that this game has on the standings, both teams came ready to play. Shortly following the puck drop, Oilers tough guy Luke Gazdic dropped the gloves against Sabres bruiser Zenon Konopka, setting the tone for the rest of the night.
Afterwards, Oilers goaltender Ben Scrivens was knocked to the ice following the whistle, and would retaliate to draw a penalty later in the period. However, the Sabres were still the first to suffer from penalty trouble.
With 2:12 remaining in the opening frame, Edmonton's Taylor Hall wired home his 24th goal of the season. With Eberle and Yakupov out of the lineup due to injury, Eakins relied on Hall giving him over 27 minutes of ice time. These games will further his development by showing him what the superstar players in Crosby and Stamkos do every night.
During intermission Hall said that he was "gassed," though despite his efforts he was unable to convert again.
All game the Oilers would drop the puck back, kick it out wide in the neutral zone, and start the cycle in the Sabres end looking for the point shot. This play is predictable, and even the Sabres could shut it down following Hall's power play marker. The Sabres went six for seven on the penalty kill.
"We're good when our chance is there and for some reason tonight when we did have the chance, we couldn't put it in the net," said Eakins.
This predictability allowed the Sabres to hang around, and Buffalo's Cory Conacher – a waiver pickup at the trade deadline – scored twice for the Sabres. Forward Drew Stafford also scored for Buffalo, securing the Sabres' league lowest eighth road win of the season. "It is good to finally play a half-decent game," said Sabres head coach Ted Nolan.
Edmonton will look to make up for this loss on Saturday when they host the Calgary Flames.
"Just because we lost to the team behind us doesn't mean we're going to come to the rink and sulk tomorrow," said Hall. "As long as the work ethic and the battle [is there]… we're proud."