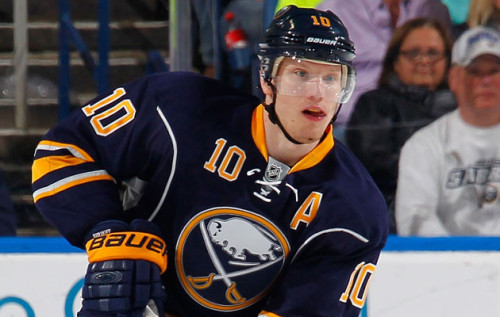 Yesterday he was on arguably the worst team in the NHL, and now he has a chance to win the Stanley Cup. On July 1, the Pittsburgh Penguins signed defenseman Christian Ehrhoff to a one-year, $4 million contract one day after the Buffalo Sabres bought him out.
"Once he was bought out, of course he was going to get a lot of attention," said Penguins general manager Jim Rutherford. "I made the call, like I'm sure several other teams did. I just made him aware that we were interested … He loved the opportunity to come to the Penguins."
The Pens now have 15 players signed, and $10 million left to spend on the cap. With these numbers, Ehrhoff fits well in the Pens organization. The soon to be 32-year-old was signed to replace former Penguins blue liner Matt Niskanen, who signed a seven-year, $40.25 million contract with the Washington Capitals this afternoon. For three million dollars less, the Penguins acquired a more seasoned defenseman who has put up higher offensive numbers.
And given the lack of security his contract brings, expect Ehrhoff to try and post up even bigger numbers to earn a longer contract for the years to follow.
Ehrhoff will log a lot of minutes on the power play, and join the Pens top four at even strength. He is a big player who likes to move the puck, and knows when to jump into the offensive rush. Though offensive capabilities aside, Ehrhoff has a strong hockey sense, and can also be relied upon in defensive situations.
The Penguins also signed goaltender Thomas Greiss to compete with Jeff Zatkoff for the backup position, and depth forwards Blake Comeau and Marcel Goc to fill out their bottom six. However, after trading away James Neal earlier this week – and now losing Jussi Jokinen to the Panthers earlier today – the Pens did not address their second line.
"I'm not sure we have to get a top six forward at this time," Rutherford said. "If something comes along and we can figure it out cap-wise, we'll take a look at it, but I'm not going to get anxious about it at this point." Rutherford also said that with the addition of Patric Hornqvist, Pascal Dupuis could be moved back into a top six role, and the versatile Nick Spaling is also an option.
In the next few days, expect the Penguins to sign RFA's Spaling and Brendan Sutter as they continue to fill out their final roster. On paper, the Pens are looking much stronger for next season as they prepare for a deep playoff run. The build is not complete, but they're headed in the right direction.
"We had a really good day today," Rutherford said. "We did have a little concern with our defense. We are very fortunate to sign Christian Ehrhoff to fill that void… We also wanted to add depth at goaltending and Thomas Greiss was a guy that I've liked for a long time and he'll certainly be able to add some more depth to that position. Then also with the addition of Comeau… he skates real well, he's got size and I like that addition."
With $10 million dollars left to spend and 3 vacant roster spots, the Penguins are almost ready to take to the ice. The hope is that these new acquisitions will make the Penguins a more durable club capable of lifting Lord Stanley's mug.
So let the free agent frenzy draw on, and may the search for depth continue.