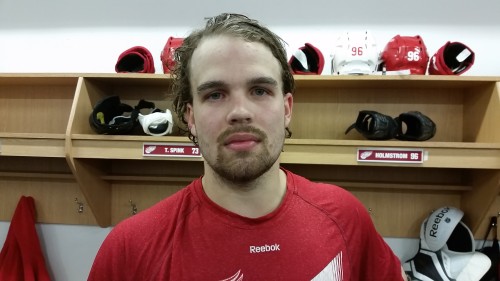 I spoke with 2014 draft pick, forward Axel Holmstrom, at the Detroit Red Wings' annual prospect development camp in Traverse City, Michigan. We talked about his time playing in Sweden's top league, the SHL, and his team's incredible playoff run. This interview took place on July 3. It is part of a series on interviews (individual links below).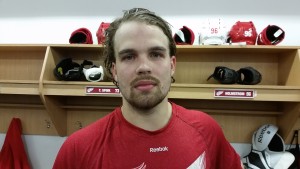 Talk about the camp, you've been here before. Pretty much what you expected coming in with more experience?
I feel a little better to come here this year (with more experience). I know some of the guys and I know the environment and recognize some of the coaches and talked to them before.
Describe your game overall.
I think I have developed my skating. It's still the biggest issue in my game I need to develop. But I think my creative, my hockey sense, that's my biggest upside and my skating is my biggest issue.
Talk about that playoff run with Skelleftea.
Yeah, both me and my team had a good year, especially in the playoffs. Unfortunately we lost the final but for myself I felt like I had a good playoffs and I got self-confident and just kept on rolling, and I had much ice time and played a lot of power play and played with good guys. It was fun.
Your production seemed to increase a lot in the playoffs. Did they have you in a different role then in the regular season?
A little bit maybe, I played the power play the whole season, but in the playoffs when I started off, I got to play more, I got to play more power play, and I got to play more important situations in a game. And it went good, so I'm grateful for my coach, Hans Wallson , who let me play that much and believed in me, so hopefully I can take the next step next year and I can come back here (to camp) and be even better.
What line did you play on last year?
We changed a lot and we rolled it around but for a lot of times I played with Oskar Sundqvist, who plays in Pittsburgh now, and John Norman who plays in Skelleftea, who was fast and strong and can handle the puck. So we were a line that liked to check and we liked to play with speed and creativity. We worked pretty fine together, so it was fun.
How has your game evolved since last year's camp here?
A whole year and a whole summer with Skelleftea's A-team has done me good and I played with really good players every day, the top players in Sweden, and just to train with them every day it's a good practice, and I feel like I can handle the game better on this level.
We've been in five finals in a row now with this team, and we will have a good team next year too, so hopefully we'll be one of the top teams next year too.
Did it take you a while to adjust to the SHL?
It's different, you know, but I came in and played with a lot of adrenaline, and I did some points in the beginning and got it going, but then after a while I was outside the team for a couple of games and it was pretty rough. And then I went for the World Juniors. I had a good World Juniors, so did the team, and I went back and got rest and I got my self-confidence back, and it felt like I played at a whole another level when I got back from the World Juniors, and I took that with me to playoffs too and had a good playoffs.
Did some of the veterans there kind of help you along, to help you get your footing early on?
Yeah, for sure. There's a lot of players taking care of the juniors who are coming up. We have the captain Erik Forssell, who's a really big guy in Skelleftea and also you have Patrick Zackrisson, Rob Schremp. All those guys are good guys that taking care of you and showing you what you're going to do, what's okay and what's not okay, and this is how it works at the senior level. It's good to have people who show you the right way. So I had a good year with a good group of guys and they helped me a lot.
What's the style of hockey that the SHL has? How does it compare to North America?
It's getting more and more like, I wouldn't say like similar, but it's getting there. It's more speed now than it was for ten years ago. Rob Schremp, who played on my team last year, he played in Modo four years ago and he come to our team now and he said SHL has developed really really much since he was here last time. SHL is growing faster and faster. The biggest difference maybe is that we play on a big rink. It might be a little more creative in the middle zone and stuff like that, and here is like more straightaway. It's getting there. It's growing faster than before.
How valuable was that experience, just going to the SHL finals, a couple wins away from winning the championship?
It was my first year at the senior level and just to go there and to be able to go to the finals and we were favorites in the final and then we lost three games in our home arena. It was tough, and then when we lost the finals. But now in the afterhand I can say I am really proud of the team and I'm really proud of myself and what I did in the playoffs. And we're a team, and coaches and everything, that want to develop every day and want to get better, so it's a good team and organization to develop in.
Which NHL player did you watch growing up, and which player do you model your game after?
That's a hard question. A lot of guys who grown up at my high school liked Peter Forsberg, but I'm not like him. But that's the guy all of the guys who were my age looked up to, him and Nick Lidstrom, but I'm not similar to any of them in my playing style. If I had to choose someone, I think I will say Henrik Zetterberg because he's a centerman with good hands and good hockey sense. If I had to choose someone it's him, but I don't consider, I'm not exactly like him.
What's the goal for next year?
I think I will be back with Skelleftea for one more year. Just get one year older and one more year better.
Check out my other prospect interviews in the links below:
Follow me on Twitter @KevinSporkaHOHM
Love Reading About Hockey?

Subscribe to keep up-to-date with the latest and most interesting hockey news!
| | |
| --- | --- |
| | We hate spam just as much as you |