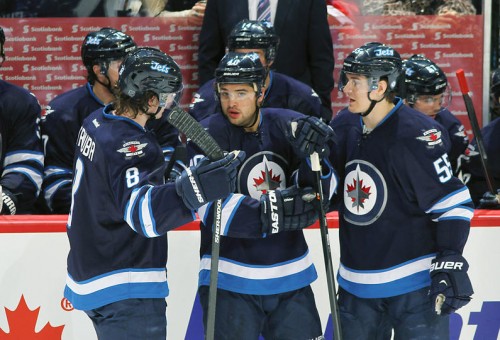 While the Winnipeg Jets finished with the exact same record of 37-35-10 as they did in their inaugural 2011-2012 season, the team has reason to believe that there's nowhere to go but up from here. In 2011, forward Mark Scheifele was 18-years-old, and played seven games in the NHL after being selected seventh overall in the draft. Defenceman Jacob Trouba was only 17-years-old and a shining star on the U.S. National Development Team, but was still a year away from being draft eligible. Now both players, along with other recent acquisitions, are doing their part to rejuvenate hockey in Winnipeg. But which of these new players contributed the most this past season?
The following list will look at first-year Jets who contributed and impressed the most with their new team:
6. Devin Setoguchi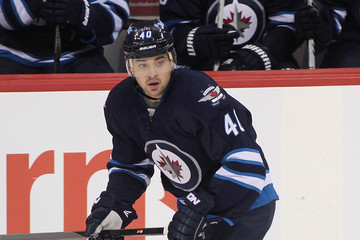 At the time Devin Setoguchi was a 30-goal scorer, people fell in love with the brand-new comedy movie, The Hangover. Since then, there have been two more Hangover films, and the movie franchise has ran it's course; not unlike Setoguchi's career as a goal scorer. The winger was acquired for a second-round pick from the Wild in the offseason, but in hindsight, a draft pick any higher than the fourth round was probably too steep for "The Gooch." He was an on-again, off-again scratch near the end of the season due to his inconsistent offence and almost incompetent defence. Goal droughts of 10 and 19 games, combined with health concerns, didn't win over the hearts of the fans or the coaching staff. Setoguchi is not expected to re-sign with the team when he becomes an unrestricted free agent this summer. He scored just 11 goals and 16 assists in 75 games and was a -7.
5. Adam Pardy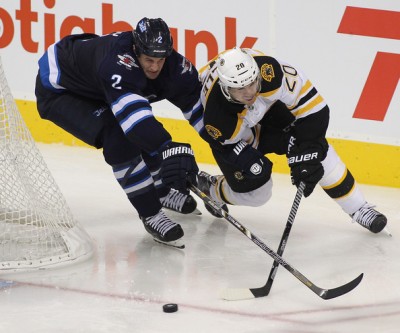 NHL journeyman Adam Pardy signed a one-year deal with the Jets, his fifth NHL team, this past offseason and did what he was expected to do. Pardy appeared in 60 games for the Jets after starting the season in the AHL with the St. Johns Ice Caps. He was called up from the minors on October 19th after Jacob Trouba was placed on injured reserve. Pardy wasn't able to tally a goal all season, but that's not unusual for the 30-year-old who's scored only 4 goals in 260 NHL games. The most memorable moment from Pardy's season had nothing to do with his play on the ice; during a game in November against the Chicago Blackhawks, Pardy got his helmet stolen by an intoxicated (okay.. smashed) Hawks fan after being body checked through the glass by Brandon Bollig.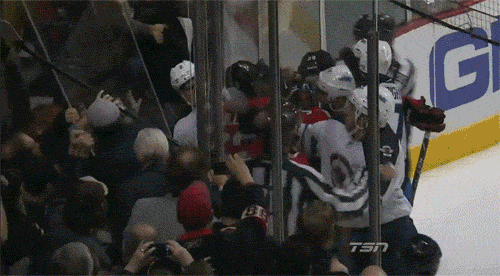 His head was in the right place for most of the season, but not so much his helmet.
4. Keaton Ellerby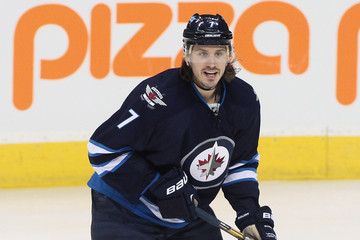 Similar to Pardy, Ellerby knew his role with the team after being claimed off of waivers from the Los Angeles Kings in early November. The team just needed to add an extra body with injuries on the blue-line to: Mark Stuart, Paul Postma, and Jacob Trouba. He ended up playing more games for the team then perhaps expected, as injuries kept on plaguing the Jets' defence. Following a groin-injury to Zach Bogosian, he was promoted to skate alongside Tobias Enstrom during a game on November 17th against the Minnesota Wild. The Wild won 2-1 and Ellerby, who logged 22 minutes of ice-time, was on the ice for both Minnesota goals. Still, in 51 games, the big-bodied defenceman was able to put together a plus/minus of +4 on the season, as well as 6 points and 76 hits.
3. Mark Scheifele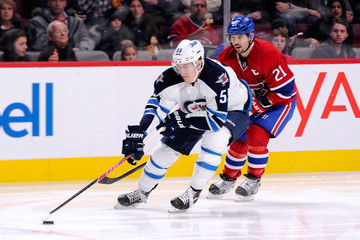 After scoring a goal in the first game of the season, the rookie centre went 22 games without getting another, and his minutes dropped because of it. Luckily for Scheifele, his surprising composure and solid defensive play for such a young player kept him in the lineup and gave him a chance to take his time gaining a rhythm offensively; and he did just that. In the months of December and January, Scheifele garnered 23 points (9 goals, 14 assists) in 28 games. In February, head coach Paul Maurice praised the 21-year-old saying, "He thinks the game very well in his end and plays off people well. He's got a calm and confidence down there that you don't see in young guys." His season ended abruptly after suffering an MCL injury against the New York Islanders on March 5th. With the Jets not making the playoffs, Maurice and Scheifele will be reunited as both will be part of Team Canada for the 2014 World Hockey Championships.
2. Michael Frolik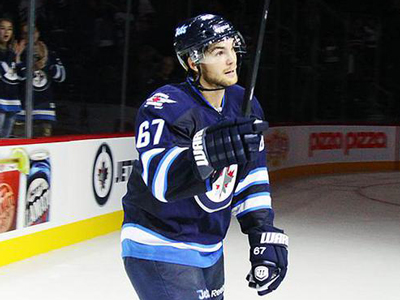 The Czech-Republican winger's cap hit of 2.3 million dollars was too much for the Chicago Blackhawks to carry over following their Stanley Cup winning season last year. Frolik played a huge role on their fourth line and the league's third best penalty kill, offering a relentless back and forecheck. Unfortunately, he was as snake bitten as Woody Harrelson in Natural Born Killers (last movie reference, I swear). He only found the back of the net 3 times in 45 games with the Hawks; but Jets GM Kevin Cheveldayoff still saw plenty of promise in the once 20-goal scorer and him acquired at the draft for a third and fifth round pick. He spent a fair amount of the season on the team's top two lines and was able to find his scoring touch again by playing with more offensive minded players. While 15 goals and 27 assists doesn't sound like too much; for a player like Frolik who is responsible in his own end, it is more than enough. He has proved to be a versatile player who can play in almost any role that coach Paul Maurice may desire. That 2.3 million dollar cap hit doesn't seem too bad anymore.
1. Jacob Trouba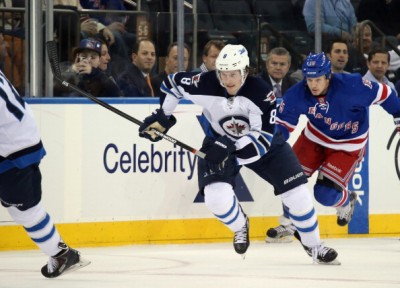 Considering his age, Jacob Trouba may not have only been the most impressive first-year Jet this past season, but maybe the most impressive player on the entire team. Trouba led all NHL rookies with 22:26 minutes of ice-time a game and held his own both ends of the ice. His NHL career started off with a scare when he was taken off on a stretcher after falling face first into the boards during the 8th game of the season against the St. Louis Blues. The neck injury kept him out of the lineup for 17 games, but when he returned he showed minimal signs of hesitation on the ice for the rest of the season. His leadership on the ice, as well as his ability to control the flow of the game as a rookie was uncanny. During Paul Maurice's first five games as head coach after being hired on the 12th of January, Trouba made a good impression by scoring four points during that span. The 20-year-old American finished with 10 points (6 goals, 4 assists) for the entire month of January. Playing in the NHL has done wonders for his game, but it hasn't been very kind to his neck. Trouba took a puck to the throat during the last game of the season but he's okay to play in the World Hockey Championships next month. The stat line for Trouba's first season: 65GP: 10 G, 19 A, 29 P, +4.
General Manager Kevin Cheveldayoff has made a lot of smart moves in the draft and through trades. Even though the team hasn't improved in the point department since 2011, they definitely have improved when it comes to building a successful and promising foundation for the future.