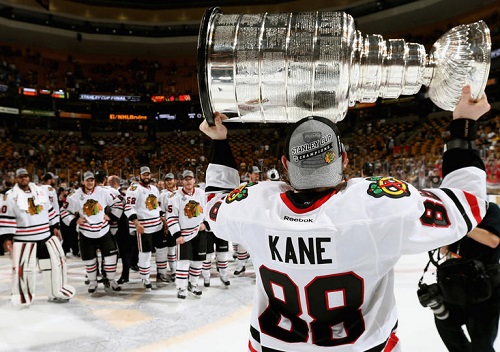 Some changes are coming to the roster of the defending Stanley Cup champions next season. The Chicago Blackhawks have adjusted their roster a bit to help maintain their successful momentum through the upcoming year.
Some of the biggest changes have taken place in net. Backup goaltender Ray Emery has been dealt to the Philadelphia Flyers. The Flyers signed Emery to a one year deal worth $1.5 million, with is a pay cut from his $1.65 million paycheck with Chicago. Despite his 17-1 record with the Blackhawks which included an NHL record of 12 straight wins, a Vezina Trophy nod despite being a backup who played no minutes in the playoffs and a Stanley Cup ring, Fliers fans have already sounded off on their disapproval of the Emery pickup. Emery had doubters early on with Chicago too. Eventually, he'll prove them wrong again. It's the right fit for Emery, who is expected to see more ice-time and find a stronger leadership role.
In his place, the Blackhawks have signed former-Hawk Nikolai Khabibulin."The Bulin Wall" will be back for one year costing Chicago $1.7 million with close to $300,000 available in bonuses. Khabibulin played for Chicago from 2005-2009, and helped the Blackhawks reach the Western Conference Finals his last year with the team. For his career he has a 332-334-38 record over 17 NHL seasons with 46 shut-outs, a 2.72 goals against average and a .908 save percentage. He also has playoff experience after bringing home a Cup ring with the Tampa Bay Lightning in 2004.
Chicago has also signed Finnish goaltender Antti Raanta to a one-year deal, however expect Crawford and Khabibulin to take up most of the minutes. Carter Hutton, who suited up for several games with Chicago is making a move to the Nashville Predators. Nashville signed Hutton to a one year deal worth $550,000 for his NHL play and an additional $100,000 for his work in the American Hockey League.
Also moving to Nashville is former Blackhawk Viktor Stalberg. He signed with the Predators on a four year deal worth $12 million. Also leaving the Chicago championship roster are forwards Dave Bolland and Michael Frolik. Frolik signed with the Winnipeg Jets and was given up in exchange for a third round pick and fifth round pick.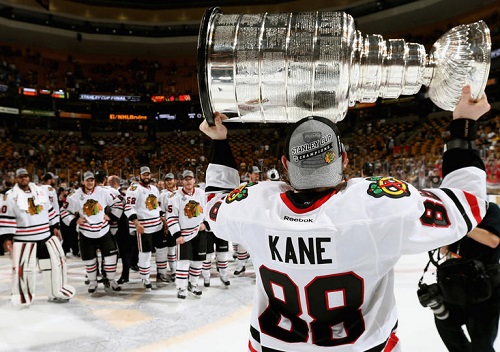 Bolland was dealt to the Toronto Maple Leafs in exchange for a second round draft choice and two fourth round picks. Bolland's move, despite being a slight disappointment to some fans, was the right one. Chicago is able to gain some salary cap space and Bolland will take on a veteran role while playing for his hometown team in Toronto.
It's ironic to note that Bolland and Frolik were the last two Blackhawks to touch the puck on the game-winning play that clinched the Stanley Cup for Chicago.
Both Steve Montador and Rostislav Olesz had their contracts bought out by Chicago, meaning they won't be returning to the team. Montador had two years left on his four year $2.75 million contract, though suffered through concussion issues throughout the season. Olesz had only one year left on his six year $3.125 million contract before he was bought out. With both of these players leaving, the Blackhawks have room in the salary cap to keep Marion Hossa around, which is nice since Hossa has a 12-year deal with Chicago keeping him around until the 2020-2021 season.
There are a few more Blackhawks who will be sticking around. The biggest gain for Chicago is arguably the re-signing of Bryan Bickell. "Bicks" was originally picked up by Chicago in the 2004 draft and has spent his entire NHL career in a Blackhawks sweater. The 27-year old signed for an additional four years, costing the Blackhawks $16 million, though he has said that money wasn't as important to him as staying a Blackhawk. Though the deal is a significant price bump from his previous Chicago contract which had him signed for $546,000. It was the smart move for Chicago, though, as Bickell has proven himself during the regular season as well as the playoffs. In 23 playoff games, Bickell had 17 points including nine goals. During the shortened regular season, he had 23 points in 48 games and averaged 13 minutes per game. He'll stay in Chicago and remain a game-changing player.
Chicago has also resigned Nick Leddy to a two year deal, as well as Michal Rozsival –who signed for an additional two years– and Michal Handzus for an extra season.
A few changes for the Chicago roster to be sure, but the right moves. The Blackhawks don't' need a major overhaul from the Cup-winning team and unlike 2010, they aren't struggling with salary cap space. The moves may shake up the start of next season while players get used to some changes, but look for Chicago to be a strong Cup-defending team.