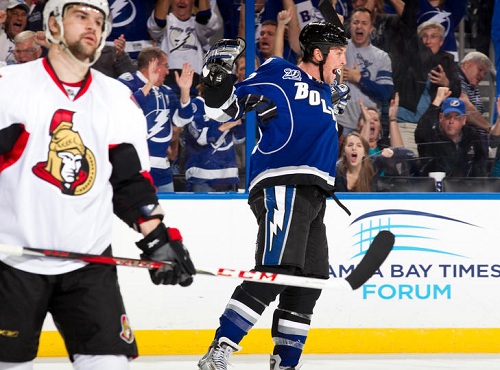 The Ottawa Senators were playing their second game in as many nights and the Tampa Bay Lightning were beginning a five-game home stand after a two-day break. However, neither defense showed up to play on Friday night, especially during the second period when the two teams combined for six goals.
Led by Ryan Malone, the Bolts pulled it together for the third and went on to win 6-4. Anders Lindback, in his third start for the Lightning, made 31 of 35 saves in the game.
"We always end up digging deep and finding a way to come back," Malone said. "We've just got to learn to play smarter and stick with the game plan the full 60 minutes."
The Tampa Bay Times Forum sold out for a second consecutive game to open the season, according to the Sun Sports game telecast.
The house was already rocking after a pre-game ceremony honoring Vincent Lecavalier's 1,000th career game as a member of the Lightning.
Tampa Bay kept the good vibrations going when Matt Carle (1) scored a power play goal at 01:09 after a Ottawa hooking penalty just 35 seconds into the game.
Another goal during one of the Bolts' four consecutive power plays to open the game probably would have sent the crowd and the Senators over the edge.
However, a strong Ottawa penalty kill kept the game at 1-0 heading to the second period.
It started with poor Lightning defense, when Chris Neil delivered a beautiful stretch pass past a sprawling Martin St. Louis leading to the game-tying goal by Erik Condra at 04:11.
The score stayed tied at one for over half of the second period.
Then the game got really sloppy.
Teddy Purcell (TB) hooked at 12:56, Neil (OTT) interfered at 13:27 and Brian Lee (TB)elbowed at 14:20 to give the Senators a 4-on-3 power play.
They wasted no time taking the lead as Jason Spezza (2) scored ten seconds later to give Ottawa a 2-1 lead.
Not 15 seconds later, Erik Karlsson (3) extended the Senators' lead to 3-1 after Victor Hedman inadvertently deflected Karlsson's shot past Lindback.
Before Lightning fans could even comprehend what happened, Steven Stamkos (2) threw home a backhand rebound goal off of a Sami Salo shot to cut the lead back to one at 15:00.
After this ridiculous stretch of three goals in 30 seconds, things settled down for all of two and a half minutes before a Daniel Alfredsson pass set up a Kyle Turris (4) goal on a 3-on-2 break.
40 seconds later, at 18:10, St. Louis and Stamkos set up Hedman (1) for a slap shot goal that cut the lead back to one yet again.
There were five goals in the last six minutes and when the dust settled on the second period, it was Ottawa 4, Tampa Bay 3.
In second periods this season prior to the Ottawa game, the Lighting were outscored by a total of 6-1. The Lightning continued this troubling trend, being outscored 4-2, increasing the season deficit to 10-3.
"In the second periods, we let down a little bit," coach Guy Boucher said. "We let down our guards and our urgency slips away and all of a sudden we realize, 'Oop, we're in trouble!'"
Apparently Boucher lit a fire under the Bolts in the locker room because in the third it was all Lightning.
It started at 03:39 when Ryan Malone (2) deflected a Salo slap shot past Ottawa goalie Ben Bishop to tie the game at four.
Following an intense penalty kill by the Lightning that kept the game tied, the score came to a standstill for about ten minutes.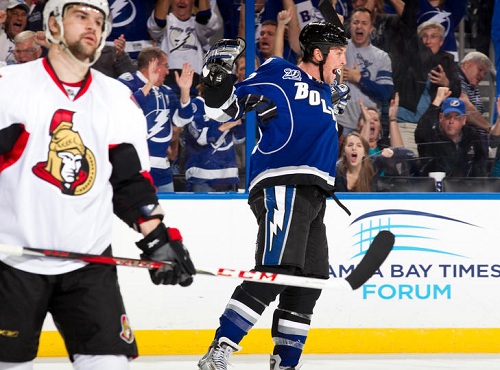 At 12:58, Malone (3) hit the game-winner, slamming a rebound home after a Hedman slap shot.
Following several intense minutes of action, Tom Pyatt (2) put the game away with an empty-net goal that set the final margin of 6-4.
However, the Senators refused to go home quietly, inciting a mêlée in front of the Tampa Bay net that led to eight penalties including game misconducts for Adam Hall, Keith Aulie and Mark Borowiecki.
When the horn finally sounded, the Lightning had come away with a hard-fought two points.
Tampa Bay has now outscored opponents 11-1 in the third period this season.
"We showed great character coming back again but we can't keep playing like this and dig ourselves into these holes," Hedman said. "We got the result we wanted but we want to put ourselves in a better position."
The home stand will continue Sunday night when the Bolts welcome the Philadelphia Flyers to town for an early 6 p.m. ET start. The Flyers will be coming off a back-to-back after playing the Florida Panthers Saturday night.
Ottawa will head back home for a 5 p.m. battle at home against the Pittsburgh Penguins on Sunday.