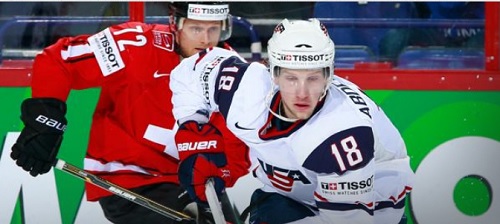 Now three games into the 2014 IIHF World Championships, Team USA is looking relatively strong despite their amateur lineup.
The Americans began the tournament against Belarus on Friday, soundly defeating the host nation 6-1. Winnipeg Jets rookie defenseman Jacob Trouba registered two goals in the win, while Calgary Flames prospect Johnny Gaudreau contributed a goal and two assists in his first international game.
"We're relatively new… we haven't had a long camp… and it's nice for guys to be able to contribute offensively. [Offensive contribution] always seems to lead to good confidence for a player or for a group, so it was nice to see different guys on the score sheet," said American head coach Peter Laviolette.
Like many of the American skaters, this is Laviolette's first time behind the bench on the international stage. Following the win, however, the Americans defeated Team Switzerland 3-2 the very next day despite their inexperience. Craig Smith, Tyler Johnson, and Peter Mueller were able to find the back of the net, erasing a 2-1 Swiss lead in the third period. Veteran goaltender Tim Thomas made 27 saves, and was named Team USA's best player of the game.
"I think our guys did a terrific job of showing up in the second night of back-to-back games. They didn't quit and kept playing in the third period," said Laviolette. "It was a competitive game both ways, there was a great atmosphere in the building and those are the types of games you want to be in."
But like anything, inexperience is bound to catch up with you at some point. For the Americans, this happened on Monday when they lost to the Russians 6-1. Led by NHL superstar Alex Ovechkin, the Russians dominated the game from the start, and the Americans were forced to play defensive hockey early on.
"We've got to learn from this game, hopefully be a better team" said American team captain Justin Abdelkader."It's a good learning experience for us to learn to see how a team [like Russia] plays. [They are] a really good team [and] their goalie played tremendous for them." Abdelkader scored the lone goal for the Americans in the 6-1 rout.
The Russians have won three games straight, are undefeated in preliminary action, and sit first in group B. "We played very aggressive hockey, and scored… early," said Russian head coach Oleg Znarok. "A win's a win and I'm happy for the guys."
This strong play may be attributed to Russia's lackluster performance during the winter Olympics in Sochi, but despite losing by such a large margin, the American's out shot the Russians 40-23, indicating that they are not to be taken lightly.
The quarterfinals are set to begin on May 22, and the U.S are looking to improve upon this match, and their third place finish a year ago. They currently have a respectable six points, and are tied for second place in group B. They will look to get back on track when they face Team Latvia on Thursday at 9:45 a.m. EDT.