Coaches coach from Atom level hockey all the way to the NHL to keep your stick on the ice, I believe the saying goes "keep your stick on the ice and good things will happen." I think Zack Kassian definitely learned his lesson.
Last Saturday in a freak accident against the Edmonton Oilers, Kassian was going in for a hit on Sam Gagner and completely missed him, but accidentally swung his stick and got him in the chops and managed to break Sam Gagner's jaw at the same time.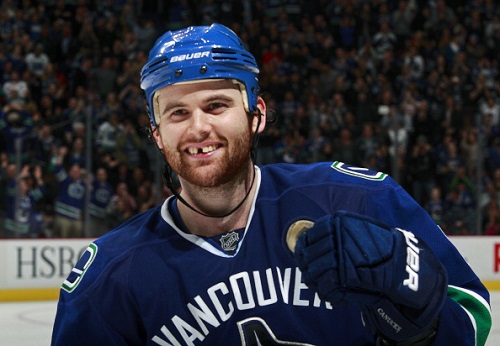 Kassian got a double minor on the play and knocked many teeth out from Gagner's jaw like a KO punch from Mike Tyson. "As he nears the boards Kassian comes to a spinning stop, recklessly swinging his stick and striking Gagner in the face and breaking his jaw," NHL director of player safety Brendan Shanahan said in a video explanation.
Kassian will miss 5 regular season games; he also missed the last three pre-season games. Kassian came in a trade two seasons ago in a shocking trade at the deadline from Buffalo for young centre Cody Hodgson and Marc Andre-Gragani. The Canucks coaching staff is hoping that Kassian will become a powerful forward like Todd Bertuzzi once was on the Canucks back in the day.
Canucks will open the season in San Jose on October 3rd and have their home opener against Edmonton Oilers October 5th.