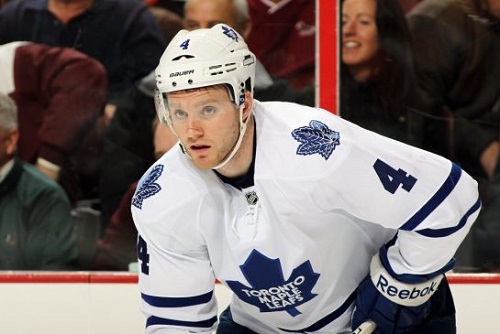 The Toronto Maple Leafs have announced that defencemen Cody Franson will end his holdout and sign a one year $2 million contract. Franson can now attend the tail end of training camp and get at least one pre-season game under his belt.
In the final stages of negotiations, the Leafs pushed for a two-year deal that would see Franson stay until he was an unrestricted free agent. Franson wanted a one year deal so he has the option of filing for arbitration next year.
Franson, 26, spent most of the lock-out shortened season paired with Mark Fraser and the pair played well in the playoffs. Last season Franson scored four goals and 25 assists for 29 points, good for eighth in points among all defencemen in the league. Franson also put up three goals and three assists in seven playoff games against Boston.
With Franson signed the Leafs are currently sitting just over a million dollars above the salary cap, but the Leafs could send players to the Marlies or make a trade. Either way, they must do so by Tuesday of next week.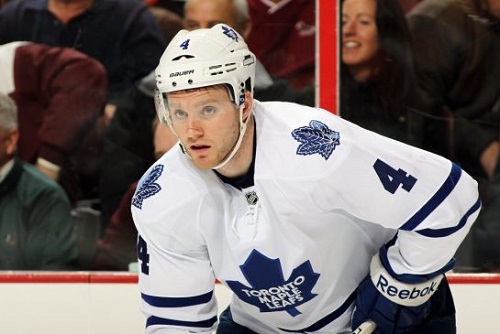 Franson's signing does two things for the Leafs: it gives the Leafs a good idea of what their defence will look like on October 1, but also solves the question of what will happen to Morgan Rielly. With Franson back in the picture there is no real reason to keep Rielly in the NHL if he will be playing very few minutes. It is unlikely that holding Rielly back will hurt him, and he will just be better suited for next year.
It is likely the defence will be:
Carl Gunnarsson – Dion Phaneuf
Mark Fraser – Cody Franson
Jake Gardiner – Paul Ranger
This gives the Leafs three solid pairings, each has a puck mover and a more defensive based player to give the pairings balance.
The Leafs have solidified their defence, and improved their goaltending, two issues which have given them trouble, so it will be exciting to see what the Leafs are capable of. Coming into next season, the Leafs could be sporting the highest scoring defence in the league, the question may be how do they perform in their half of the ice.