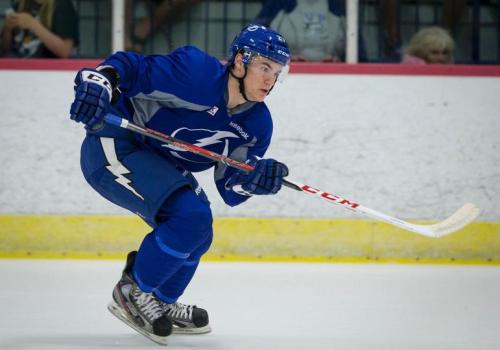 Bad news, Bolts fans.
Scratch that. Bad news, hockey fans.
Tampa Bay Lightning wing prospect Jonathan Drouin, the third overall pick in the 2013 draft, may have to wait a bit longer for his NHL debut.
Several outlets reported on Tuesday that Drouin will miss three to four weeks due to a slight fracture in his right thumb.
Here's what Drouin told the Tampa Bay Times' Joe Smith: "Just a little collision and I fell on it; it wasn't a big hit or anything. Just lost balance and fell on my hand."
Drouin, who spent last season running roughshod over the Quebec Major Junior Hockey League with the Halifax Mooseheads, had impressed in training camp and was expected to make the team. It is unknown at this point how much his injury will affect those plans, but the timetable puts the 19-year-old's return anywhere from Oct. 14 to Oct. 21. The season is scheduled to open on Oct. 9 against the Florida Panthers.
The Lightning's preseason schedule opens Tuesday against the Nashville Predators from Amalie Arena, and Drouin will definitely not be in action for that one. Neither will Steven Stamkos, Ryan Callahan, Ben Bishop, Tyler Johnson or Ondrej Palat.
Many of Tampa's top players are expected to suit up in Friday's exhibition contest against the Dallas Stars.
Alex Killorn, Valtteri Filppula and Brett Connolly will form the top line against Nashville, and Andrei Vasilevskiy will make his Lightning debut in goal. He is expected to play the whole game.
Jason Garrison will also make his debut, being paired with Andrej Sustr on the blue line.
For more on the Lightning's line-up for Tuesday, check out Joe Smith's Tampa Bay Times piece from Monday.
If anyone knows better, let me know, but I believe Tuesday's preseason opener will not be televised due to Tampa Bay Rays and Miami Marlins baseball games.