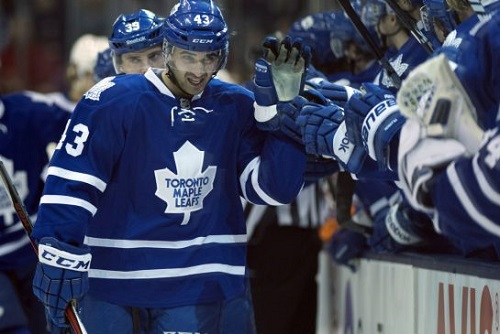 The Toronto Maple Leafs have signed Nazem Kadri to a two-year $5.8 million dollar contract. This extension will allow Kadri to attend training camp with the team that starts on the 11th.
Kadri played well last year, scoring 44 points in 48 games, second in points only to Phil Kessel. Kadri moved back into the center, where he played in junior, instead of the wing.
Kadri's game has developed a lot since he first crack at making the team. No longer does he try to stick handle right at the blue line or try to do everything himself. Kadri is maturing as a player and has become more reliable in his own end.
Although Kadri's game slowed down towards the end of the season and into the play-offs, his line played an important part of Randy Carlyle's game plan. Kadri's minutes were sheltered where Mikhail Grabovski's line did the heavy lifting.
Kadri's contract is good for both the team and himself. By taking a lower salary Kadri can keep some expectations in check. It is also short term, meaning that if Kadri plays well he will get paid more, but if he is injured or his play drops off, the Leafs are protected. With the cap projected to grow, getting Kadri to sign a short term deal was necessary for the team.
"Happy to be with the leafs for the next couple years, looking forward to camp," said Kadri on twitter.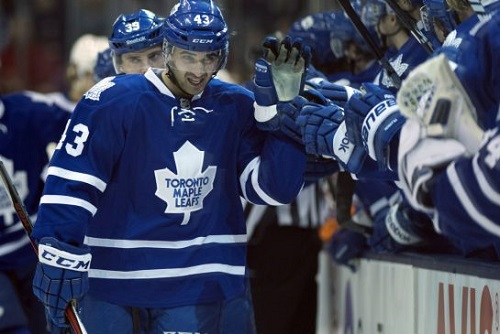 With Kadri signed there is one question mark still remaining for the team: Cody Franson. The Leafs have very little money left to sign Franson, and with Mason Raymond invited to camp, the budget could be stretched too far. If the Leafs can move Liles, it could create the space for both Franson and Raymond.
Liles could find a new home in Carolina where Joni Pitkanen may be out for the season due to injury. Liles is a question mark right now for the Leafs. He played quite well until he was concussed. Liles was not able to get his game back up to the previous level, and to make matters worse, he had just signed a generous contract extension before the extent of his injuries were known.
Moving forward, Kadri will continue to be an important part of Toronto's forward corps. Kadri's line can support Kessel's line in providing two solid offensive lines, while Dave Bolland and Jay McClement anchor the bottom two lines. If Kadri and Lupul can stay on a line for most of the season, both players could have better seasons then people expect.