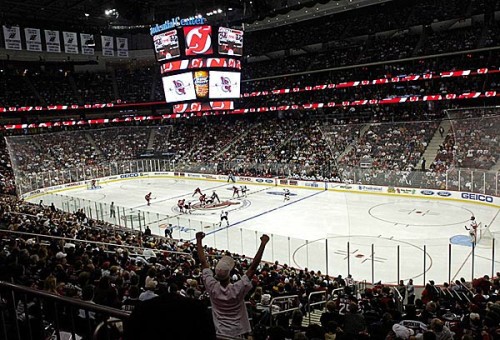 Friday, October 10 is a big day in the calendars of all Devils fans: their favourite team starts their 2015-16 campaign, hosting the Winnipeg Jets. This offseason proved fruitful and ever-changing for the Devils, with a management overhaul, players retiring, new pickups, and goodbyes. Obviously, the Devils are looking to forget last season's woes and bring back the glory of the 2012 post-season. Going into Friday's opener, here's what you need to know:
Forwards
In the offseason, oft-injured Ryane Clowe retired, after still not being medically cleared to play. Though he was a hard-working, skilled player, this doesn't make much of a difference in the lineup because, obviously, Clowe didn't crack it much. The Devils will continue to look for more consistent production from Jacob Josefson, and bounce-back seasons from all of their forwards – last season saw Adam Henrique lead the Devils with 43 points, the lowest team-leading total in Devils history. Mike Cammalleri will be expected to produce, and top 10 draft pick Pavel Zacha will have a spotlight on him as he cracks the Devils lineup. New addition Kyle Palmieri will also be thrown right into the offensive mix, likely as a top 6 forward. The lines for the season will likely be as follows (though Elias will miss the season opener due to a knee injury):
Cammalleri – Zajac – Tlusty
Elias – Henrique – Palmieri
Ruutu – Josefson – Boucher
Sislo – Gionta – Tootoo
(Stempniak)
Defence
Young defenceman Adam Larsson was signed to a six-year contract extension in the offseason, and he and fellow young guns Damon Severson and Jon Merrill will remain defensive staples in the Devils lineup, where not much has changed. Veteran Andy Greene will continue to provide leadership in the Devils dressing room. Veteran and Devils captain Bryce Salvador also retired but, like Clowe, he was injured for the majority of the past two seasons and saw very little ice time. The pairings will likely be:
Greene – Larsson
Severson – Gelinas
Schlemko – Merrill
Goaltending
Very few complaints can be made about Devils goaltender Cory Schneider who, despite last season's subpar record, often stood on his head to salvage games that generated very little offence. Needless to say, he was one of the (if not the only) standout performers last season, and will continue to be heavily relied upon to do what he does best – stop the puck. The goaltending situation will not change this season, and will be:
Schneider – Kinkaid
Management
As has been much hyped, John Hynes will take the helm as the Devils' head coach, replacing Pete DeBoer (who is now head coach of the San Jose Sharks) and the Scott Stevens/Adam Oates coaching combo – hopefully for the better. This will be Hynes' first NHL coaching campaign, as he stood behind the bench for the Wilkes-Barre/Scranton Penguins for 5 years before moving to coach the Devils.
Lou Lamoriello also suddenly left the Devils organization, and new GM Ray Shero is not joking about turning this team around – his motivation to become Cup contenders again has been well documented in the media, and his effort to make big moves seems to be working.
If everything goes well, the Devils will likely slide into a playoff berth in the Eastern Conference – but just barely. If injuries and offensive droughts don't get the best of them (again), they will likely end up in a Wild Card position. The offseason changes may have been enough to take them out of their slump, but not enough to make them a real Eastern Conference threat.