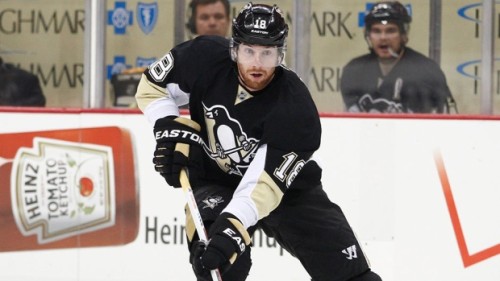 He stands at 6-2, clocks in at 208 pounds, and can score off the wing with an excellent release. He can post up 30 to 40 goals in a single season, and he does it all for a very reasonable $5 million salary.
Not to mention he is only 26-years-old.
On the surface James Neal seems like an absolute steal for any team, but Penguins general manager Jim Rutherford had other plans for the offensive winger. Last night, Rutherford traded Neal to the Nashville Predators for forwards Patric Hornqvist, and Nick Spaling during the first round of the 2014 NHL draft.
Since being named Pittsburgh's new general manager earlier this month, Rutherford has voiced his concerns regarding the Pens offensive depth. "Our supporting cast needs to be improved," he said. "I look at our fourth-line players and some of those guys are in double-digit minuses and we can't have that."
The plan is to set Hornqvist up alongside Malkin on the second line, thus filling Neal's vacancy. Hornqvist has four 20 goal seasons in his career, including a career high 30 in 2009-10. He is known for playing a gritty game in front of the net, and can score a number of "garbage goals."
Last season, Nashville was 19th in the NHL with 2.61 goals for per game, with Hornqvist being one of only three Predators to net more than 20 goals. Being able to post up these numbers on a team lacking offensive upside is a good sign for the Penguins organization. If Malkin can get the puck to Hornqvist down low in the slot, he may be able to post up similar numbers to Neal, albeit in a less highlight reel fashion.
While Neal is more of a perimeter player, Rutherford was looking for that real hard-nosed, relentless offensive presence in front of the net.
"We like Hornqvist a lot," Rutherford said. "We just think he's a complete player, an all-around player, a guy that plays with an edge and is going to be good in the playoffs. And also a right-hand shot. We don't have many right hand shots, so that was another plus."
In addition, the Penguins were able to save $800,000 by swapping Neal for Hornqvist on the $69 million cap for the 2014-15 season. The Penguins now have 14 players signed, and approximately $14.63 million left in salary cap room for next season according to CapGeek.com.
But while the Pens gained grit and cap space through Hornqvist, they acquired versatility through the 25-year-old Spaling. "He's… a player that can play all three forward positions," Rutherford said. "If one of our centres gets hurt, he can just slide in there. Very versatile player. I think he's very important to this deal."
Spaling is coming off a career high 32 point season with the Predators, and is known for his ability to kill penalties, and work hard in all three zones. Spaling is the ideal two-way depth forward that Rutherford believes the Pens were lacking last season.
"These guys [Spaling and Hornqvist] play the game hard, they play with an edge and they're great team guys," Rutherford said. "They'll be good in our room."
While the Pens may have dropped one of the most dangerous shooters in the NHL, Hornqvist and Spaling will provide the Penguins with the depth necessary for long playoff runs.
Brian Burke, Calgary Flames president of hockey operations, understands this better than anybody. "I don't think you can win a championship without stars, I don't think you can win a championship without skill, but I don't think you can win a championship without sides of beef either," he said.
The Penguins have the skill and the stars, but Sidney Crosby and Malkin cannot do it all by themselves. According to Burke, a championship team needs to be "big and ugly," just like his 2007 Anaheim Ducks. "You need snipers and you need stars. [But] I think we started the arms race with a big, ugly team," said Burke. "It was a classic top-six, bottom-six team."
With little under $15 million left to spend, expect the Pens to continue to add depth in the coming months. With some added beef, the Penguins will have what it takes to make some noise, and go deep in the playoffs.
But more importantly, they'll have what it takes to win the Stanley Cup.