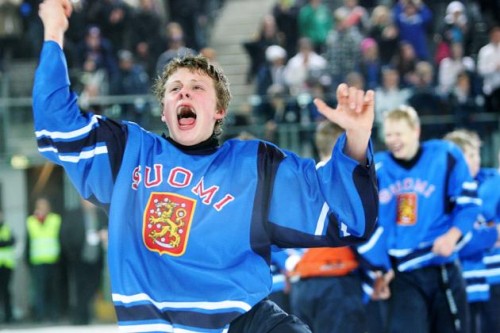 The Pittsburgh Penguins signed Kasperi Kapanen to a three-year, entry-level contract, the team announced Friday. The Pens selected Kapanen 22 overall in the 2014 NHL draft.
Kapanen spent this season with KalPa in Finland's top professional league, and registered 7 goals and 7 assists in 47 games. He was the No. 1-rated European skater by NHL Central Scouting, and is the first 2014 draft pick to sign an NHL contract.
He is the son of former NHLer Sami Kapanen, who registered 458 points in 831 NHL games with the Hartford Whalers, Carolina Hurricanes, and Philadelphia Flyers. Father and son were teammates last season with KalPa, while the 17-year-old Kapanen outscored his 41-year-old father by one point.
But the family ironies go much deeper than this. Fathers have played with their sons at the professional level in the past, but never has the same manager drafted both father and son. Back in 1995, Penguins general manager Jim Rutherford drafted Sami 87 overall to the Whalers, and wasted no time to select his son 19 years later.
"Do you know anybody else who's done that?" Rutherford said. "We drafted Sami in 1995 and he had a son in 1996. I used to watch [Kasperi] on the ice when he just started skating and I end up drafting him."
But to think that this is a coincidence would be a highly misguided assumption. Sami would update Rutherford on his son's progress throughout the year leading up to the draft. "We had a good background check on him," said Rutherford. "We were surprised he was still there at 22. We had him rated a lot higher."
Originally Kapanen was expected to be in the draft's top 10, but due to a shoulder injury that left him out of the World Junior Championships and a mediocre 2013-14 season, NHL clubs may have had second thoughts regarding the talented Fin.
The 6-foot, 181 pound winger represented Finland at the 2013 World Under-18 Championships and scored five goals, including the game winner in the bronze medal game. He was also an alternate captain at the World Under-17 Challenge, and led Finland in scoring with nine points.
Kapanen has a sniper's release, and knows how to get open in the offensive zone. With some added size and further development (especially defensively) he should find success at the NHL level. Projected to be a top-six forward, he will compete for a roster spot this September.
With the Penguins lacking cap space, they need their young players to step up and contribute immediately. Consider what the Chicago Blackhawks have gained from Andrew Shaw, Brandon Saad, and Ben Smith, or the support the LA Kings received from Tanner Glass and Tyler Toffoli en route to their Stanley Cup win.
This is the difference between the Pens and teams that have frequented the Stanley Cup final since 2009, and Rutherford is well aware. He is open to the possibility of Kapanen making the NHL immediately, and will give him every opportunity to do so.
"We have to keep in mind that Kapanen could come in and make this team," he said. "He's played with men [in Finland] for two years. He's a good player."
Signing his first NHL contract is a big step, and Kapanen shared his excitement on Twitter. "Feels really good signing with the Penguins! What a great day! Excited to be in Pittsburgh on Monday!"
With the Penguins set to begin their prospect development camp on July 15, it looks like the Finland native will have every opportunity to crack the Pens opening night roster.