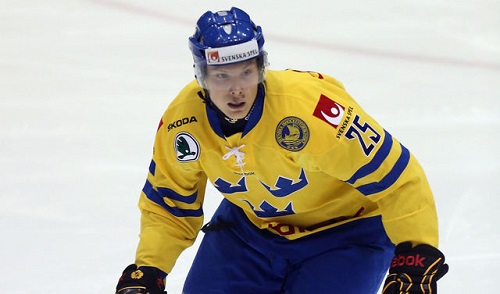 Last Saturday the Pittsburgh Penguins signed forward Oscar Sundqvist to a three year entry–level contract. The contract begins at the start of the 2014-15 season, and runs through the 2016-17 campaign.
This was the first move by interim general manager Jason Botterill, and it was definitely a smart decision.
Sundqvist was drafted by Pittsburgh 81st overall in the 2012 NHL draft, and has just completed his first season with Skelleftea – the top team in the Swedish Elite League. Sundqvist scored his first goal 14 games into the regular season, finishing with 16 points (6G-10A) in 51 regular-season contests.
Sundqvist also helped Skelleftea win their second consecutive postseason championship, registering six points (4G-2A) in 13 playoff appearances. To add to his collection, Sundqvist represented Team Sweden at the 2014 IIHF World Junior Championships, and scored twice in seven games to help the Swedes earn a silver medal.
During the 2012-13 season, the 6-foot-3, 182-pound centre posted up 26 points (13G-13A) in 26 games with Skelleftea's junior team, and finished as the club's leading scorer.
However, having played in Europe where the rinks are much wider, Sundqvist will have to adjust the smaller ice surface, and faster game speed associated with North American play. In addition the game is more physical, and Sundqvist will need to put on some weight to fill out his lankier frame.
At this point it is difficult to assess Sundqvist's potential, though ideally the Penguins would like to see him develop into a dependable two way centre with offensive upside.
"I want to get more explosive in the skates." he said. "Maybe control my temperament a little bit." Sundqvist is a feisty player, and despite only collecting 16 penalty minutes this season, he has a history of winding up in the box on a regular basis. During his time with the Skellftea J18 team from 2010-12, Sundqvist recorded 132 penalty minutes in 43 games.
But to crack the Pens lineup as a two-way centre, Sundqvist will need to keep his stick on the ice, and use his feisty playing style to go hard to the net and contribute offensively.
According to capgeek.com, Sundqvist ranks fifth on the Penguins depth chart at centre, and with Craig Adams and Andrew Ebbett becoming UFA's at the end of next season, a full time position may be available for Sundqvist in the final year of his entry level deal.
He may not be there yet, but he is definitely headed in the right direction. "I'm a big player… I'm good at reading the play," he said. "I work as hard as I can every practice and game." With the right attitude and a little luck as far as the depth charts are concerned, Sundqvist could be lacing up for the Penguins in the near future.
So keep your head up and your stick on the ice, kid, and you just might be playing with the leagues' best.
The show is just around the corner.