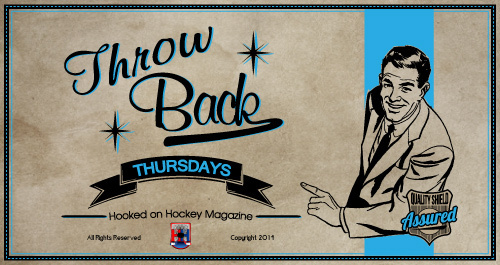 Welcome back to the final installment of Positive Predictions for the upcoming 2019-20 NHL season.
We have previously ventured into the Central and Metropolitan Divisions, as well as a comprehensive look at the Pacific Division last week.
For a very brief review, what I've done is take a stat or stats that indicate a problem each team faced last year and why they could overcome that problem this year. For some teams of course I have to dig really deep, but I'm trying to find a silver lining in each team's 2018-19 season leading into the current season.
For each previous division I've started with the top of the division rankings and worked my way down, so we'll do the same this week.
Atlantic Division
Tampa Bay Lightning:
The Tampa Bay Lighting led the league with 128 points last season and league MVP, Nikita Kucherov, tied that total with 128 points of his own. The Lighting actually had the third highest team point total ever, only trailing the 1995-96 Detroit Red Wings (131 points) and the 19767-77 Montreal Canadiens (132 points).
The Red Wings went to the Conference Final and the Canadiens won the Stanley Cup in those seasons, so surely the Lightning had a long playoff run in them too, right?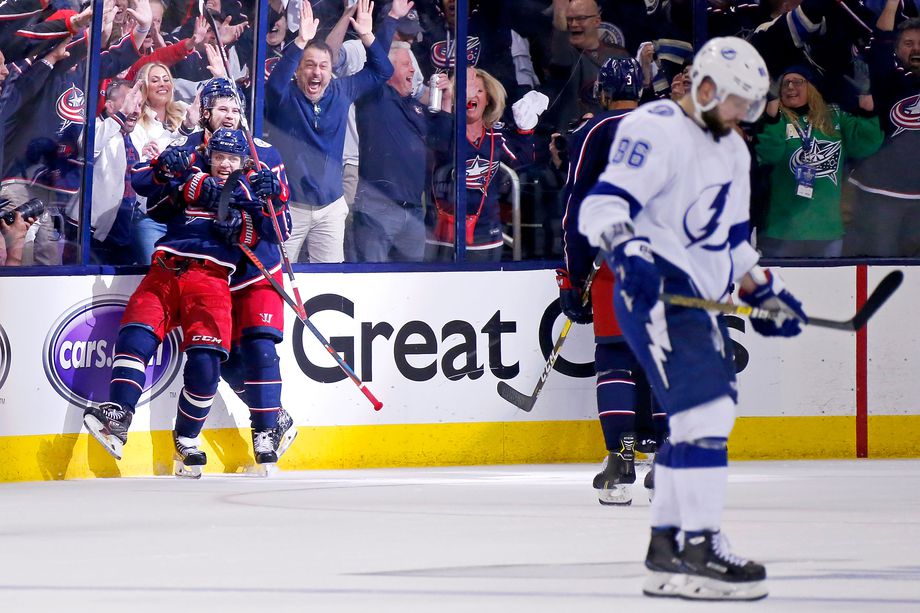 Well, no, to be frank.
However, we all learn in defeat. For the Lightning this is more tricky because of their historic season. Most teams I've looked at their regular stats and why they could be better, but I think it's safe to assume the Lightning will be back in the playoffs once again, so we can learn more from their playoff stats. Some of which are incredibly horrendous.
When the Lightning make it back to the playoffs with their home ice advantage against the eighth seed again, they will find themselves as overwhelming favorites against whatever team they play. What can they improve on this time around? Lots, but my predictions will boil down to two main things. Goals against per game (4.75) and penalty kill percentage (50%).
Those numbers are absolutely horrific for a contender and I would not only expect an Eastern Conference Finals appearance for the Lightning next season, but I would also say that they will get there on the back of a healthy Victor Hedman, something they didn't see all playoffs. With Hedman back at 100%, or close to it, it should dramatically increase their defensive prowess. I would expect a postseason increase to an 84% penalty kill (or about sixth overall based on last playoffs) and about a 2.90 goals against per game – which would only take them to ninth overall based on last playoffs, but with their firepower I think they can overcome it. All on the way to another Eastern Finals appearance, and possibly Cup-winning run.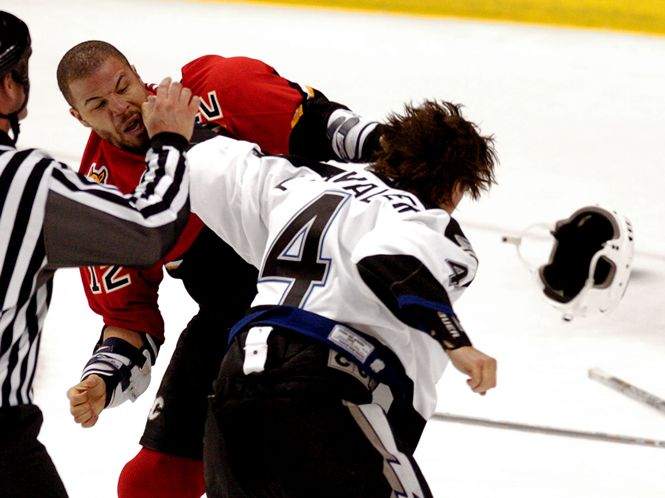 Boston Bruins:
The Bruins were hockey's second best team, both in terms of points (tied 107 with Calgary, finished third due to tiebreaker), and in the fact they lost in the Stanley Cup Finals.
The Bruins have a legitimate chance to usurp the Lightning as the Eastern Conference's top team with a scary core that is returning mostly intact. However, to take the throne from the Lightning, they will need to have a few things break their way this season. To get over the hump the Bruins will have to do a couple of things better, one of which is limiting their opponent's scoring chances, and 23rd worst shots against per game (32.7). They also need to improve on their mediocre 79.9% penalty kill, which was only good enough for 16th overall last year. Even if you score on over a quarter of your power plays (25.9%), keeping the puck out of your net is equally important.
This should come easily with the emergence of Charlie McAvoy as a legitimate top-pairing defenceman and a solid goalie tandem of Tuukka Rask and Jaroslav Halak – even in spite of a deteriorating Zdeno Chara. With that being said, I am here to provide predictions, and so I will say that the Bruins will again face off against the Toronto Maple Leafs in round one of the playoffs, however a 83% penalty kill and a sub-30 shots against per game will move them closer to the Lighting than anyone else can imagine. Within five points to be precise.
Toronto Maple Leafs:
The Leafs came out of the gate on fire last season before a mid-to-end season lull. The lull combined with the fact that William Nylander never returned to form, as well as major injuries to Jake Gardiner and Travis Dermott, plus another Nazem Kadri playoff suspension meant that Toronto faced a familiar ending to their season.
Game 7 against Boston. We all know how that story ends.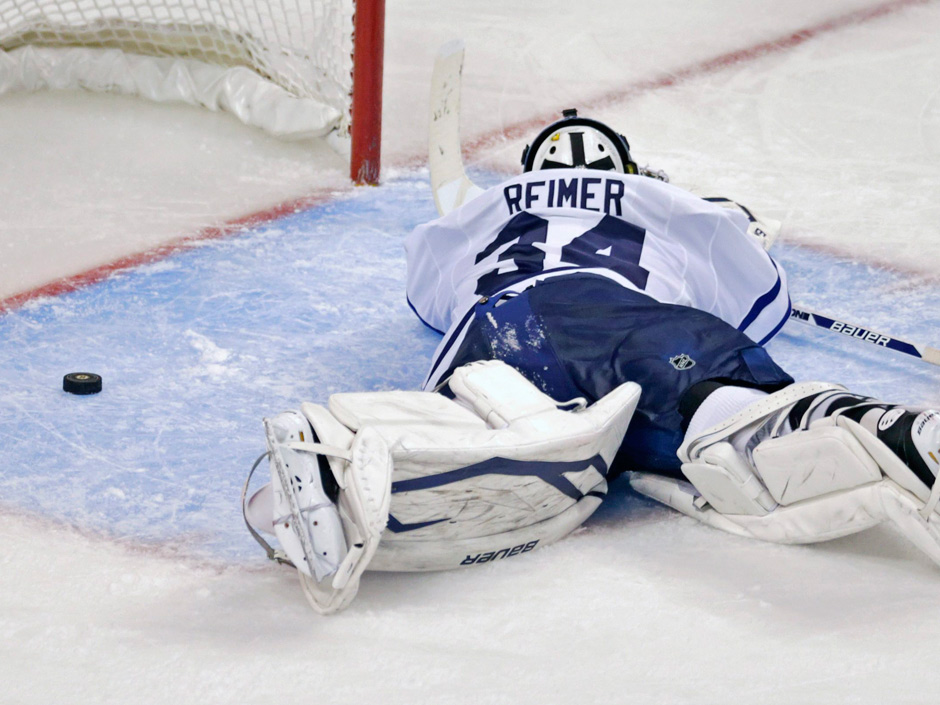 This season there should be improvement for a variety of reasons, with the biggest being the natural progression of youngsters like Auston Matthews, Mitch Marner, the aforementioned Nylander, Kasperi Kapanen, Andreas Johnsson, Travis Dermott, and more. On top of that, after Nylander's hold-out and then return to playing third line minutes the majority of the remainder of the season, this should be the first full season we get to see the two-headed beast that is the Matthews-Nylander and Tavares- Marner line.
For my prediction I am going with a three-pronged approach.With the match-up hazards that the first two lines will create, plus a new power-play specialist assistant coach, I predict Nylander will break 70 points for the first time in his career, Matthews will top 80 points for the first time in his career, and Tavares will get over the 90 point hump – assuming Marner plays the full season. Marner himself could flirt with 100 points if he signs and gets himself game-ready before the start of the season.
Montreal Canadiens:
The Canadiens probably would have made the playoffs last season had it not been for the Columbus Blue Jackets going all-in with what seemed like half of their roster set to leave. The deciding blow was a March 28th match that saw the new-and-improved Jackets beat up the Canadiens 6-2. Those two points turned out to be the separation between the Jackets (98 points – second wild card spot) and the Canadiens (96 points – missed playoffs).
It would be easy to just say that teams like the Islanders and Blue Jackets could see some natural regression and predict the Canadiens to make the playoffs in their stead. However, how might they make up those extra few points to boost them into the playoffs? Montreal also has some young players, including Max Domi, Jesperi Kotkaniemi, Jonathan Drouin, and Ryan Poehling – who put up a hat-trick in his lone NHL game last season, against Toronto in the season finale no less. Plus highly-touted prospect Nick Suzuki could get a chance to showcase his stuff this season.
Specifically the reason I think this season could be better is that Montreal had the second-worst power play in the league last season (13.2%) but still finished 14th overall in goals for per game played (3.00 GF/GP). This tells me that the Canadiens can produce offense at a league average level, meaning their power play should get some positive regression towards the norm as well. For my prediction I expect an 18% power play, which would still be between the bottom and middle third of the league, but a few more goals is all the difference in the world for a team that missed the playoffs by so little last season.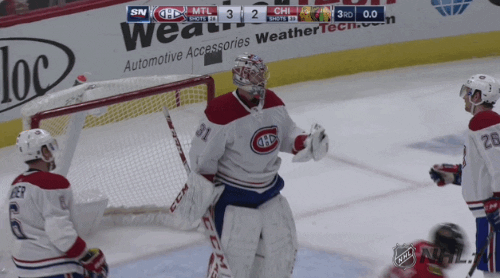 Florida Panthers:
It isn't really hard to see how the Panthers will be better this year. With one of the league's leakiest defences and terrible goaltending (Sorry Lu!) it was no surprise Florida couldn't make the playoffs even with a deadly power play (second overall – 28.6%) and the ninth most goals for in the league (264).
Anton Stralman on the back end should be a steadying presence who can teach some of the young defenceman on the Panthers, but we all know the main reason to expect positive change this season.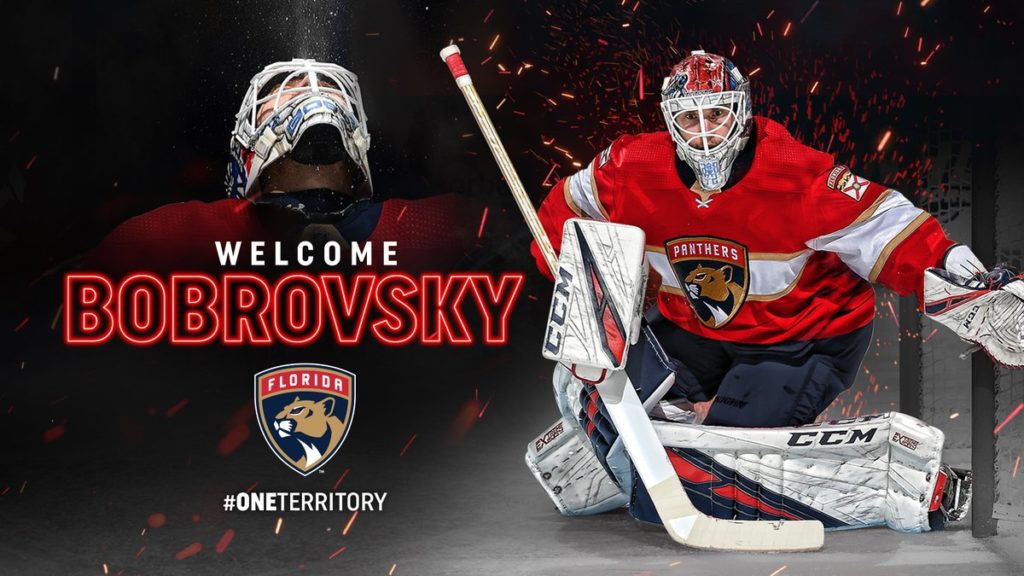 The Panthers goaltending stats were woeful last season, letting in the fourth most goals in the league (273) because of below average play in net. Their xGA (expected goals against at five-on-five, read more about the stat here) was 181.7 and their aGA (actual goals against at five-on-five) was 190. That means Panthers goalies let in almost eight more goals at five-on-five than an average goalie, and that's not even taking into consideration their power play. Which to be fair…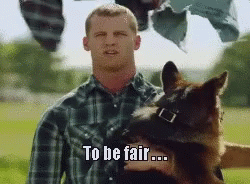 …was actually decent last year. The Panthers goaltending was also subpar in save percentage both overall (.891% compared to .905%) and five-on-five (.914% compared to .925%). All of that was a fancy way of saying their goalies sucked and Bobrovsky, who sports a career .919% overall save percentage and boasts two Vezina trophies will dramatically improve some of those underlying stats. My prediction? The Panthers ride Bobrovsky's franchise-record-breaking 37 wins to a playoff spot, despite being out-shot most nights.
Buffalo Sabres:
The Sabres took the opposite route of the St. Louis Blues, going from a brief first overall stint in November to laughingstock for the second half of the season.
Unfortunately I won't be predicting a playoff finish this season even though the Sabres have decided to load up on what seems like a dozen defencemen going back to the trade deadline last season. Positive Predictions is all about what we can expect to change for the better, and luckily the Sabres ended so terribly that up may be the only way to go. The Sabres offense -particularly Jeff Skinner – fell off a cliff in the second half, plus the Sabres had no secondary scoring to speak of. The Sabres xGF (expected goals for at five-on-five) last season was 173.7 last season while the league average was 180.3. The main part of that was their inability to get to the slot, resulting in their HDF (high-danger scoring chances for) being only a paltry 219 chances for compared to the league average of 372.
This is where the positive part comes in, another training camp for Skinner and captain Jack Eichel, as well as the influx of puck-moving defenceman (namely Colin Miller) and the expected progress of stud sophomores Rasmus Dahlin and Casey Mittlestadt should lead to a somewhat more potent offense from the Sabres. With the help of last season's 16th ranked power play sneaking inside the top 15 this season (as a minor prediction), I expect the Sabres to be right around the middle of the pack in goals for this year, which means a jump from 2.7 to around 2.95 goals for per game. That might only be a mediocre offense, but mediocre is an improvement in Buffalo.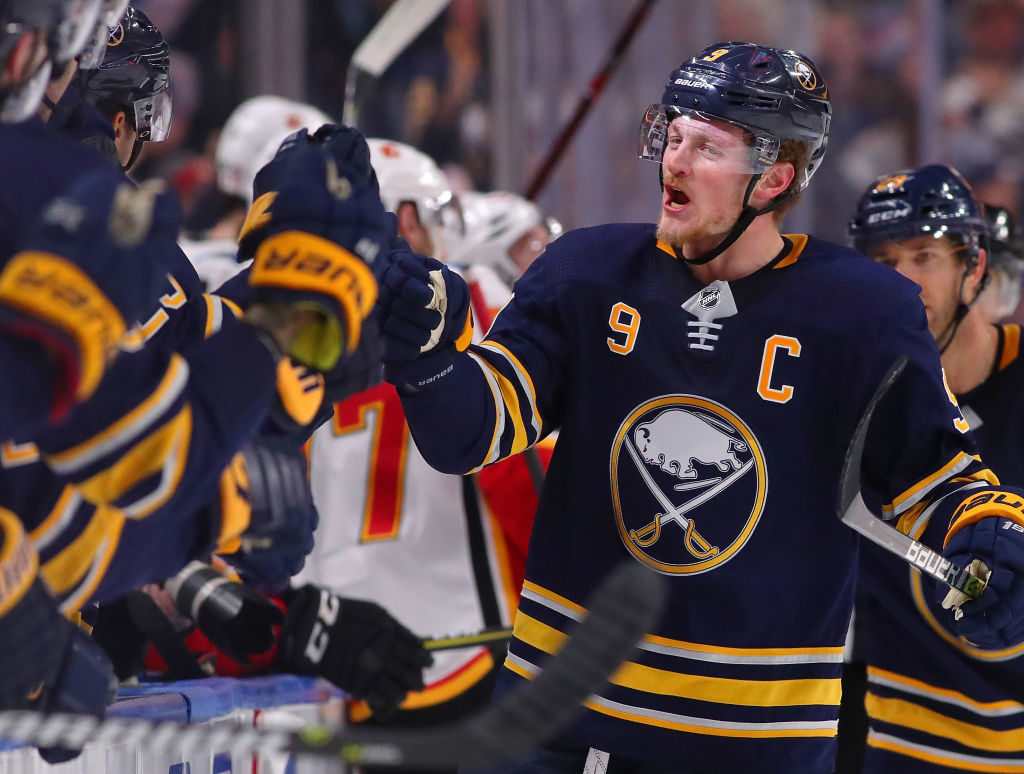 Detroit Red Wings:
Much like Buffalo, the Wings are a team that has a star player (Dylan Larkin) with not too much around him currently. After a career-high 73 point season in only 76 games it is completely possible (and highly likely) that Larkin will have his first point-per-game season of his career.
That in itself is a positive note for a team and city that could use a few positives. However, suggesting going from 0.96 points-per-game to 1.00 isn't that much of prediction. Since Detroit is another team I don't foresee sniffing around the playoff picture any time soon, I'm going to go a little crazy here and make an extremely bold prediction.
Taro Hirose was a late-season addition to the Red Wings when he signed as an undrafted free agent in March of last season. He proceeded to put up a goal and seven points in 10 games with Wings. Better than that, he managed to find chemistry and friendship with Larkin, a crucial factor that could see him end up on the top line at points throughout the season. With top-line deployment and potential top power play time, I predict Hirose will get 50 points in his first full season.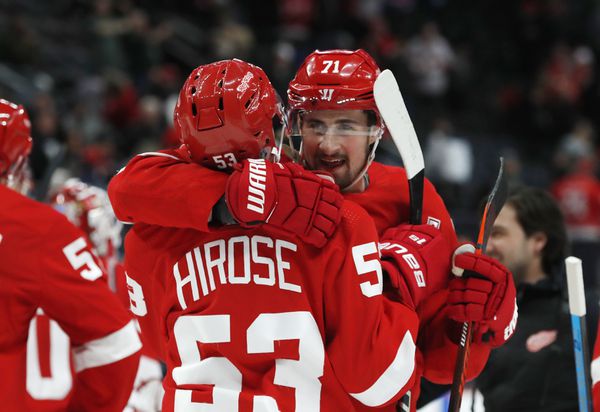 Ottawa Senators:
Instead of rehashing what I said for the LA KIngs or pretending there will be a ton of positives for the Sens going into 2019-20, I'll just say ditto to what I wrote for LA (read that prediction here).
I hope you liked reading Positive Predictions for your team, stay tuned for next week's not-so-positive predictions!
All stats via NHL.com and hockey-reference.com