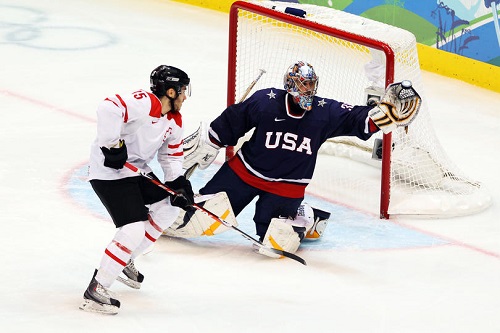 Team USA announced today after the Winter Classic in Michigan that Buffalo Sabres goaltender Ryan Miller was selected to represent the Stars and Stripes in this year's Olympics in Sochi, Russia. Miller will be making his second Olympic appearance as he led Team USA to a Silver medal in the 2010 Olympics in Vancouver. He is the oldest member of the team at the age of 33.
If you can recall the 2010 Olympics, you'll remember that Miller carried the team on his back. He had eye-dropping numbers during the games.
5-1 Record
1.35 G.A.A (An American Olympic Record)
.946 Save Percentage
He was also named Most Valuable Player of the Tournament.
The Sabres have had a rough time since the last lockout. Long-time coach Lindy Ruff was fired. His replacement Ron Rolston and his soft-spoken style of coaching was also shown the door. Then a very interesting change happened in November as Pat Lafontaine and Ted Nolan came back to the organization.
Lafontaine is the current President of Hockey Operations, while Nolan is the interim head coach. Things started out slowly under Nolan but the attitudes and efforts of the players have become a lot better. In the month of December, Miller posted a 5-2-1 record. In the months of October and November he had 5 wins combined! Miller's GAA (1.82) and save percentage (.949) were also among the league leaders for December.
Perhaps the game that really stood out for Miller was his 49 save effort against the Washington Capitals on December 29th. The Sabres won that game 2-1, even though they were outshot by 33! Miller stopped all 6 shootout attempts as well.
Miller has put the Sabres on his back this season. He is used to shouldering the load and will be ready again to backstop the Americans. Miller and his teammates will be underdogs at this year's games but will look to avenge their loss to Canada from four years ago.