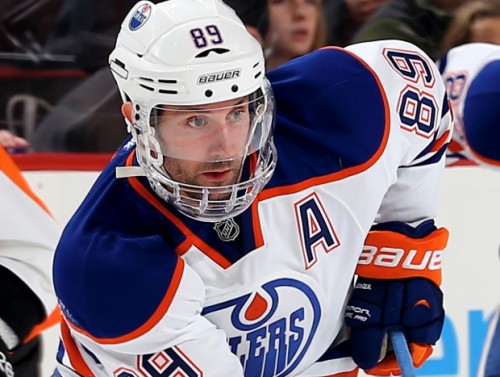 When the Oilers drafted Sam Gagner sixth overall in 2007, fans thought they had their number one centre. He posted up 118 points in 53 games the year before with the OHL's London Knights, and made the NHL at age 18.
Though even more convincing, he was able to produce at the NHL level early on. In his first season he notched a career high 49 points, and in March of that year, went on a point-per-game tear to help lead the Oilers on a surge that almost saw them reach the post-season.
But that would be the closest Gagner would come to experiencing playoff hockey, and now, having just completed his seventh year in the NHL, Gagner has yet to develop into that two-way centre Oilers management have been hoping for.
Last summer Edmonton signed Gagner to a three-year contract – the longest of his career – beginning at $4.4 million. However next season his contract increases to $5 million annually, which is a hefty price to pay for a guy who isn't showing signs of developing further.
"We need big, strong guys who can give us what we don't have now," said Oilers general manager Craig MacTavish. Unfortunately Gagner does not fit this mold, being a smaller guy who struggles to win puck battles in the corner, and is prone to injury.
The hope was that with Dallas Eakins behind the bench, he would be able to help Gagner improve just as he helped to develop the Toronto Maple Leafs' Nazem Kadri. However, now one year into his new contract, Gagner has battled two injuries, and is still making defensive mistakes in his own end.
"It's been tough, but I need to take responsibility for the way the year has gone as well. I know it's not good enough – especially with my role on the team," said Gagner.
But it could also be argued that Gagner's game does not need to improve despite his arguably lackluster point totals.
Up the middle, the Oilers have three reliable centres in Ryan Nugent-Hopkins, Boyd, Gordon, and Matt Hendricks, and Gagner fits nicely into a second line role. His numbers are not spectacular, but he still adds enough offense to be considered a decent second line player. He is versatile in the sense that he can play both centre and wing, is always able to find the open man, and has great hands that can come up clutch in one-on-one shootout situations.
In addition, it should not be forgotten that Gagner is only 24-years-old, and still has time to solidify his two-way game. But does this mean the Oilers trade him while his value is high, or continue to wait for the possibility of a breakout year?
If the Oilers do decide to trade him, they need to be careful, having a long history of trading away players only to watch them flourish on other teams. This happened with Jarret Stoll, Matt Greene, Andrew Cogliano, Curtis Glencross, and Kyle Brodziak, so should Edmonton ship Gagne elsewhere, they had better secure some reliable assets.
Gagner could be part of a blockbuster deal to acquire a big name centre – namely Senators captain Jason Spezza – or he could be traded individually for a couple of draft picks. Should the Oilers take the picks, they will have an additional $5 million to spend on free agency, and there are a number of solid centres rumored to be in this years' pool by July first. For instance Paul Stastny, Derek Roy, and Olli Jokinen are three players who could very well be lacing up for Edmonton next fall.
So what does this mean for Gagner's future? Nothing is certain, except that this summer is going to be a big one for the developing centre. Whether he returns to Edmonton or finds himself elsewhere, Gagner knows what he needs to do.
"It's going to be a big summer for me to improve a lot of areas in my game, and I'm excited about the challenge," he said. "I'm excited just to get a fresh start, [and] about coming back ready to go."
If Edmonton is looking to make a deal, they better make one soon. Gagner is a decent forward with the possibility of untapped potential, but he isn't getting any younger, and – as always – the clock is ticking.
So make a move, MacTavish. Time is not on your side.