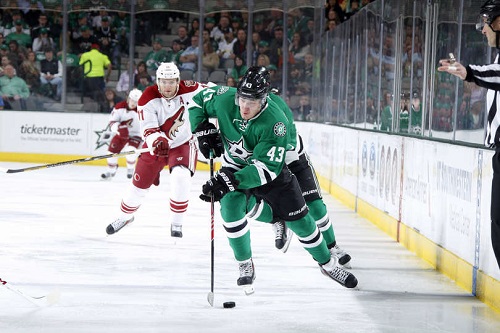 After working all season to keep their head above the water in this year's tough Western Conference, the Dallas Stars have managed to earn a Wild Card spot after their most recent victory over the Phoenix Coyotes just before heading into the Olympic break.
Although the playoff spot isn't guaranteed to last and will be tough to defend, the win will keep morale high in the Stars camp and give them something to work towards defending when they return.
The Stars opened the scoring up in the first period, just two minutes into the game as Ray Whitney managed to get the puck past former Star and current Coyotes goaltender Mike Smith, putting his team in the lead. The goal was assisted by Jordie Benn and Brenden Dillon. It wasn't until the tail end of the second that the Stars extended their lead on behalf of young Val Nichushkin, with assists from Trevor Daley and Jamie Benn. The game almost ended in a shutout, but a late 3rd period goal from Radim Vrbata put the Coyotes on the board. The Stars skated to a 2-1 win in the end.
This game comes as the second win over the Coyotes in the week, with the last one being a 3-1 win. Fans may remember the Stars' terrible losing streak a few weeks ago, but have no fear, the Stars are back and they're ready to win. Slowly but surely the Stars have worked their way up the standings, with tonight's win sending them one point above the Vancouver Canucks and giving them the same amount of points as the Coyotes, but placing them in the Wild Card spot that they were occupying.
The Stars are currently five points below the 7th seed Minnesota Wild, whom they will face off against on March 8. As for the Central Division, the Dallas Stars are currently 15 points below the Colorado Avalanche, who are 3rd in the division.
This is the last game before men's hockey starts in Sochi, with three Dallas Stars players participating in the Olympics. Jamie Benn for Canada, Kari Lehtonen for Finland, and Valeri Nichushkin for Russia, with Lindy Ruff also serving as an assistant coach for Canada as well.