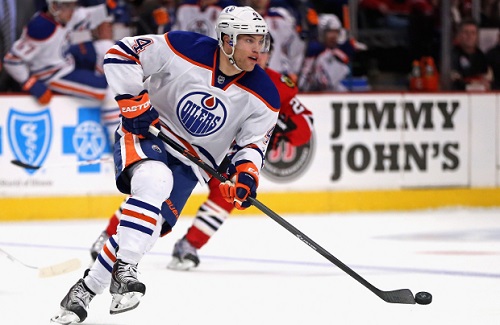 With everything from exploding water bottles and arguments on the bench, to blowout losses and disgruntled fans, it's safe to say the Edmonton Oilers are having themselves a pretty tough season.
But there is one major highlight amidst the chaos, and that is incredible play of Oilers' young gun Taylor Hall.
In 66 games this season Hall has collected a team leading 67 points (12 more than the second place Jordan Eberle), leads the team with 218 shots on goal, and ranks first in assists with 42. But even more to the point, Hall is second in goals with 25, sitting just one goal back of forward David Perron.
"It's not like I've been completely lights out the whole season, but I think I've improved a lot," said Hall.
Hall currently ranks 19th in points across the entire league, contending with the likes of franchise players Jonathan Toews and Patrick Kane. With play like this, it's a wonder this star was never considered for Team Canada.
"It [was] a tough process for them, and there are so many good players in Canada," said Hall. But despite not being selected, Hall is an elite player, and anyone who says otherwise is sorely mistaken.
In four NHL seasons since being drafted first overall in 2010, Hall has seen a steady increase in point production. In the first two years of his career he collected 95 points in 126 games, though he has since become a point–per-game player. Over the course of the past two seasons, Hall has posted up 117 points in 111 games, and he did it all in an Oilers uniform.
This season, the Oilers sit 28th in goals against per-game with 3.26, and have only managed to win 13 games when trailing after two periods. Only the New York Islanders and the last place Buffalo Sabres have fewer. Not to mention Edmonton sits 22nd on the power play, and 17th on the penalty kill. All the elite NHL clubs have strong special teams, and even average lineups can get their special units going when they need to. For instance the Toronto Maple Leafs – who have dropped six straight games – have the 3rd best power play in the league, and still have a shot at the post season.
Whatever the reason for the Oilers lack of success, Hall is not to blame. In dropping their last three games the Oilers have only managed to score 4 goals, and Hall collected points off three of them.
"We've got to get some confidence from whatever part of the game that we can," said Hall.
After losing their last game against the San Jose Sharks, Oilers head coach Dallas Eakins was impressed by the Sharks' veteran core.
"They understand the game and they're a step ahead of everyone else on the ice and that comes with lots of games played. The guys like Thornton and Marleau, they're incredible," he said.
In time, Hall may become that incredible veteran powerhouse that Eakins admires, and will look to carry the Oilers to a rare victory when they host the Anaheim Ducks on Friday at 9:30 p.m. eastern time. Hall is on pace to finish out the year with a new career high 76 points.