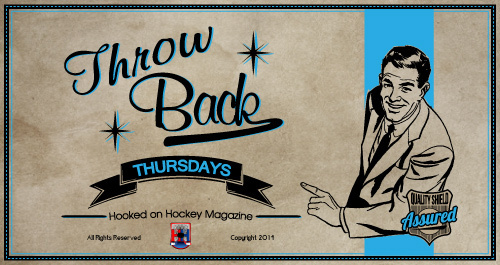 Welcome to the newest edition of Throwback Thursdays!
Did you…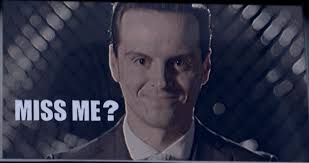 Moving on…
This is the latest in a series on the history of NHL Trophies and the people behind their names. I have written about the Ted Lindsay Award, the King Clancy Memorial Trophy, the Mark Messier Leadership Award, and last week we looked at the fascinating history of William M. Jennings and his memorial trophy.
This week we focus on the Bill Masterson Memorial Trophy. As some of you may recall I wrote briefly about Masterson in December inside my article about Alcide Laurin and the first recorded death during a hockey game.
If that wasn't foreboding, I don't know what is.
Who was Bill Masterson?
William John Masterson was born on August 13, 1938 in Winnipeg, Manitoba. Having driven through Winnipeg last summer on route to an even more remote Canadian tundra, I can confirm there is nothing to do but play hockey or pick up bad habits.
Anyways, after being a standout minor hockey player Masterson decided to pursue a degree at the University of Denver. During his time with the UD, he became a big part of the Pioneers hockey team. His tenure with the team included multiple national collegiate championships, two NCAA all-star selections, and an MVP award at the 1961 NCAA Division I Men's Ice Hockey Tournament.
From there Masterson chased his NHL dream and went pro. However, after two professional seasons – one each with the Hull-Ottawa Canadiens in the Eastern Professional Hockey League and one with the Cleveland Barons in the American Hockey League – Masterson decided to further his education and leave professional hockey. He received his master's degree in business engineering and got a job that including working on the Apollo mission.
During this time Masterson still played semi-pro hockey in the United States Hockey League and becoming a US citizen allowed him to play for and captain the US National team in 1966-67. All of this while raising his new family with his wife Carol, and two adopted children, Scott and Sally.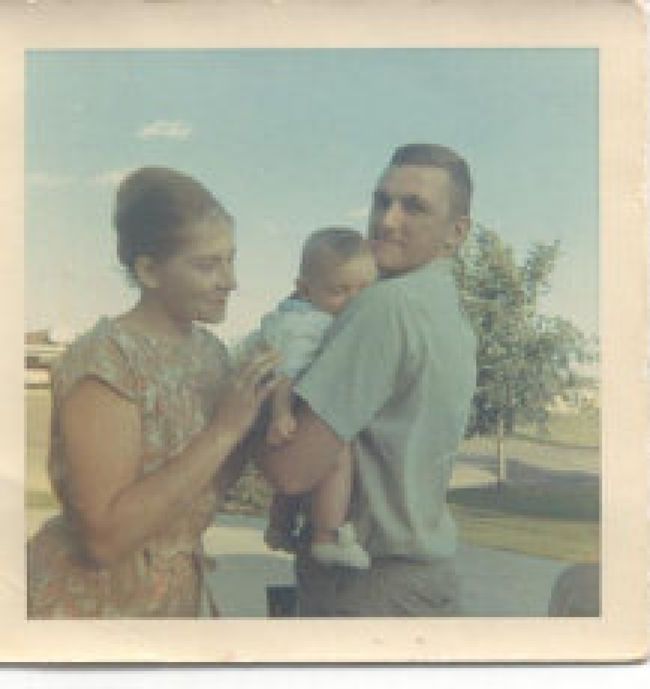 After starting his young family, Masterson had moved on from his dream and was fine with his new life and career.
And then the Original Six expanded to 12 teams, and all of the sudden the NHL needed twice as many players. The Minnesota North Stars GM Wren Blair acquired Masterson's rights from the Montreal Canadiens and called Bill to see if he would join the North Stars in their first NHL season.
Bill's brother, Bob Masterson, remembers Bill telling him about the call in a Toronto Star article.
"I looked at him and said, 'What are you going to do?' because he was just starting a young family," said Bob. "It was kind of one of those things where I asked the question but I knew what he was going to do. It was always in the back of his mind."
Masterson had made it. On October 11, 1967 the North Stars and Masterson played their first NHL game. In a fun bit of hockey trivia, Masterson scored the North Stars' first goal in franchise history in a 2-2 tie with the St. Louis Blues.
The future looked bright for the 29 year old.
That changed abruptly on January 13, 1968 and a game against the Oakland Seals. In the darkest moment in NHL history, Masterson rushed towards the net and fell awkwardly after getting tangled up with Seals defensemen Larry Cahan and Ron Harris.
His head hit the ice and after briefly coming around to say "never again, never again" he lost consciousness permanently.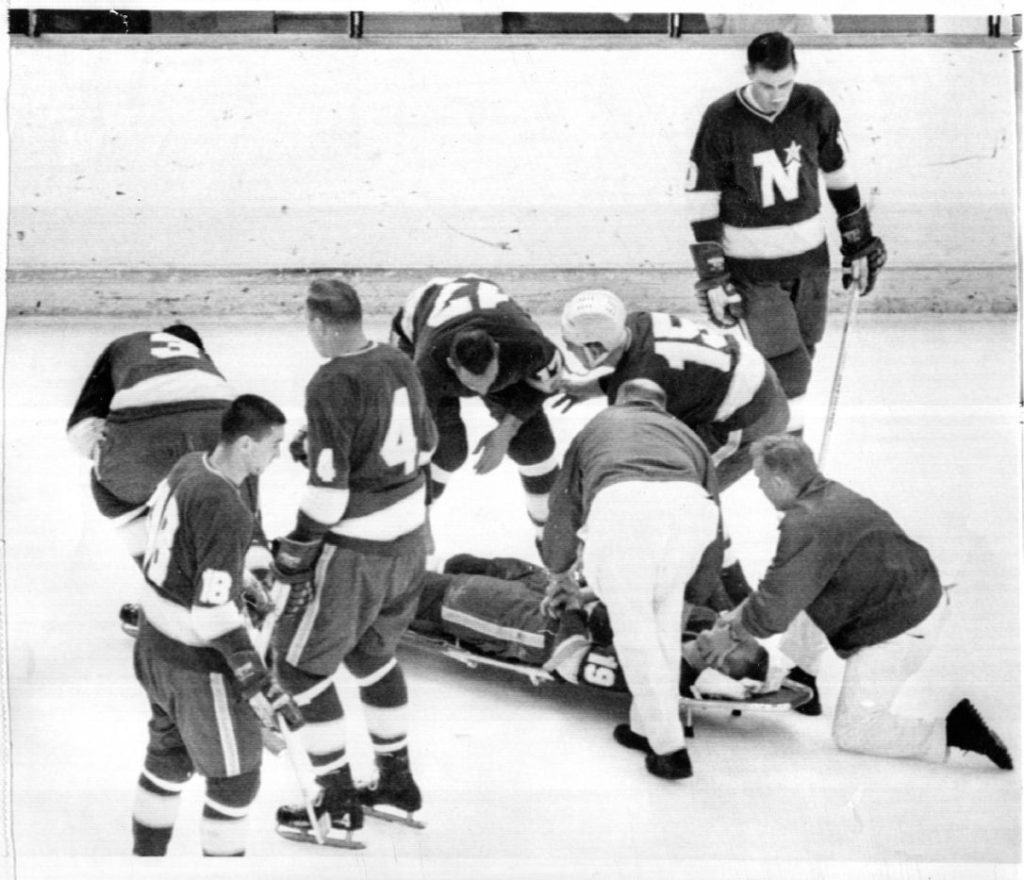 Masterson would die two days later in hospital from a severe brain injury after doctors determine the swelling and bleeding was too severe to attempt surgery. At the time of his death he was surrounded by his family, including both parents, his brother, Carol, and his two children.
Although the fall and his head hitting the ice ultimately caused his death, there is some controversy that maybe it could have been avoided if his team had gotten him checked out earlier due to pre-existing injuries, including another concussion. I strongly suggest reading Randy Starkman's Toronto Star investigation into the incident here.
Masterson's untimely death let to him leaving a dark mark on the game and eventually led the NHL down the path to wearing helmets and, more recently, taking head injuries more seriously.
What is the Bill Masterson Memorial Trophy?
According to the NHL's website:
"The Bill Masterson Memorial Trophy is an annual award under the trusteeship of the Professional Hockey Writers' Association (PWHA) and is given "to the National Hockey League player who best exemplifies the qualities of perseverance, sportsmanship, and dedication to hockey."
The winner is selected in a poll of all chapters of the PHWA at the end of the regular season. A grant from the PHWA is awarded annually to the Bill Masterton Scholarship Fund, based in Bloomington, Minnesota, in the name of the Masterton Trophy winner."
The Masterson Trophy was presented by the PWHA to the NHL after Masterson's death in 1968 and was presented to Claude Provost of the Montreal Canadiens following the 1967-68 season – Masterson's first, and last, NHL season.
Recently the award has definitely been awarded based on the perseverance merit. in 2018 Brian Boyle won the award after battling chronic myeloid leukemia and returning. The year before that Craig Anderson won the award after taking the Ottawa Senators to within one goal of the Stanley Cup finals in the same season his wife was diagnosed with a rare form of cancer at the beginning of the season in October.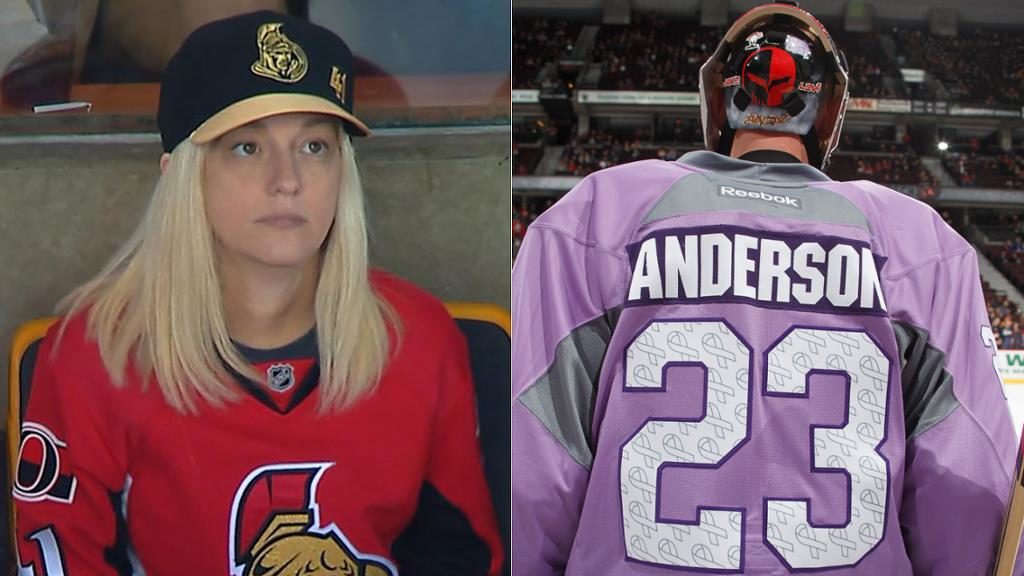 Bill Masterson Memorial Trophy Winners
2018: Brian Boyle , New Jersey Devils
2017: Craig Anderson , Ottawa Senators
2016: Jaromir Jagr, Florida Panthers
2015: Devan Dubnyk , Minnesota Wild
2014: Dominic Moore, New York Rangers
2013: Josh Harding, Minnesota Wild
2012: Max Pacioretty , Montreal Canadiens
2011: Ian Laperriere, Philadelphia Flyers
2010: Jose Theodore, Washington Capitals
2009: Steve Sullivan, Nashville Predators
2008: Jason Blake, Toronto Maple Leafs
2007: Phil Kessel , Boston Bruins
2006: Teemu Selanne, Mighty Ducks of Anaheim
2004: Bryan Berard, Chicago Blackhawks
2003: Steve Yzerman, Detroit Red Wings
2002: Saku Koivu, Montreal Canadiens
2001: Adam Graves, New York Rangers
2000: Ken Daneyko, New Jersey Devils
1999: John Cullen, Tampa Bay Lightning
1998: Jamie McLennan, St. Louis Blues
1997: Tony Granato, San Jose Sharks
1996: Gary Roberts, Calgary Flames
1995: Pat LaFontaine, Buffalo Sabres
1994: Cam Neely, Boston Bruins
1993: Mario Lemieux, Pittsburgh Penguins
1992: Mark Fitzpatrick, New York Islanders
1991: Dave Taylor, Los Angeles Kings
1990: Gord Kluzak, Boston Bruins
1989: Tim Kerr, Philadelphia Flyers
1988: Bob Bourne, Los Angeles Kings
1987: Doug Jarvis, Hartford Whalers
1986: Charlie Simmer, Boston Bruins
1985: Anders Hedberg, New York Rangers
1984: Brad Park, Detroit Red Wings
1983: Lanny McDonald, Calgary Flames
1982: Glenn Resch, Colorado Rockies
1981: Blake Dunlop, St. Louis Blues
1980: Al MacAdam, Minnesota North Stars
1979: Serge Savard, Montreal Canadiens
1978: Butch Goring, Los Angeles Kings
1977: Ed Westfall, New York Islanders
1976: Rod Gilbert, New York Rangers
1975: Don Luce, Buffalo Sabres
1974: Henri Richard, Montreal Canadiens
1973: Lowell MacDonald, Pittsburgh Penguins
1972: Bobby Clarke, Philadelphia Flyers
1971: Jean Ratelle, New York Rangers
1970: Pit Martin, Chicago Black Hawks
1969: Ted Hampson, Oakland Seals
1968: Claude Provost, Montreal Canadiens
Love Reading About Hockey?

Subscribe to keep up-to-date with the latest and most interesting hockey news!
| | |
| --- | --- |
| | We hate spam just as much as you |