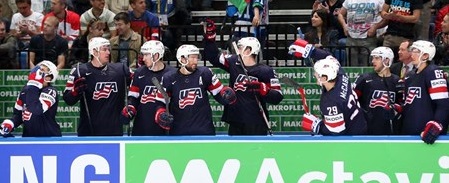 Following some tense moments, Team USA has finally clinched a playoff berth at the 2014 World Championship.
Team Finland, who lost to the Americans in last years' bronze medal game, was unable to even the score after losing 3-1 early Sunday morning. With this win, the Americans now have 11 points, and are second in group B with one game remaining before the playoff round.
After being on both sides of a 6-1 margin, and dropping a 6-5 matchup against Team Latvia, it's surprising that the Americans were able to come away with a defensive win.
Team USA took the lead 19 seconds into the opening frame after the puck took an odd bounce off a dump in from American defenseman Seth Jones. As Finnish goaltender Pekka Rinne left the net to retrieve the disc, it rebounded out into the slot, and American forward Brock Nelson wasted no time to tally his fourth goal of the tournament.
"It was a crazy bounce," Nelson said. "We wanted to get pucks in deep right away. When I saw the puck come off the glass I tried to get in front and get position on my guy and was able to tap it in."
With the larger ice surface associated with international play, teams need to be extra cautious when handling the puck.
"We've seen a lot of weird bounces all over the ice in this tournament," said Nelson. "You have to stick with it and sometimes they go your way. Tonight it did."
And once on the board, the Americans never let up. After a scoreless second period, Team USA's Tyler Johnson finally extended the lead to two, but there was nothing fluky about this one. Veteran forward Craig Smith found Johnson flying down the wing, who corralled the puck over the blue line and wired a hard wrist shot over Rinne's shoulder and into the cage.
The Finns, however, failed to connect on a five on three power play, and paid the price for their inability to capitalize. The Americans would add another goal late in the period to secure the victory.
"We tried to get the puck to their zone and get scoring chances," said Finnish forward Jere Salinen. "We had our chances but could not score there. Their goalie played great when he had to today."
But despite making 22 saves, Thomas credits the victory to his teammates.
"We played much better on D," he said. "[We] did what we had to do to keep the score down and get the win. I think a better result for me goes hand in hand with that – I don't think I was any better personally than I played in the other games. If you go back and analyse those 13 goals I gave up there might be one or two that you'd consider really bad goals."
The Americans have one more preliminary match against Germany on May 20 at 5:45 a.m. EDT, and should pull away with another victory. The Germans – who are already eliminated – are second last in group B, and have only scored nine goals in the tournament.
The Americans are now three points up on their Finnish rivals, and are headed to the quarterfinals on May 22. So get ready, hockey fans. The round robin is ending, but today's victory is proof that Team USA is just getting started.